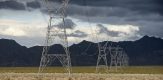 Uganda power utility firm Electricity Generation Company Limited has embarked on an ambitious energy programme aimed at exporting electricity.
consequently,Uganda is constructing Karuma Hydroelectric Power Station to that effect.The plant will generate 600MW of power.
While the it is located on at Karuma Falls the power plant is projected to cost US$ 1.6bn.
Uganda power utility firm says an application was made  for a power generation license for Karuma in May.
Although application does not state to which countries Uganda will export power,Kenya could be a potential market.
Uganda and Kenya are putting up a high voltage transmission line linking Tororo and Lessos in Nandi.
Uganda power utility firm potential market
However, Some of the other potential markets for Uganda's power are DR Congo, Tanzania and Rwanda.
"The power that will eventually be generated will be taken through a 400 kilovolt switchyard to the nearest proposed station for further  transmission to energy deficient regions. The Karuma station will generate 600MW of power that will be distributed locally and exported to neighbouring countries," said the application from the Uganda power utility firm.
Energy Infratech Private Limited is an Indian company that was contracted to perform the feasibility study for the hydropower.
The firm said the estimated total cost for the dam and power plant was approximately US $2.2bn.It includes the cost needed to construct a transmission line from Karuma to be incorporated into the national power grid.
Energy Infratech Private Limited aims to serve clients who are in the energy sector with complete solutions.