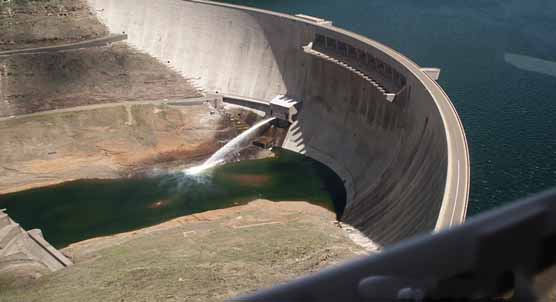 Water affairs and sanitation minister Nomvula Mokonyane is on the spotlight following a new report that she deliberately delayed South Africa's billion dollar water project allegedly to award contracts to a company she has a long-standing relationship with.
A report by  City Press reveals that Lesotho Highlands Water Project has been delayed by over a year due to Mokonyane's direct intervention, the report said, pushing its completion date to 2025, and pushing the price up to USD1.8 billion.
This is according to a report by the City Press, noting that the Public Protector in South Africa will meet with Mokonyane over the issue this week.The entire project is being funded by taxpayers.
Senior officials told the City Press that the delay of the South Africa's billion dollar water project  was forced by Mokonyane so that consulting firm, LTE Consulting, could get involved.
The damning report discloses that  LTE has been awarded USD347m worth of contracts in water and sanitation over the last one year. It was also found that the company had donated funds to support ANC.
The reports observes that LTE have reportedly been contacting and paying delegates involved with the project refusing to follow a tendering process but instead opting to meet Mokonyane directly.
Subsequently, the bids for a number of tenders – from other companies – were rejected by the department soon thereafter.
The City Press  report gives a detailed account of several of hiring and firing practices undertaken by the minister and her department, allegedly with the aim of getting "favourable" people involved with the project.
This included the removal of officials who had denied LTE Consulting tender opportunities.
However on her part Minister Mokonyane has denied any wrongdoing. She termed  accusations leveled against her as false and malicious. She said that the delays in the project were to incorporate the much-needed "transformation", to benefit black-owned companies.