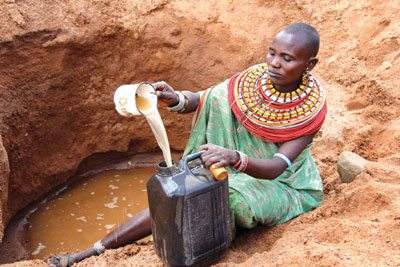 Water problem in Africa a major challenge Africa water week conference told
Water problem in Africa: African governments should move with speed to tackle corruption in water sector to ensure that the resources allocated are well utilized, Water Integrity Network (WIN) has urged.
WIN Executive Director Frank van der Valk said that a lot of resources are lost in the sector or used for wrong purposes due to corruption.
"If Africa wants to achieve the SDGs, particularly goal number six, it is crucial to reduce corruption in the water sector," Mr Valk said. He observed that if efficiency in the water sector increases by reducing corruption, it will be much easier for African countries to achieve the SDGs.
Valk was speaking on the sideline of the 6th Africa Water Week, that seeks to address water problem in Africa.
Support from donors
Although Africa has been receiving support from donors to support water initiative Valk said that the solution to water problems in Africa will only be sustainable if the continent will find its own sustainable financing mechanisms.
Water problem and sanitation is still the biggest challenge in Africa, thus the governments need to allocate more resources to address the problems. Water and sanitation continue to be the biggest challenge in Africa, several years after most of them attained independence.
Addressing participants, Unesco water envoy Mwai kibaki said that water problems was the biggest challenge facing Africa today. In his first major assignment as the water envoy in Africa the former Kenyan president said that although the continent was rich in natural resources its annual per capita water availability is well below that of other continents.
Mr Kibaki was addressing more than 1,000 delegates from Africa's water ministries, development partners and water experts attending the sixth Africa Water Ministers Summit in Dar es Salaam, Tanzania.
According to a recent world report over 783 million people worldwide do not have access to clean and save water while in developing countries, as much as 80% of illnesses are linked to poor water and sanitation conditions.