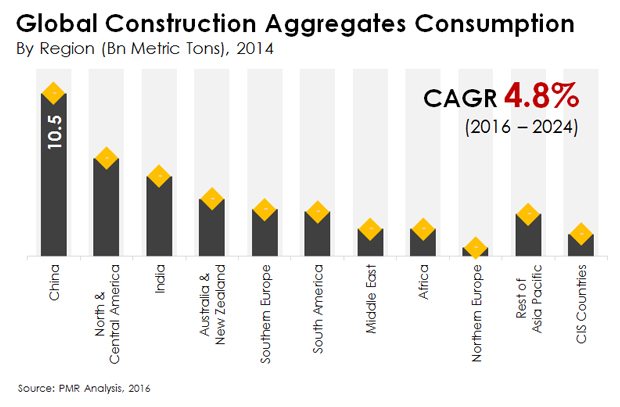 Global Construction Aggregates Market to Value US$ 350.2 Bn in 2016
According to a new report published by Persistence Market Research, "Global Market Study on Construction Aggregates: Industry Analysis and Forecast 2016-2024", the consumption of construction aggregates market worldwide is estimated to reach 43.3 Billion metric tonnes (BMT) at the end of 2016 to value US$ 350.2 Bn. The market is anticipated to witness 6.3% year-on-year growth in 2016 and the consumption is projected to reach 62.9 BMT at the end of 2024 in terms of volume.
Rising infrastructure and renovation projects are major drivers in the global market generating major demand for construction aggregates. Advanced commercial construction, thriving residential construction, enriched tourism, and manufacturer preferences to opt for recycled aggregates and manufactured sand are expected to fuel demand in the global market. On the other hand, depleting natural resources, rising environmental pollution due to extensive construction, and transportation and technological challenges are major restraining factors in the global market.
In terms of product, the global market is segmented into crushed stone, sand, gravel, and other aggregates. The sand segment is the leading segment with 44% share in terms of revenue in 2016 and generate maximum demand. Sand is expected to register absolute incremental opportunity of almost US$ 89 Bn through the forecast period. Crushed stone segment is anticipated to generate higher revenue compared to gravel and other aggregates.
In terms of application, the global market is segmented as commercial, residential, industrial, and infrastructure. The infrastructure segment is anticipated to be the largest revenue generation segment owing to the increasing investment by public and private sector companies, and the governments for infrastructure development and real estate.
In terms of region, the global construction aggregates market is segmented as Northern Europe, Southern Europe, CIS Countries, North and Central America, South America, India, China, Australia and New Zealand, Rest of Asia Pacific, Middle East, and Africa. China is the dominating region with 26.7% share in the global market in 2015 and is anticipated to continue the market trend into 2016 with North and Central America following. India will maintain a key position in the market owing to increasing infrastructure development projects undertaken in the region. Northern Europe is projected to register sluggish growth due to the region's ongoing economic recovery. China, Germany, Norway, and Ukraine are major exporters, whereas Canada, Kuwait, Singapore, and Qatar are major importers identified in 2015.
Major players in the global construction aggregates market include LSR Group, Lafarge Holcim, Vulcan Materials Company, CRH, CEMEX S.A.B. de C.V., Heidelberg Cement AG, Adelaide Brighton Ltd., Eurocement Group, and Martin Marietta Materials, Inc.
Get complete report with TOC here @ http://www.persistencemarketresearch.com/market-research/global-construction-aggregates-market.asp