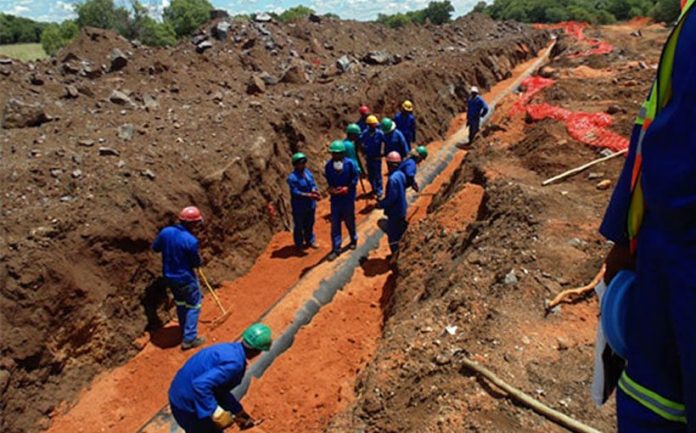 South African Water utility Rand Water intends to invest over R17-billion in development of water infrastructure during its five-year infrastructure development plan, which ends in 2020.
Eddie Singo , the executive manager, Rand Water Zuikerbosch water treatment plant while addressing the media during a site visit that the infrastructure plan is geared at meeting the increased demand, which had been growing at an annual rate of between 4.6% to 4.8%.
He said that a big portion of the investments would be directed on improving and renewing pipeline and water purification infrastructure.
Singo added that, in the five-year period, Rand Water would spend around R8.1-billion on pipeline projects, R2.7-billion on pumping projects,R3.7-billion on water purification projects,  R1.3-billion on water reservoir projects, and around R1.9-billion on other projects, like increasing electricity supply and control systems.
The projects are divided into renewal projects and infrastructure augmentation.
Rand Water will spend around about R1.7-billion on renewal projects and R1.3-billion on augmentation this year. Next year, around R2.4-billion on renewal and R1.6-billion will be spent on augmentation and. About R1.7-billion, R1.5-billion and R1.6-billion will be spent on augmentation projects during 2018, 2019 and 2020 respectively, while renewal projects will total R2.2-billion, R1.8-billion and R1.6-billion respectively over this timeframe.
Rand Water owns and runs the 3 890 Mℓ/d Zuiker bosch and the 1 200 Mℓ/d Vereeniging water treatment plants, located in Vereeniging.
Both plants draw water from the Lesotho Highlands Project, where the water is treated and then pumped to the Mapleton, Eikenhoff, Palmiet and Zwartkopjes pumpstations, in Johannesburg.
At the same time, Water and Sanitation Minister Nomvula Mokonyane commissioned a number of projects at Zuikerbosch in May. This led to an additional 200 Mℓ/d for the water treatment plant, that is scheduled for commissioning of the Filter House 2B project, and new flocculation and sedimentation tanks at Station 3.
The increase in capacity will offer four-million consumers with enough potable water.
Additionally, Mokonyane commissioned the Station 5 project, which is expected to add nearly 1 200 Mℓ/d to Zuikerbosch's capacity. The project will be built in a phased approach, with Phase 5A having two components.
Availability of water in Africa continues to be a major challenge in the wake of drought in some parts of the continent and poor government policies. According to WHO Young children die before reaching 5 years old due to water related illness.