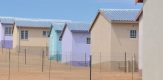 Nearly 300 houses in Namibia constructed by the National Housing Enterprise (NHE) at Eenhana were finally handed to their owners after three years of standing empty.
The delay in finding owners to occupy the houses in Namibia was not taken well by the Minister of Urban and Rural Development Sophia Shaningwa, who urged the NHE to ensure the houses are occupied immediately after completion.
"All houses must be occupied with immediate effect. Even if it means working 24 hours to get customers," said Shaningwa, who handed the 284 houses to the proud owners.
The minister said failure to hand houses to recipients immediately sends out a wrong message to the nation of an uncaring government.
She said allocating houses after completion is the only way the country can reduce the housing backlog which stands at over 100 000. It is also the only way that the country would be able to meet its target of delivering 20 000 houses in the coming years of President Hage Geingob's Harambee Prosperity Plan, she added.
The minister also appealed to local authorities to consider NHE and the developers of affordable houses when planning and availing land for development.
In the same vein, the minister also implored NHE developers to engage local authorities from the initial stages of planning and designing the houses until when the houses have been allocated.
According to Shaningwa, coordination between the two bodies will aid in allocating houses to people.
"Avoid duplication of properties. Lack of consultation leads to giving two, three plots to one person," said Shaningwa.
The minister also cautioned NHE to ensure there is value for money by ensuring that the houses built are of good quality.
Furthermore, the minister also appealed to financial institutions to provide innovative funding solutions to help local authorities and institutions such as NHE to deliver affordable serviced land and houses.
According to Shaningwa, more houses can be constructed and the needy be served in a short span of time if more financial resources are mobilized from the national budget and through other viable financing mechanisms.
Shaningwa also cautioned the recipients to pay their mortgages promptly and avoid arrears.
"Your prompt repayment will help NHE to build houses for other fellow Namibians who are also in dire need of the same housing that you are enjoying," said Shaningwa.
Detective Sergeant Rosalia Kadjulume, a recipient, expressed gratitude to the housing enterprise for availing affordable housing.
"We are really happy – we have been exposed to unbearable renting. Personally I was paying N$2 500 and today it is history," said Kadjulume.