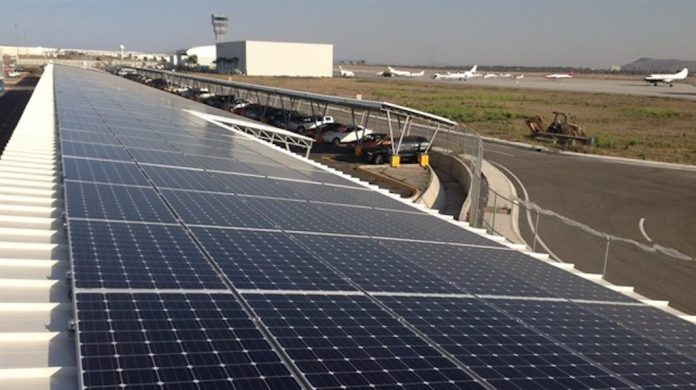 George a small town in South Africa now has the first solar airport in Africa.The first solar airport in Africa, will run entirely on power supplied by 2,000 solar panels. Its control towers,the escalators, the baggage carousels and its ATMs will be run by solar energy.
 Airports Company South Africa president Skhumbuzo Macozoma says that their target is to achieve "carbon neutrality", or net zero carbon emissions by 2030.
The solar plant in George South Africa,was launched in 2015 and is the second solar-run airport in the world after Cochin airport in India.
Although a step in the right direction, George Airport's decision to rely on the solar power  is likely to face challenges in a region with unpredictable weather.
In the space of half an hour, the temperature can plummet by 10 degrees celsius, the blue skies quickly replaced by a steady drizzle.
With the capacity to supply up to 750kW each day. The green Airport is set to produce nearly twice the required 400kW. Reports indicates that any excess energy will be transferred to the municipal power grid.The airport has annual  passengers number of 700,000.
Since solar became the airport's main source of power, the hub has reduced its carbon dioxide emissions by 1,229 tonnes –- the equivalent of 103,934 litres of fuel.
Airport manager Brenda Voster says that since the green airport adopted solar energy,its  electricity bill has been cut by 40% in the space of a year.
Meanwhile, regular power cuts, which in recent years have plagued Africa's most developed economy.
Heavily dependent on coal, which is the source of 90 percent of the country's electricity, South Africa is looking to diversify its options to avoid power cuts. In recent years the country has been setting its sight on nuclear energy although the plan has not effectively picked pace.
South Africa is therefore on track in transitioning to a low-carbon, resource efficient and green economy. Green transport initiatives form part of government's strategy to shift the economy towards sustainable industries with low environmental impact.