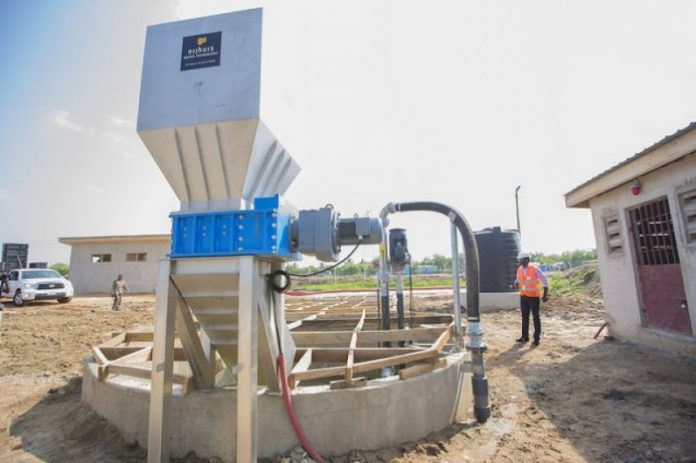 Safi Sana Ghana Limited Company which has been in commission for the past 6 years, is leading a revolution to tackle Ghana's sanitation challenges while also, generating energy to supply to the national grid.
The social enterprise runs a simple model that sees it collect faecal substance and solid waste, pass them through its factory machines to manufacture organic fertilizer for agricultural purposes, and energy to sustain the national electricity grid.
Raymond Ategbi Okrofu, the Country Manager for Safi Sana Ghana, said the company's model is useful and can be scaled or replicated in different regions of the nation.
"Being the initial plant, we were a bit reserved in our design, it can be designed to handle any quantity of waste, but the first plant we have here, it is designed to have 30 metric tons of waste on a daily basis."
Safi Sana presently sources solid waste from the Ashaiman marketplace, Accra abattoir and faecal matter from the different public toilet amenities within Ashaiman.
"We have a large anaerobic digester which has room for all the different strings of waste so it goes through the process of fermentation and the gas is produced, and we direct the gas to power a generator… presently we are doing almost 1.6 megawatts on a daily basis; but there is the capability to do more if we have clean waste and we enlarge the size of the digester," Mr. Okrofu explained.
He further said the company had signed a Power Purchasing Agreement with the Electricity Company of Ghana (ECG), which allows it to feed the power generated into the national grid and receives payment for it.
The technology being used at the company is imported from Netherlands, and is a scheme of Aqua for All in a conglomerate of commercial and public partners, including Royal HaskoningDHV, African Development Bank and Wereld Waternet, who raised the capital needed to establish the project.
According to Mr. Okrofu, building a similar plant in other regions of the state may cost less, owing to the avoidance of costs such as registration of business and other related services.
Having spent almost three years to finally establish and officially begin operation of the waste management business after a phase of piloting, Safi Sana is optimistic that crafting another system to serve the same purpose on a superior scale, will take less than a year to finish.