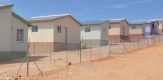 President Hage Geingob called for solidarity and re-dedication to tackle the twin problems of housing and land shortages.
He made the call at the launch of the Harambee Housing Initiative in Windhoek when he gave over a house built with alternative building supplies to Otjomuise inhabitant Abed Philip and his family.
Also read:Cost of building construction in Namibia is now challenging
The house was donated to the Namibian government by the German PolyCare Research Technology GmbH& Co.KG that pioneered its building technology at the Invest in Namibia conference, held in Windhoek from 8-9 November last year.
"This is the year of rededication, and it is in this strength of mind that I, as the head of the 'Namibian House', reiterate my personal dedication to tackle land reform and the provision of affordable housing to all Namibians," Geingob said.
He said while Namibia has attained much since independence, a lack of sufficient land and housing remained contentious subjects. The Harambee plan acknowledged residential land delivery, housing and sanitation as essential for social growth.
"In the interest of guaranteeing a distinguished life for all Namibians, government has embarked on numerous initiatives to deal with the problem of lack of decent housing in the nation," Geingob said, adding that the provision of sufficient and affordable housing was a key bludgeon in the war against poverty.
The President said it was through harmony and collaboration that the pledge of providing all Namibians with sustainable human settlements could be conveyed.
Urban development minister Sophia Shaningwa said the donation of the house was made feasible through joint efforts, and that she was thrilled that financial organizations such as Standard Bank and NamPost have shown their support for alternative building materials.
She said government has recognized that it could not resolve the housing problem by itself, and the ministry would therefore support public-private partnership plans to help in resolving the housing problem.
"The houses will not be given for at no cost. Citizens who want housing are advised to begin saving money for the houses that are going to be constructed under the scheme," the minister added.