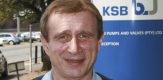 The ability to supply a full range of high-quality pumps with full backup and support, as well as readily available spare parts, has placed pumps supplier and manufacturer KSB Pumps and Valves in a unique position where clients can meet all their pumping requirements through a single supplier.
"In all instances, customers select KSB pumps due to their performance and reliability, as well as the after-sales service offered by the company, which is designed to ensure uninterrupted production in high-value plants," says KSB slurry specialist Mohamed Trabelsi.
These involve projects in the ferrochrome, gold, copper, renewable energy and water industries, for instance, as well as projects that demand stainless or exotic steel pumps.
"Modern-day renewable-energy plants require technologically advanced systems to squeeze every available kilowatt of power out of the plant and gain the right efficiency to ensure the project's success," explains KSB energy head Stefano Testi.
He adds that, in support of these efforts, KSB is ready to assist independent power producers (IPPs) by acting as a fluid transfer technology partner supplying pumps for renewable-energy plants, and to offer support for decades to come.
"The company is eager to also play a leading role in the development of clean power alternatives. As a world leader in the supply of fluid transfer solutions to the global energy sector, the company wants to leverage its global expertise for the local industry," says Testi.
Meanwhile, to help boost potable water supply to Gauteng, KSB is supplying eight ultra-efficient pump sets for State-owned water utility Rand Water's Palmiet pumping station near Alberton, in Gauteng.
These large diameter pumps are installed in tandem on four pumping lines to deliver 200 Mℓ/d on each line. This is achieved with the use of two motor sizes – 2 080 kW and 4 130 kW – for 'lifting' and pumping at heads of up to 350 m.
"The pumps are large by any standards with an 800 mm suction and discharge of 700 mm, with an impeller larger than 1 m. Each of the eight pumps weigh 8.9 t with the sets weighing up to 20 t each," says KSB South Africa and dealers of sub-Saharan Africa manager Andreas Gremels.
He adds that these are among the largest split-case water pumps to be sold in South Africa and, upon installation, these pumps will go a long way to take pressure off the existing system.
"Despite the massive pumping power of the sets, their overall efficiency of over 92% far exceeds the original requirement of 87% and marks a significant saving of electricity, which is important considering current power shortages."
International Relations
To ensure that the company's rapidly expanding customer base has full access to the company's sales and support services, KSB has also established an independent operation in Zambia.
"Having previously been represented by a network of agencies and dealers throughout the country, the growing number of pumps in the field, as well as burgeoning demand from the agricultural and mining sectors, has prompted the company to invest in more suitable infrastructure within the Zambian region," KSB regional sales manager David Jones explains.
He adds that the formal establishment of KSB Zambia is aimed at taking the market to an entirely new level with improved stock- holdings, shorter lead times for the procurement of pumps, improved price stability and on-site service and support for customers.
"We elected to buy a controlling share in pumps company Aqua Africa, based in Kitwe, Zambia – it is a well-established company in the Copperbelt trade."
Simultaneously, KSB also established a branch in Lusaka, which will cater largely for the country's agricultural market as well as position it well to support the infrastructural requirements of the residential and industrial markets.
"Now that the bricks and mortar are in place, we are planning to double our efforts and reach out to existing and new customers. We think the market is going to like what they see," says Jones.
Gremels adds that the move into Zambia is the first of several investments that the company plans to make within the sub-Saharan African region."There is considerable investment going on in Africa in terms of both infrastructure and industry."
KSB South Africa will support these developments with further investments into countries in East, Central, West and Southern Africa, with an emphasis on countries that already have large KSB pump populations, such as Angola, Namibia, Mozambique, Botswana and Tanzania, eventually covering all major countries in sub-Saharan Africa