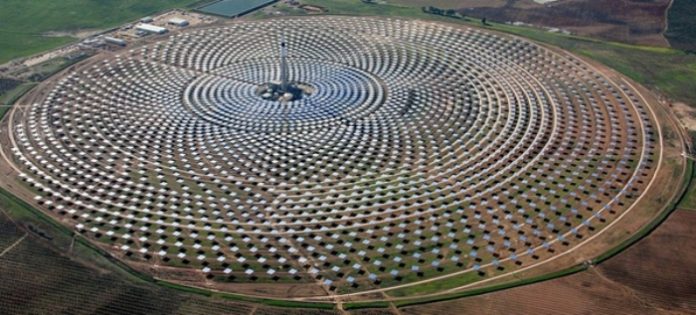 Morocco's King Mohammed VI has launched the building of the 70 MW Noor Ouarzazate IV PV plant.
Also read:Renewable energy sector in Morocco to generate jobs
This fourth stage of the scheme is the PV portion of the 580 MW Ouarzazate Solar Power Station (OSPS), a CSP-PV solar power complex situated in the Drâa-Tafilalet region, central Morocco.
The complex involves the 160 MW Noor 1 CSP power stations, which was finished in February 2016, and the Noor 2 CSP and Noor 3 CSP, which are presently under development and will have a capacity of 200 MW and 150 MW, correspondingly. According to the Moroccan government, the Noor 2 CSP and Noor 3 CSP plants have reached a completion rate of 76% and 74%, correspondingly.
The Noor Ouarzazate IV PV project is similarly part of the Noor PV 1 program, which contains the construction of a 30 MW PV plant in Laayoune and a 20 MW PV power station situated in Boujdour.
In November, the Moroccan Agency for Solar Energy (Masen) signed a 20-year power purchase agreement (PPA) with Acwa Power for the development of the three projects. Saudi Arabia's Acwa Power was nominated after an international tender to develop, construct and run the three plants under a BOOT (Build, Operate, Own and Transfer) scheme. Acwa Power signed the world's biggest EPC company, Sterling and Wilson, to build the installations in late November.
Masen allotted green bonds in the amount of $114.4 million for the projects, which are being developed in the outline of a three-part Independent Power Production (IPP) strategy with Morocco's power utility ONEE. The bonds were countersigned by local financial institutions Al Barid Bank, Attijariwafa Bank, the Caisse Marocaine de Retraite, and the Société Centrale de Réassurance.
German state-owned development bank KfW has delivered $64.0 million in funding for the Noor Ouarzazate IV project, whose prerequisite investment $74.6 million.