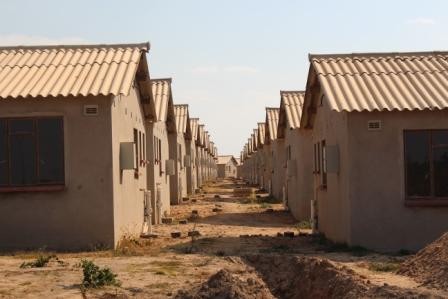 Craft Properties (Pvt.) Limited in partnership with the Government of Zimbabwe embarked on a housing development project to develop Holyland high density suburb in Kadoma. The project boasts 1,573 stands, which are reportedly nearly complete.
It was revealed by the Managing Director of the company, Mr. Kudakwashe Taruberekera that while some houses under the project are ready for occupation, others were almost complete which means that the property company is on course to fulfil the ZimAsset mandate, albeit in a small way.
Beneficiaries of this project were given 2 options either to let the company built them a 2-roomed core house or do the construction themselves. Under the latter agreement they can build structures of up to 8 rooms as long as they comply with the city's by-laws.
On account of the economic hardships the beneficiaries were also offered flexible monthly terms of up to 10 years whilst one is occupying the house.
Mr. Tarubereka went on further to report that while they had opened roads as per the requirements, they wanted to go further and tar the roads. To that end, the full road edifice equipment is already working on the project site.
Despite the lack of foreign funding and financial assistance from local financiers the December 2017 target for completion would be met. The company also reportedly donate 10 residential stands to the disabled and underprivileged members of the Kadoma community under the corporate social responsibility banner.
Over and above this project Craft Properties is developing residential-agricultural plots in the same town. The project is located 4,5km from the Central Business District of Kadoma along the Harare-Bulawayo highway towards Chegutu.
It is on 50 hectares of prime loam soils and comprises of 93 residential agricultural plots measuring between 4,000 and 5,900 square metres, making the plots suitable for poultry, piggery, horticulture and other small agricultural projects.
Mr. Tarubereka stated that while Holyland Housing Scheme was for the low to medium income earners, this one is targeting the high income earners from across the country with the beneficiaries of the scheme being allowed to construct structures of up to 3 storeys.
Surveys conducted by the company have proved that all the 93 plots have a favourably high water table. To ensure that the project gains traction the company has obtained the proper documentation and to date they have acquired all the necessary certification.