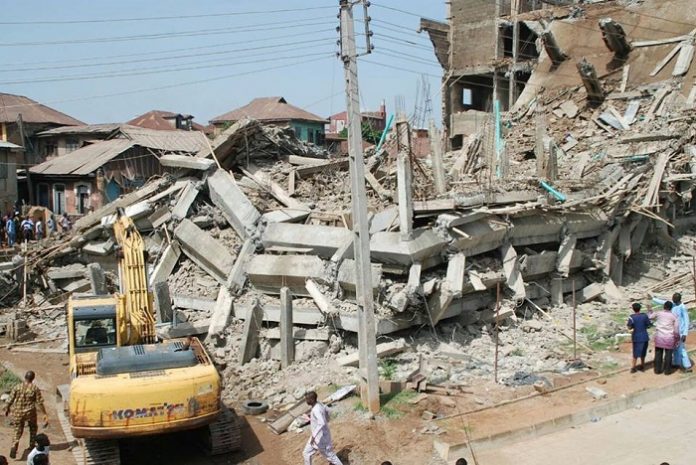 Nigeria's Building Collapse Prevention Guild BCGP, a non-governmental advocacy body championing the prevention of building collapse in the country has urged the Standards Organization of Nigeria (SON), to create a specialized department for building.
Managing Director of Vasons Concept Consultants Ltd, Victor Oyenuga, who was the guest speaker raised the alarm on the imminence of building collapses in the country.
Speaking at the Victor Oyenuga, who is also an engineer, said that the steel quality in terms of strength and sizes should not be compromised as steel remains one of the major causes of building collapse in Nigeria. He was speaking on "The Importance of Quality Flat Sheets and Steel Reinforcement Materials in the Construction Industry".
Also read:Nigeria moves to curb collapse of buildings
He advised SON on the importance of creating a specialized department for building materials, sighting the importance of steel manufacturers accompanying every consignment leaving the mills with a certificate specifying the steel strength, diameters and length.
He also called out to COREN and CORBON to intensify their monitoring role for both engineering and building projects. This, according to him, could be achieved by the enforcement of tests on steel materials found on site.
This would help prevent faulty designs and construction which more often than not arise from defective architectural and engineering drawings owing to lack of feasibility studies and inaccurate data coupled with contractors failing to carry out construction in accordance with specifications.
The President of the Guild, Mr. Kunle Awobodu, a builder, and vice president of Nigerian Institute of Building (NIOB), seconded Mr. Oyenuga, pointing out that standards of building projects need to be controlled right from production rather than relying on taking samples to laboratory for testing.
According to him the rising cost of production due to the Naira depreciation has turned metal scraps to the major component of steel production instead of imported billets.
Awobodu expressed gratitude to the leader of Ikorodu Cell of BCPG for organizing the stakeholders' forum and said there is the need for government to provide basic amenities as a way of supporting manufacturing companies in the country.