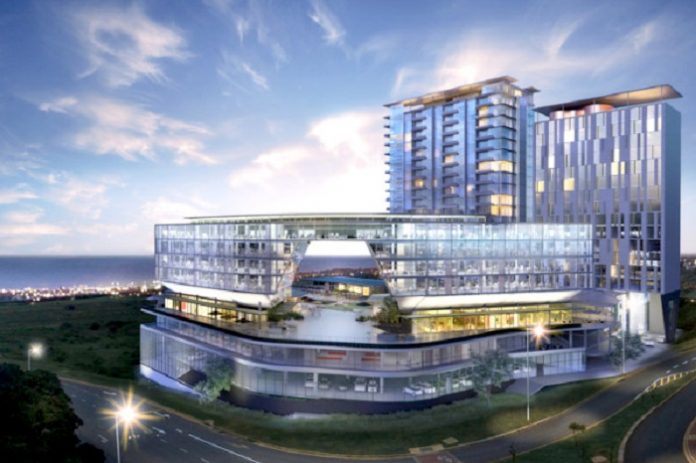 Construction is set to commence on Umhlanga Arch in South Africa; this is after a successful launch of the residential phase and office spaces. Recently, there was an official ground breaking of A-grade catalytic development Umhlanga Arch in Durban.
"We are thrilled to get going with the construction of Umhlanga Arch. The journey leading up to this moment has been nothing short of extraordinary, from record rate sales to the award as the best marketed development in South Africa for 2017," said Chris du Toit, Developer Representative of Umhlanga Arch.
Features in the Umhlanga Arch
The development  has a division of four key components, namely; upmarket offices, first-class retail, a superior hotel and luxury apartments. Moreover, Umhlanga Arch has the benefit of everything in one location.
Also Read: Construction of 24-storey office building in South Africa commences
Boasting the ultimate live, work, play lifestyle, residents can enjoy having a state-of-the-art gym. It dedicates itself to a concierge service, a lively up market piazza, a barber and salon, and a cutting-edge business centre right on their doorstep.
Contractor and financier of the project
"As we take this step forward, we are delighted to share that we have appointed Wilson Bailey Homes (WBHO) as our contractor and can confirm that Absa bank will be financing our remarkable project," said Chris du Toit,
Prominently positioned on the slopes of Umhlanga's Ridgeside, its iconic sea-facing configuration, commanding unsurpassed views of KwaZulu-Natal's coastline, is the pinnacle of urban sophistication and a symbol of this exclusive area's enviable lifestyle.
Other partnerships
Leading up to this stage, the Multiply Group recently announced its strategic partnership with Rembrothers; where planning has already begun in creating an eclectic lifestyle offering that further enhances the bespoke development.