A multi-billion shilling project is taking shape right in the heart of Kakamega County in Western Kenya.
Mwale Medical and Technology City (MMTC) is set to be a massive metropolis located in the Lunza area of Butere, a sub county of Kakamega. Once complete in 2020 as envisioned, it will easily be the largest single private development in the country. The project has stirred the hitherto sleepy rural community and generated excitement across the county.
The brainchild of Mr Julius Mwale, a Kenyan investor based in New York, MMTC consists of a shopping mall, a 5000-bed hospital, a technology hub, an airport, thousands of homes and leisure facilities including a 36-hole golf course. The development is backed by an extensive road network, street lighting and an independent power plant. There will also be cable car transport within the city.
But why Butere? This has been the question on the minds of many. Ordinarily, such massive developments take place within or near major cities in order to attract the middle to high income population with substantial disposable income.
"The main issue was land", says Mr Mwale. "Most large projects are mired in land controversies but given our location, it was easy for us. And because of the market that we are targeting, that is East Africans, it was a much better location than Nairobi." He reveals that an elaborate feasibility study was conducted between 2007 and 2012 to assess the viability of the project. It emerged that approximately 180,000 East Africans travel to India and South Africa annually to seek specialized medical services. "We decided to offer those services here and possibly capture at least a third of that market", says Mr Mwale, who is also the lead investor.
The project, set on 5,000 acres, consists of three phases. Phase 1 comprises the mall, supermarket, bed and breakfast accommodation and 90,000 square feet of private residences. Work commenced in 2014 and was completed in July 2016.
Phase 2, currently nearing completion, consists of the first section of the hospital and over 70km of roads built to all-weather standards. Sections of these roads are already tarmacked.  It also has more than 300 solar street lights that light up the entire complex.
According to Mr Mwale, the first section of the hospital will be the cancer unit while other departments such as renal, heart and infectious diseases will be built in Phase 3.
Phase 3 itself, which runs from September 2017 to 2020, comprises 4,800 homes for doctors, nurses and other health workers built around a 36-hole golf course and a power plant that will utilize waste from the hospital. The power plant is expected to generate 144MW, out of which MMTC expects to consume about a fifth while the surplus will be fed into the national grid. It is also in Phase 3 that the technology park for mobile and medical technology will be completed. "Over 10,000 engineers are expected to be based here", says Mr Mwale.
Other major components of the last phase are the airport, convention centre and a water park for recreation. The airport, convention centre and hospital will be connected by cable car.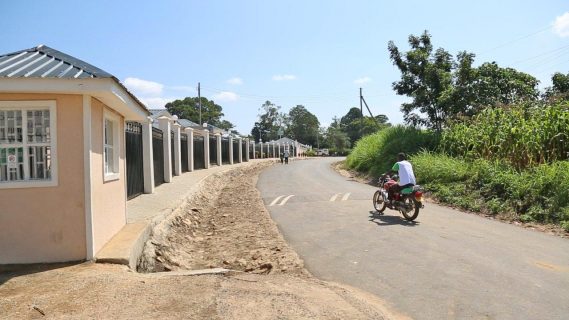 MMTC's total cost of construction is a whopping US $2 billion partly funded by US investors and supplemented by the anticipated power purchase agreement and sale of homes. According to Mr Mwale, 1,600 homes have already been grabbed by investors.
One of the reasons projects of this magnitude fail is opposition from the local community. But MMTC has been careful to avoid this pitfall by heavily involving the community around the project. "When we came in, land here was going for Ksh 150,000 an acre", says Mr Mwale. "Today, the same is going for Ksh 3,000,000." The local farmers are also the ones supplying the land in an arrangement where the developer gets their homes upgraded and builds them rental units. "No one is being displaced".
This is one of the major reasons the community is fully supportive of the project. Some families who were previously earning Ksh 18,000 from their sugarcane farms over a period of more than a year are now set to earn Ksh 40,000 per month.
In addition, the project has created many jobs for the community and will continue to do so as the metropolis comes together.
The project's success is also clearly attributable to Mr Mwale's extensive business networks in the United States where has resided for nearly 20 years and has been able to convince many to buy into his dream of MMTC. Currently a host of US companies, some of which he is a shareholder, are heavily involved in the project.
"If you are building something for the community, it is easy to get support; it is as simple as that", says Mr Mwale. "If it is just about you, then things will be very different and you might not go far enough. I have lived in this area (Kakamega) and therefore know what the people need. By building a big hospital, we are helping the people to live their lives to the fullest."
Mr Mwale is upbeat about the future of MMTC. "In 15 years, this is going to be one of the largest cities in Africa." The city is modeled on Phoenix City in Arizona, which was built in a desert amid skepticism but is today famous for its high-end spa resorts, designer golf courses and vibrant nightclubs.