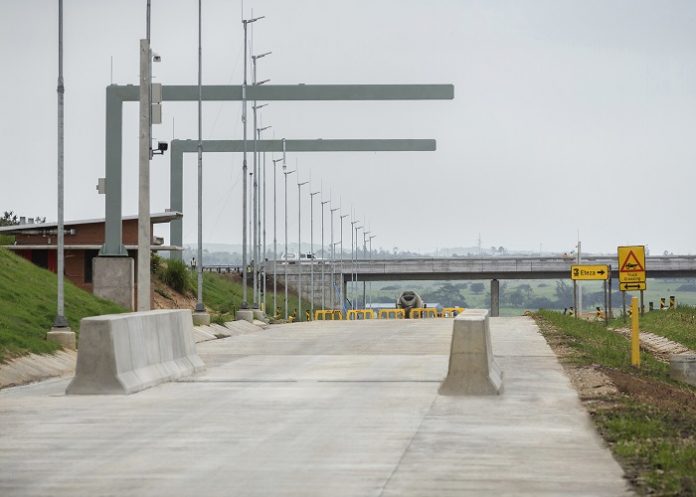 February 2017 saw the completion of an extensive Sika project on the newly constructed Eteza Interchange on the N2 National Route in northern KwaZulu-Natal. Due to continual road damage caused by a high percentage of overloaded trucks, the South African National Roads Agency Limited (SANRAL) resolved to construct an Overload Control Facility on the dangerous section 29 of the N2. In order for heavy vehicles to gain safe access to the control facility, a full diamond interchange was constructed at the junction of Road P352 and the N2.
Empa Structures, a division of Robex
Empa Structures, a division of Robex, was appointed civil contractor for all concrete aprons, bridge over the N2 and building works. Contracted to install and apply multiple Sika products, they commenced the approximately 6200 m2 project in May 2015. Mortars used included Sikadur-43 ZA, a solvent-free, three-component, repair and filling mortar based on a combination of epoxy resins and selected high strength aggregates, and Sika Rep, a one-component, cement-based multi-purpose patching and repair mortar.
Suitable for both dry and damp surfaces, Sikadur-43 ZA provides rapid, shrinkage-free hardening and high mechanical strength as well as abrasion and impact resistance. Curing of Sikadur-43 ZA is unaffected by high humidity, an important factor in this area of KwaZulu-Natal. Easy to mix, apply and finish, Sika Rep provides excellent adhesion, is shrinkage compensated and vapour permeable with a high resistance to freeze/thaw cycling.
Sika concrete curing agents
Sika concrete curing agents used were Antisol -E (3000 litres), and Antisol-15 White Pigmented Resin Based (Colta requirement) (9000 litres), both liquid curing compounds particularly useful for the prevention of water loss in large areas of exposed concrete. Supplied ready for use and simple to apply, these Antisol products reduce the incidence of plastic cracking, ensure achievement of desired strengths, minimise shrinkage, reduce dusting and increase frost resistance.
Use of these compounds alleviates other costly methods of curing such as hessian-watering, which was an advantage during this project due to the extreme weather conditions in Zululand, especially in summer.
Prior to filling and sealing, concrete joints were mechanically prepared using an angle grinder, then air blown and cleaned with a high-pressure water jet and allowed to dry.
Grouting was done using SikaGrout-212, a one-component, high strength, free flowing expansive grout that is supplied as a ready to mix powder. With shrinkage compensated properties, it is non-corrosive and pre-batched for quality.
Sikadur-52 ZA, a two-part, low viscosity injection liquid based on high strength epoxy resins, was used to fill and seal voids and cracks. Solvent-free and suitable for both dry and damp conditions, it not only forms an effective barrier against water infiltration and corrosion promoting media, but also structurally bonds concrete sections together. Sikadur- 52 ZA is usable at low temperatures, injectable with single component pumps and provides shrinkage-free hardening with high mechanical and adhesive strengths.
One of the top-quality products used was Sikasil-728 NS (727 cartridges), a non-sag, ultra low modulus elastomeric, neutral cure, silicone sealant. Although Sikasil-728 NS met multiple international standards and environmental requirements, at the time of the project it was not a SANRAL-approved sealant, resulting in Sika being required to provide independent test reports to prove its efficacy.
Unsurprisingly, the results satisfied SANRAL technical specifications for a highway sealant. Sikasil-728 NS provides very high movement capabilities, excellent flexibility even in extreme temperatures, very good adhesion, especially to concrete and, due to its outstanding UV resistance, has an exceptionally long service life. Manual applicator joint sealant guns were used to apply this specialist product.
As a moisture-tolerant, structural two-part bonding agent, Sikadur-32 Normal was used as a bonding agent between wet freshly placed repair mortar and old existing concrete. Based on a combination of epoxy resins and special fillers, Sikadur-32 Normal is easy to mix and apply, suitable for dry or damp concrete surfaces, hardens without shrinkage and provides very good adhesion with high bond strength as well as high initial and ultimate mechanical strength. It is impermeable to liquids and water vapour and designed for application between 10oC and 30oC.
The ninth Sika product specified for the project was Sika BlackSeal Lastic; a rubberised bitumen emulsion waterproofing coating that is easily applied either by brush, roller or trowel.  With non-sag, crack-bridging properties, non-toxic Sika BlackSeal Lastic remains flexible even at low temperatures.
Thanks to Sika supplying a skills development program, local labour from the district municipality of Uthungulu was employed to apply many of the specified Sika materials. The local Empasoccer teams also benefitted from the project by being sponsored with Sika T-shirts for their sports day.
The Council for Scientific and Industrial Research (CSIR) has estimated that 20% of all heavy vehicles are overloaded; accounting for 60% of the damage caused to the South African road network. The Overload Control Facility at Eteza Interchange will provide much needed safety measures by monitoring all heavy vehicles not only for overloading, but also for roadworthiness tests. The Eteza Interchange is a very worthwhile project in which Sika played a major role.
For more information on Sika Products and systems, visit
Sika AG Corporate Profile
Sika AG, is a globally active specialty chemicals company with its South African Head Office based in Durban, and branches in all major SA cities.
Sika AG, located in Baar, Switzerland, supplies the building and construction industry as well as manufacturing industries (automotive, bus, truck, rail, solar and wind power plants, facades). Sika is a leader in processing materials used in sealing, bonding, damping, reinforcing and protecting load-bearing structures.
Sika's product lines feature high-quality concrete admixtures, specialty mortars, sealants and adhesives, damping and reinforcing materials, structural strengthening systems, industrial flooring as well as roofing and waterproofing systems. Sika has subsidiaries in 93 countries around the world and manufactuers in over 170 factories, with some 17 281 employees link customers directly to Sika and guarantee the success of all partners. Sika generated annual sales of CHF 5.49 billion in 2015.