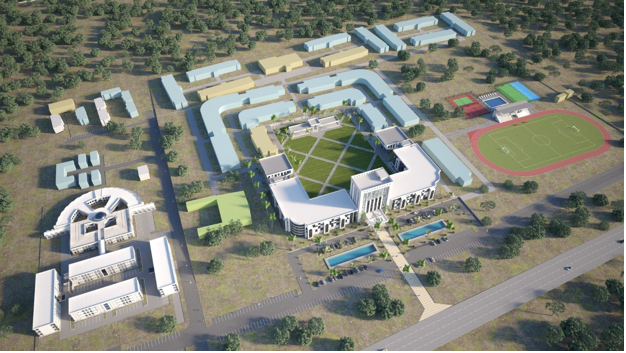 Umma University is an Islamic based accredited Private University in Kenya. The institution offers Islamic Studies, Islamic Sharia, Islamic Banking and Finance, Business Management, Computer Science and related studies.
To meet a growing demand for its programmes, the university embarked on a new campus in Kajiado, south of Nairobi, where pressure on land is lower and the environment is more conducive for serious learning. Previously, the university offered it programmes at Thika Campus. The first group of students at the Kajiado campus graduated in March this year.
ABOUT THE PROJECT
The project, being implemented in phases began in 2015 and sits on 75 acres with 45,000 square metres being the actual built up area. Blink Studio, an architectural, design and project management studio based in Nairobi, has been leading the project team. Phase 2 is currently underway.
Umma boasts an environmentally-conscious master plan for a modern day university campus in the savannah plains of Kajiado County. The plan includes buildings housing the various faculties, student affairs and accommodation, administrative services, library, laboratories, sports facilities, staff accommodation and ultimately a teaching and a referral hospital.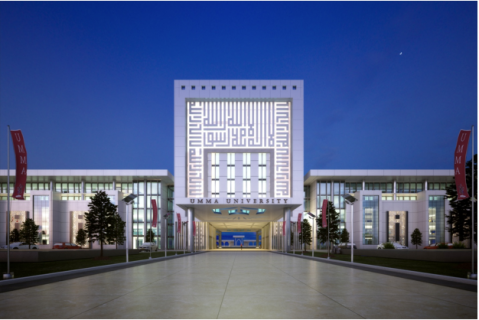 The planning takes advantage of the vast spaces available by creating numerous functional courtyards, enriching the student experience.
The design of the project aims to achieve an important role as an Icon for Umma University. The master plan is symmetrical creating an axis meant to amplify the connection between Religion, Knowledge, Ceremony and Art.
 The Great Court
The design incorporates The Great Court which will be used for academic ceremonies, congregations, open days, exhibitions, performances etc. It will act as the main public space for the university.
 The Ceremonial Pavilion
The pavilion is sculptural with Islamic features and is located on the opposite end of the Administration block to act as the dais and background for all the great court occasions.
PROJECT TEAM 
Project Manager: A. Hamid Projections
Architects: Blink Studio Ltd
Structural & Civil Engineers: Maruti Consultants
Mechanical Engineer: Umakant International
Quantity Surveyor: Costbill Systems
Main contractor: Kingsley Construction. Co. Ltd
Electrical subcontractor: Radiant Power Systems Ltd
Swimming Pool: Poolshop EA Ltd
Lifts: Omega Biz Kenya Ltd.
Generator: Ryce East Africa Ltd
Aluminium & Curtain walling: Canon Aluminium Fabricators Ltd
Solar Panel Installation: Batavia International