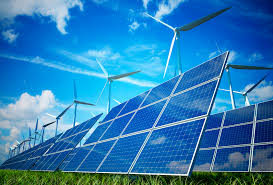 South Africa has been granted US $100m by Germany's KfW to finance renewable energy projects in bid to enhance the country's grid.
The improvement to the country's power infrastructure is planned to enable the integration of renewable energy IPP projects under the recently signed PPAs, as part of the REIPPPP program.
The financing agreement was signed by the German ambassador in South Africa, Klaus Streicher, and Eskom CEO, Phakamani Hadebe.
German owned development bank, KfW has also agreed to provide South African power utility Eskom with US $100 m in funds for the improvement of the transmission network in the Eastern Cape region, where several large-scale renewable (mostly wind) power plants are located.
Also Read:Zambia to receive US 11.75m for Ngonye solar power plant project
Improve transmission network
According to Eskom,the grid enhancement, is intended to enable the integration of several new renewable energy projects that were recently resumed, due to the signing of the related outstanding PPAs under the Renewable Energy Independent Power Producer Procurement Programme (REIPPPP) by the South African Department of Energy.
"The facility demonstrates the improved market sentiment and confidence in the ability of the Eskom's leadership to direct the company on the correct path to recovery and sustainability," said Eskom CEO, Phakamani Hadebe.
Areas of Harrismith in the Free State and the Greater East London will be one of the beneficiaries of improvement plans.Eskom's financial situation, on the other hand, has been particularly difficult over the past years, and this was the reason for the several-times delayed signing of the aforementioned PPAs.
In order to rescue Eskom, in 2015 the South African government provided the utility, which is the only entity in the country entitled to buy renewable energy power under the REIPPP program, with US $1bn
"The signing of this loan facility is a positive contribution towards the successful execution of Eskom's US $ 5bn funding requirement for FY2018/19",said Hadebe.