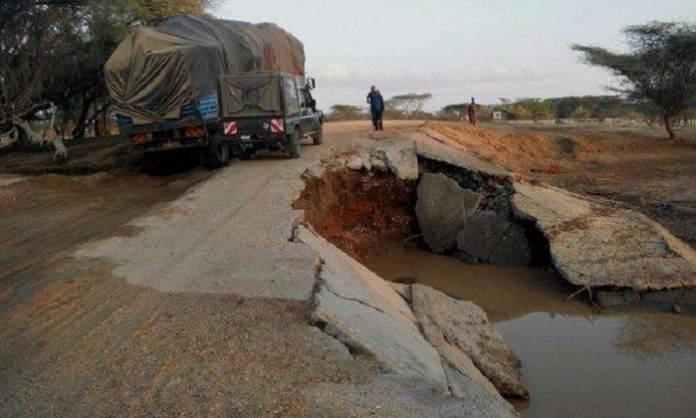 The Kitale-Lodwar road has been closed for public use at Kainuk as the Kenya National Highway Authority rushed to repair Kainuk Bridge and upon completion, the bridge will be used by trucks transporting oil to Mombasa from Lokichar, Turkana County.
Heavy trucks had been banned from using the bridge since it was repaired after it collapsed last year due to heavy floods experienced in the counry. A temporary drift was later constructed for them at Kainuk which has however aslo been unusable for the last two months after it was overtopped by River Malmalite's flood waters.
Repair progress
Petroleum and Mining Cabinet Secretary John Munyes said he was satisfied with the progress of the repairs and added that normal traffic will resume before the trucks are flagged off. President Uhuru Kenyatta is expected to flag off the trucking under the Early Oil Pilot Scheme on Sunday despite the lack of a dependable bridge.
"I applaud the relentless works of the officers from the Ministry of Transport and the Ministry of Defence. They are working day and night to ensure the bridge is complete ahead of the flag off on June 3," he said during his visit to the area.
"I would like to assure Kenyans that the bridge will be completed for our oil to be transported to the port of Mombasa," he added.
Also read: Kenya launches roads reconstruction in Nairobi's Eastlands
 Kitale-Lodwar road
Distance between Kitale and Lodwar is 243 km. Driving distance from Kitale to Lodwar is 298 km.Kitale is located in Kenya with 1.0157,35.0062 latitudes and longitudes and Lodwar is located in Kenya with 3.1191,35.5973 latitudes and longitudes. The calculated flying distance from Kitale to Lodwar is equal to 151 miles which is equal to 243 km.