Aluminum is the third most abundant metal in the Earth's crust, and the third most abundant element overall. Aluminum is popular because it is lightweight, strong, resistant to corrosion and durable. It is also ductile, malleable, and conductive and has no odour.
Buildings made with aluminum are virtually maintenance free due to aluminum's resistance to corrosion. Aluminum is also thermally efficient, which keeps buildings warm in cold seasons and cool in hot seasons. Add the fact that aluminum has a pleasing finish and can be curved, cut and welded to any desired shape, it allows modern architects unlimited freedom to create buildings that would be impossible to make from wood, plastic, or steel.
The first building in which aluminum was widely used was the Empire State Building in New York, built in 1931. Today, aluminum is regularly used in the construction of high-rise buildings and bridges. The lighter weight of aluminum makes it easier, faster and more convenient to work with. It also helps reduce other costs. A building constructed of steel would require much deeper foundations due to the added weight, which would drive up construction costs.
Aluminium is widely used together with glass in modern construction projects especially on doors, windows, partitions and curtain walls. The combination results in an aesthetically appealing final product.
Glass
Glass has been a fascinating material to humankind since it was first made in about 500 BC. At first thought to possess magical properties, glass has come a long way. It is one of the most versatile and oldest materials in the building industry.

Types of Glass
Float Glass: Float glass is also called soda lime glass or clear glass. This is produced by annealing the molten glass and is clear and flat. Its modulus of rupture is 5000-6000 psi. It is available in standard thickness ranging from 2mm to 20mm. and has weight range in 6-26kg/m2. It has too much transparency and can cause glare. It is used in making canopies, shop fronts, glass blocks, railing partitions, etc.
Tinted Glass: Certain additions to the glass batch mix can add color to the clear glass without compromising its strength. Iron oxide is added to give glass a green tint; sulfur in different concentrations can make the glass yellow, red or black. Copper sulphate can turn it blue, etc.
Toughened Glass: This type of glass is tempered, may have distortions and low visibility but it breaks into small dice-like pieces at modulus of rupture of 3600 psi. Hence it is used in making fire resistant doors etc. They are available in same weight and thickness range as float glass.
Laminated Glass: This type of glass is made by sandwiching glass panels within a protective layer. It is heavier than normal glass and may cause optical distortions as well. It is tough and protects from UV radiation (99%) and insulates sound by 50%. Used in glass facades, aquariums, bridges, staircases, floor slabs, etc.
Shatterproof glass: By adding a polyvinyl butyral layer, shatter proof glass is made. This type of glass does not from sharp edged pieces even when broken. Used in skylight, window, flooring, etc
Extra clean glass: This type of glass is hydrophilic i.e. The water moves over them without leaving any marks and photocatylitic i.e. they are covered with Nanoparticles that attack and break dirt making it easier to clean and maintain.
Double Glazed Units: These are made by providing air gap between two glass panes in order to reduce the heat loss and gain. Normal glass can cause immense amount of heat gain and upto 30%of loss of heat of air conditioning energy. Green, energy efficient glass can reduce this impact.
Chromatic glass: This type of glass can control daylight and transparency effectively. These glass are available in three forms- photochromatic (light sensitive lamination on glass), thermochromatic (heat sensitive lamination on glass) and electrochromatic (light sensitive glass the transparency of which can be controlled by electricity switch.) It can be used in meeting rooms and ICUs.
Glass wool: Glass wool is a thermal insulation that consists of intertwined and flexible glass fibers, which causes it to "package" air, and consequently make good insulating materials. Glass wool can be used as filler or insulators in buildings, also for soundproofing.
Glass blocks: Hollow glass wall blocks are manufactured as two separate halves and, while the glass is still molten, the two pieces are pressed together and annealed. The resulting glass blocks will have a partial vacuum at the hollow center. Glass bricks provide visual obscuration while admitting light
Choosing the Right Glass
Accounting for up to 90% of the thermal performance of windows and doors, glass is the most influential factor in determining window and door energy efficiency. Not all glass products are created equal and it's vital to select the appropriate glass for specific purpose.
Glass is more than a building material; it offers endless aesthetic and practical benefits.
Dealers in Aluminium and Glass 
Glass and Aluminium dealers can be found in most large urban centres in a country. Some are in manufacturing, imports and retail while others are contractors who specialize in glass and aluminium finishes.
Diquigiovanni Srl 
Diquigiovanni Srl has been operating since 1967, specialized in the production and installation of 100% Made in Italy PVC and PVC / aluminum windows. The company's headquarters is in Gambellara (Vicenza) close to Venice.
The company's unique aspects of their products include: high quality PVC Made In Italy, 100% customized products, wide range of products and finishes, energy saving thanks to high thermal and sound insulation, high level of security against burglary attempts, 10-years warranty, product certifications and maintenance free. Their products can be found in African countries like Ghana, Tunisia, Nigeria, Senegal Uganda and Gabon.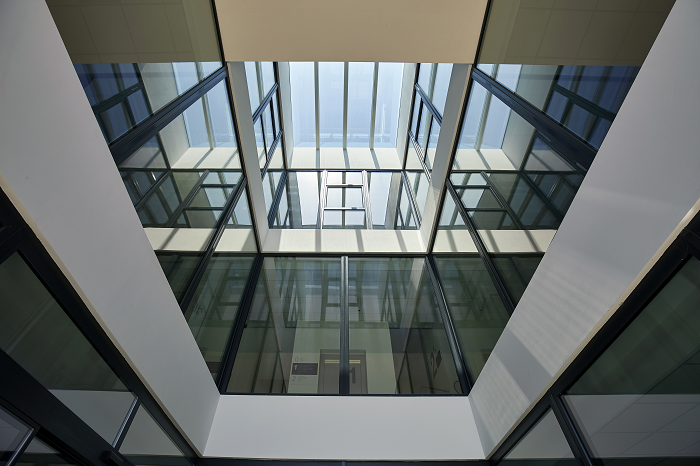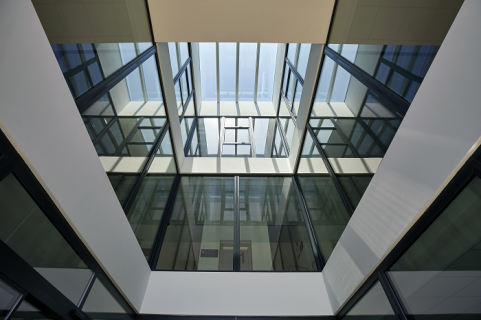 Hebatullah Brothers Ltd
Hebatullah Bros Ltd is one of the leading importers of all kinds of building glass. Established way back in 1930.
The company has over the decades developed into servicing the competitive needs of the construction industry with high quality products in the following areas: Aluminium extrusions of high quality profiles, powder coating of aluminium profiles that withstand all weather conditions, anodised aluminium profiles of high standard, wood grain application on aluminium profiles, curtain walling, structural glazing and ACP cladding works, uPVC doors and windows, Frameless glass facades, shop fronts and shower cubicles
Apart from being a manufacturer of powder coated aluminium profiles, Hebatullah Brothers Ltd also fabricates Deceunick (Belgium) uPVC profiles and is a major contractor for glass and aluminium works. The company targets general consumers, home owners, architects, developers and contractors.
In recent years, it has worked on several major projects both in Kenya and elsewhere in the region. The company has recently finished manufacturing and installing aluminium windows, curtain wall and Mashrabiya (a type of projecting oriel window enclosed with carved wood latticework used in Arab architecture) for FCB Mihrab Towers, an outstanding building on Lenana Road in Nairobi. Others the company has been involved in include Panari Hotel, Sifa Towers, Safaricom headquarters, Kigali Towers, Goodman Towers, Crater Automobiles and 9 West among many others.
Mr Shabbir H. Hebatullah is the company's Managing Director. He says that as the pioneers in the fields of glass aluminium, Hebatullah Brothers Limited is well leveraged and is able to supply the highest quality products at the most competitive prices.
He decries what he terms as low quality aluminium and glass imports from other countries. "The government should encourage local manufacturers to make high quality products", he suggests.
On trends in the industry, he reveals that architects and developers are turning to newer materials and technologies. "Architects and developers have begun using solar glass and they require high quality work which we are striving to provide them".
Smartalu Aluminum Solutions
Smartalu, has grown to become one of the most important players in the international market in the production and development of aluminum systems for windows, doors, winter gardens, sliding systems and facades.
The company is boast of their global offer, that is certified with European standards. This allows them to propose solutions to the complete building envelope, and adapted to each project needs. From non-insulated systems to high end systems with high thermal performance, for simple, double or triple glazing, either with traditional visible profiles or minimalist aesthetics.
For example, following modern architecture trends of light maximization through bigger glass surfaces, they can make very big sliding windows with minimalist aesthetics that can allow five meter high vents, glass weights up to 1000 Kg, hidden rail, pocket and
free corner solutions.
They also have other differentiated products that have aesthetics similar to steel, for example, allowing to create industrial look external windows, or interior partitions with the same type of aesthetics, bringing a unique and different look to interior design of
residential or office buildings.

Crystal Aluminium Works Limited
This company is based in Nairobi. Established in 2008, it is involved in glass, aluminium and many types of fittings but is largely engaged in importation. Crystal Aluminium Works targets retailers, developers and general consumers in Kenya, Uganda and Tanzania.
According to Mr Ghanshyam Vekarya, a director, the company's products are preferred due to their quality and affordability. My Vekarya notes that there has been an increase in demand for these products in recent years. He cites quality of work as one of the challenges that face businesses in this industry but adds that Crystal Aluminium Works itself has qualified and experienced staff.
Essajee Amijee Trading Ltd – The Gass Shop
The Essajee Amijee Group has been operating in the glass business since 1906, first as a general glass merchant then diversifying into picture framing and automotive glass and most recently in project implementation. They are bulk importers of all glasses but do light processing in house.  The company works with contractors and developers in the supply and installation of glass and glass related products for commercial and residential buildings.
Some of the projects completed in Kenya include Kingfisher Nest, Landmark Suites, Monarch Hotel, DusitD2 Hotel and The Crescent. The company also supplies its products to Rwanda, Burundi and Uganda. Essajee Amijee is proud of its long experience in the industry. "All our glass and hardware is carefully procured and installed to the highest specification", says Taha Mohamedali, a director. "We follow international standards of specification and installation", adds Mohamedali who also reveals that his company is the only one that maintains a formal classification of anti-bandit glass.
The director observes that lately, more people are preferring glass to other materials in their offices and residences "as it makes spaces appear larger and allows for better lighting". More people are also moving from steel to aluminium windows due to the latter's durability and ease of installation.  "There is also a growing preference for anti bandit glass instead of the traditional grills", he observes. Other trends include coloured glass kitchen backsplashes and countertops. "Wardrobe cladding is also employing coloured glass".
Mr Mohamedali says that among the challenges faced by the sector is that many players do not know how to specify glass. "You find the wrong type of glass used in the wrong application." He decries the proliferation of substandard hardware in the market that often fails advising that it is better to work with known suppliers of goods that come with warranty and manuals. He also notes that due to a shortage of skilled artisans, installation in some cases is problematic. "Better training in glass installation is needed," he concludes.
Canon Aluminium Fabricators Limited
Canon Aluminium Fabricators Limited is a major player in the glass aluminium sector in Kenya and neighbouring countries. The company manufactures laminated, toughened and double-glazed glass as well as a variety of aluminium products. It is also a major importer of the same and undertakes contracts on projects involving glass and aluminium. The company targets general consumers, developers and homeowners. Among the key projects it has worked on are Sameer Park, University of Nairobi and Kenyatta University.
According to Joan Nafula who is a Projects Assistant in the company, Canon Aluminium is the preferred choice due to its affordable prices and the high quality of products. The fact that one can get a wide range of goods and services under one roof is another attribute that gives it an edge.
Joan notes that recent trends in the sector include decorative glasses and different finishes in Aluminium such as wood grain and matt. But she decries the proliferation of cheap and low quality aluminium from China.
Dominion Engineering Works E.A. Limited
Dominion Engineering Works has been manufacturing high quality roller shutters and a range of aluminium ladders in Kenya since 1955. The company manufactures and sells its products to a variety of consumer markets ranging from residential to large industries.
Among the recent projects it has supplied are Tatu City and Cyton Amara Ridge. Lucy Muya, an administrator in the firm, says Dominion is strong in the market due to its long tradition in making roller shutters and its installed capacity to produce the same. She cautions on cheap low quality imports and calls for better enforcement of standards.
Modern Casements Limited
Modern Casements Limited (MCL) is well known for aluminium profiles and accessories. Established in 1996, the Nairobi-based company serves mainly developers and general consumers in Kenya. According to General Manager Leon John, MCL takes pride in the quality of its products and the ability to meet its obligations on time. He says glass and aluminium uptake has increased over the last few years.
ASE Europe N.V.
ASE Europe N.V. was established in 1956 and is active in overseas export of a wide range of architectural glass and building materials. Within the glass product range the company supplies high performance solar control and low-glass for facades for high rise buildings (such as Planibel, Stopsol, Sunergy, Stopray) as well a decorative glass for interior finishing of buildings (such as Lacobel, Matelac, Matelux, Mirox). ASE Europe N.V.  works closely with leading global manufacturers such as AGC, Reynaers, AMF Knauf, Equitone Fibre Cement,  all of whom the company represents  in East Africa.
The Belgian company has already supplied  glass and construction materials to several major projects in Africa including Britam Tower, Le Mac, Two Rivers, Goodman Tower, Skypark Tower, Kenya National Library, Nairobi Hospital, Aga Khan Hospital in Tanzania, Lotigo project Uganda, RDB in Rwanda and many more.
Staf van Turnhout, ASE's Commercial Manager, says ASE Europe provides a complete range of quality products, competitive pricing and excellent services for façade construction companies, installers and contractors for exterior and interior finishing of buildings.
On trends in glass, he observes that there is a movement towards  bigger glass panels, higher light transmissions, but still good solar protection and energy saving. Other players in the industry include Jito Glass Works Limited, Mufaddal Glass Distributors, Setto Glass Contractors Limited and Khush Aluminium Works Limited.