Architect's Profile
Jatinder Thethy is the Founder and Principal Architect at Nairobi-based, Innovative Planning and Design Consultants (IPDC), at which he leads the dynamic team, that has been responsible for delivering some of Nairobi's most exceptional buildings, in its recent history. An avid golfer, "JT" as he is known to many, is a proponent for youth participation in sports, as a character builder and is involved in wildlife and environmental conservation, through the annual Rhino Charge competition. Thethy, whose career started in the London offices of international architectural firm Benoy, holds a Masters Degree in Architecture from the University of Nottingham, in the United Kingdom.
About IPDC
The Innovative Planning and Design Consultants (IPDC) architectural practice leads in the delivery of large scale residential, commercial and mixed-use developments. IPDC's defining projects include the Address on Waiyaki Way, The Park Inn Hotel and One General Mathenge luxury residence, both in Westlands as well as the The Marquis, in Kileleshwa.
This year and in what is described as its Decade of Innovative Architecture, IPDC commemorates its ten year anniversary. Founded in 2008 by Jatinder Thethy, IPDC has carved out a leadership position in its category and served market, delivering large scale, residential, commercial and mixed-used developments for leading real estate and property developers. Today, IPDC under the leadership of Thethy, has gained a reputation for its creatively differentiated architectural offering, delivered through a symbolic and recognizable style. In this feature, we showcase three of IPDC's defining projects and find out more about its Decade of Architectural Innovation, from Founder and Principal Architect, Jatinder Thethy.
Construction Review: What is IPDC's Decade of Innovative Architecture?
Jatinder Thethy: The Decade of Innovative Architecture has deep meaning for the IPDC team. It marks the ten-year milestone that we've reached, since we opened our doors and speaks to the achievement of the vision we had, which was to be innovative in creating and bringing to life built environments that foster growth and productivity, while promoting vibrancy in our communities. We're proud to have achieved this goal and I'm personally grateful to our dedicated team and the loyal clients who have been part of the journey.
CR: Your career started in the London offices international architectural firm, Benoy. Have you taken a leaf from the Benoy book?
JT: Certainly. Benoy is a very innovative firm, which is a word that also describes our name and is part of our design philosophy, as it is the lens through with we view and approach any project parameters. Collaboration is also central to how a firm like Benoy, operates across geographic boundaries and even though architecture is inherently collaborative, being deliberate about it as we are, promotes the achievement of better project and building outcomes.
CR: As founder, you now lead a team of ten architects, how would you describe your leadership style?
JT: I lead by example, with hands-on involvement and remain accessible to the team, to coach, motivate and encourage. I'm very keen on bringing out the very best in our people and making sure that IPDC provides better career growth prospects for young, local talent. Having an in-house team as we do, supports this because it facilitates staff development, knowledge sharing, retention and also the incubation of the ideas that drive the creation of the symbolic buildings that IPDC has come to be known for.
CR: How important is the talent and what sets IPDC's talent apart?
JT: The talent is critical to the success of any architectural practice as it implements the firm's expertise. At IPDC we have a stated commitment to attracting, retaining and mobilizing the right talent on client projects. This, combined with a learning culture, which is driven by our formal approach to knowledge management, has earned IPDC a reputation of being a great place to work and hone one's skills as an architect. The payoff for the firm from its depth of talent, is that we now have an above average, median staff tenure for a firm in our category and served market, which ultimately translates to value for our clients.
CR: Why is knowledge management important for IPDC?
JT: For IPDC, knowledge management is about delivering value to the firm and most importantly, its clients. As a significant part of the firm's output in terms of the ideation and knowledge that conceives our buildings is intangible, it is difficult to quantify and its value can be easily dismissed. Formally capturing this intangible value, which knowledge management does and applying it to client work via our proprietary workflow, adds to the firm's collective knowledge, sharpens our skills as architects and enhances business outcomes for clients, through optimized processes and increased efficiency.
CR: IPDC is a specialist in delivering large scale, residential, commercial and mixed used developments. Has this been by design?
JT: Yes, in the sense that it begins with the firm's commitment to innovation and delivering the unique and iconic buildings that commercial property developers seek. Honouring this promise has generated additional design opportunities from developers in this segment of the industry and allowed IPDC to achieve sector specialization and expertise in these building typologies. The reputation for excellence in this area and the market positioning is what sets us apart and makes us an architect of choice in this niche segment.
CR: What is your outlook to the construction industry? Are you optimistic?
JT: I'm very optimistic about the industry, which is very resilient and is thriving in many ways, but it's not without its challenges and risks.
However, there appears to be a commitment to improvement across the board, beginning with standards and regulations, all the way to the increasingly superior architectural products we now see. For me the future looks promising.
CR: The firm-client relationship in architecture is complex. If you could, what is one thing you would change about it?
JT: What comes to mind has to do with the disproportionate focus that both managing cost and time receive in the procurement of architectural services. In my opinion, in addition to the enormous pressure they exert on the process, they inadvertently achieve the opposite effect, by increasing risk. We are changing this at IPDC by collaborating with clients, through an approach that encourages a deliberate evaluation of the best options and outcomes, at an early stage in the building process. This not only promotes innovation and better design, but also creates long term value through quality and more sustainable buildings. It also drives cost containment and profitability for clients, which is what commercial developers actually want.
CR: You have taken part in the annual Rhino Charge off road competition. Is work-life balance important and how else do you recharge?
JT: The Rhino Charge is a great wildlife and environmental conversation programme that I have been a part of for several years; this year we came in 21st with car number 24. The demands of the job can exert a toll, so it's absolutely necessary to balance life and work. I enjoy a good round of golf, but meaningful social engagement, which charges up the routine, while achieving positive social outcomes is also another approach. For example, recently, we have been able to privilege the firm's knowledge, resources and domain expertise in the built environment, towards the preservation of a local heritage building. This sort of involvement is something that IPDC has a strong commitment to.
CR: A decade has come and gone at IPDC, what plans do you have for the next ten years?
JT: We are already charting the road map to IPDC's second decade, by harnessing what we have done well in the last ten years. This is anchored in skill development and adopting technology as a tool and resource. In this regard, we just concluded an in-house training session, facilitated by a Senior Associate from Graphisoft, the Hungarian makers of the ARCHICAD architectural BIM CAD software, which expanded the team's expertise in BIM, virtual building model management, project team integration and other areas. We are geared and committed to helping our clients achieve even greater heights, in the next decade.
Buildings

The Quintessential Address
Located along Waiyaki Way in Westlands, the Address is delivered through the elegant architecture and symbolic building style, that is emblematic of IPDC's output. Designed for Hayer One, a leading property developer, its ambitious design, matches business function, with a distinctive building, to give it the unique identity, that is the basis for its name and claim. For the masterfully designed Address, which straddles Westlands and Lavington on a generous, green space, IPDC took a responsive approach to its site, environment and context, to create a deep relationship between its interior and exterior.
In interfacing the building with the public realm, the team created a two-level show area that faces the adjacent motor way, creating a gallery that draws pedestrians and road bound on-lookers in, through the Address' 10mm laminated, acoustic glass-clad facade. Standing tall among its peers along a busy thoroughfare, its high quality fit out, top range business amenities such as high speed elevators, ultra modern security and ample parking, make the Address a future forward location, while staking its presence and claim as a Waiyaki Way landmark and Kenya's quintessential business address.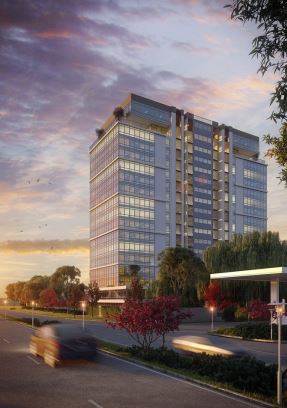 A Grand Achievement
The Marquis is a grand achievement. Its distinctive twin towers, set atop a multi level parking garage, rise in vertical mastery, to assert an impressive presence in Kileleshwa's skyline. Acknowledging each other through their side by side assemblage, the towers form a "V" shape, at the bottom of which, is a luxurious deck and infinity swimming pool. For the Marquis, which is a Hayer One development, IPDC took the brief of creating a pinnacle of modern architecture and delivered it through a reinforced concrete structure, of masonry block walls.
To honour the client's promise of intelligent layouts, the architectural team designed plans that maximize unit count, without compromising on the offer of space and unbeatable size. They also worked to expand the interior spaces to the outdoors, through terraces and balconies, whose subtle curvaceous protrusion, add artistic depth to the Marquis' angular facade. Demonstrating IPDC's ability to design for lifestyle, by elevating the way humans experience their lives in the built environment, the design team sought to understand the Marquis' future resident and their unique needs, which they captured through forethought and ingenuity, then used architectural meaning, to deliver the strong statement of an exquisite lifestyle that is embodied in the Marquis.
An Urban Icon
Designed for AMS Properties and located in the heart of Nairobi's Westlands area, the Park Inn is a 140 room, eleven-floor hotel, that is set on a rectangular foot print and an enclosed courtyard. Emblematic of contemporary architecture in its style, this concrete tower is dominated by two walls, which powerfully jut out from both side elevations, to flank the hotels open, roof-top terrace, with sculpted, sharp geometric lines.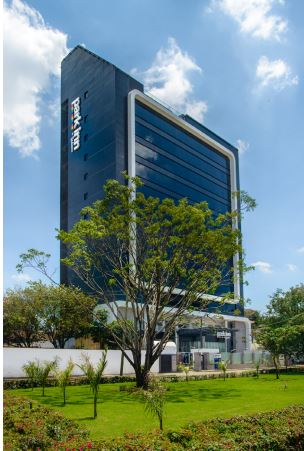 Two stainless steel-clad columns, frame either side of the hotel's entryway and its glass-covered canopy, above which, the rounded white wall detail of the hotel's parameter fence, is carried over, to soften its sharp lines and add a splash of white, onto a black facade, whose dark tinted glass, is used to provide visual privacy and reduce the glare from the bright outdoors.
Showcasing IPDC's innovation-centred design philosophy, the hotel's black facade's cladding panels and its tinted glass panes, are painstakingly matched, to create the seamless, monochromatic mosaic, which gives the four-star hotel property, an understated, modern polish. Visible in the cover of the night sky, recessed lighting on either wall of its dominant side elevations, combined with the subtle glow from the lit, white, rounded corner treatment that frames its frontage, make the Park Inn Hotel an urban icon and one of IPDC's defining projects.