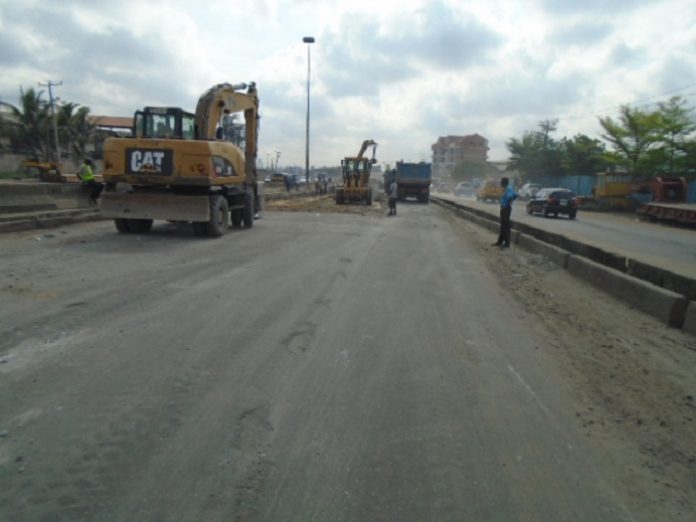 Reconstruction deadline for the US $12m Apapa road project has been pushed to July following delays due to logistical constraints and heavy presence of underground utilities.
The Director of Project, AG Dangote Construction Company Limited; Mr. Olatunbosun Kalejaiye, who made the disclosure, said the government has deployed additional pavers to help recover part of the lost time on the project.
"At the inception, we discovered a lot of underground utilities including gas pipelines which took about 93 days by our records to find a way round it which is about three weeks delay in a twelve months programme. We had the challenge of the raining season, security, potholes on Wharf Road, Traffic issues, logistics and supplies among others," said Kalejaiye.
" We have mobilized heavily on the site. We are using a two-prong approach to complete the road. We are moving beyond section four and we already have heavy presence of earth equipment and almost done with the installation of the drain and working actively on the pavement work," he added.
Also read: A section of Apapa-Wharf road project in Nigeria to be opened soon
Project durability
According to the Director, the focus is to deliver good and quality work stressing that the minimum for durability is over 40 years according to the pavement design. However he stated that regular road maintenance must be carried out.
"There is commitment from every stakeholder by way of sacrifice to have a good road. Both lanes in the project are cordoned off except for site activities. Other road users have constraint themselves to using alternative route because they believed that when we are done with work, it will benefit everyone," he said.
The alternative traffic routes  to be used during construction period will be; the Point Road, Liver Pool Road and some part of commercial avenue.
Currently, all out-bounds from section 1-4 has been completed and the road is about 75% completed while the remaining 25% will be delivered by the end of July, 2018.
Worried by the huge sum of money used in road repairs, President of the Dangote Group, Aliko Dangote had said plans were afoot to revolutionize Nigerian roads with concrete, stressing that resources used in road repairs and maintenance would be channeled to other more important needs of the nation.
"We are going to be building concrete roads in the country so that anytime we build a road, we do not have to go back to repair after the third raining season, but move on and use the resources to address other pressing needs of Nigeria," Mr. Dangote said.