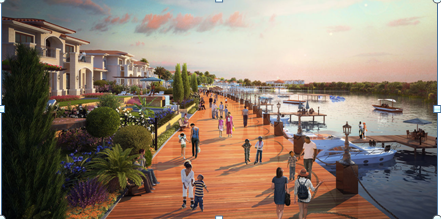 RiverRun Estates is a master-planned development to be undertaken on a 100-acre parcel located in Ruiru, Kiambu County approximately 7 Km from the Thika Superhighway and 1.5 km off Kiambu-Kamiti road. The Ksh. 15 billion lifestyle development falls within the precincts of both Tatu City and Migaa Golf Course.
It is yet another magnificent master planned development by Cytonn Real Estate comprising villas, apartments, a school, a hotel, retail center, club house and a reclaimed dam for recreational facilities. There are over 400 townhouses and villas and over 600 apartment units. The retail space is over 2500 square meters.
The infrastructural developments and facilities in Ruiru have enhanced its ambience among them good transport network, social amenities, eateries and schools presented Ruiru as an ideal real estate investment target and hence the move by Cytonn Investments to develop River Run Estates. Unique features include water theme park, riverfront promenade, jogging paths.
Villas
RiverRun estate has 4-bedroom villas (all ensuite) and have a plinth area of 250 sqm. Other features include an entry hallway with guest cloak room; a large family room/TV room; large sitting and dining area; study room and a spacious kitchen with separate pantry and a kitchen yard. The houses have an expansive balcony on the ground floor and first floor. The DSQ is ensuite and is located adjacent to the kitchen. Each unit has a garden and two cabro paved parking spaces.
Townhouse
Town houses, also 4 bedroom, have a plinth area of 190 sqm and each sits on approximately 1/8 of an acre. Two bedrooms are en suite while the other two share an enclosed bathroom. The rest of the features closely mirror those of the villas.
Apartments
These 2 and 3-bedroom apartment units set on landscaped gardens. Residents will enjoy swimming pools, swings and shaded jogging paths.
Amenities
The host of amenities include a retail centre characterized by convenient stores, business centre, clinics, hotels and a school, riverfront promenade, water theme park and a boat club. There will also be a clubhouse that will be designed to be self-contained with amenities such as meeting rooms, fine dining restaurants, roof top lounge, sports bar, gymnasium, swimming pool, leisure deck and covered cabanas, floodlit multipurpose court, children's play area, 5 clubhouse cottages, a hiking trail a 1.8km uninterrupted jogging track and a helipad.
Conveniences
As is now common with most high end developments, Riverrun will feature boreholes, perimeter wall, CCTV, ICT infrastructure, bio-digester, internal streets, common areas and water storage tanks. About 29% of the land will be used for landscaping and water will be recycled for irrigation.
Project timelines
The project commenced in June 2017. It is expected that phase 1 of the project will be complete  in Quarter 4 2020.  Investors can either pay cash, by installment or through mortgage. If paying by cash, one will pay an initial deposit of 10% and the 90% balance within 90 days; if paying by installment, the investor shall pay a deposit of 10%, 80% is staggered throughout the construction period and 10% on completion; if paying through a mortgage, investor shall pay a 10% deposit and 90% on completion.
Project Team
Developer: Cytonn Real Estate
Architect: Aspera and AUD
Quantity Surveyor: Turner and Townsend
Mechanical and Electrical Engineer: Norkun Intakes
Civil and Structural Engineers: Frame Consultants