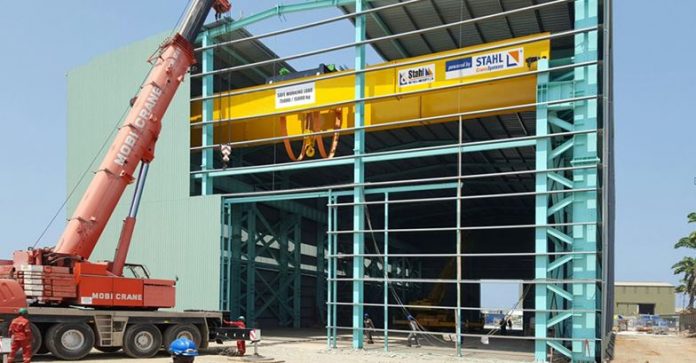 The African markets hold much promise: seven of the fastest growing economies in the world lie in sub-Saharan Africa, and there is an abundance of raw materials such as oil, gas and precious metals available. Following improvements in political stability and the gradual emergence of a middle class, Africa′s significance for the German export sector is growing. As a globally active company, STAHL CraneSystems has a close network of sales and crane building partners on the continent. The proven technology from Künzelsau is ideal for use in the often harsh environments in Africa.
More and more companies in Africa are asking for crane systems produced according to European standards. Technology "Made in Germany" enjoys a very good reputation and is considered particularly reliable – and the products from STAHL CraneSystems are no exception.
Products developed
STAHL CraneSystems counts as one of the world's leading manufacturers of hoists and crane components and is the international specialist when it comes to explosion-proof crane technology. The long-standing company has one of the most comprehensive and seamless product portfolios on the market in the load capacity range between 125 kg and 160 tonnes. In addition to fully developed series products, STAHL CraneSystems also offers engineering and custom solutions.
The products from STAHL CraneSystems can therefore be adapted, for example, for use in adverse weather conditions, in potentially explosive atmospheres, to transport hazardous goods or in extremely low production halls.
"Two of our most popular products in Africa are our wire rope hoists and explosion-proof hoists," says Achim Müller, Area Sales Manager Africa at STAHL CraneSystems. "Our tried-and-tested CraneKits are also often used. They offer crane builders the possibility to execute orders economically with manageable planning costs.
 "crane in a box" 
STAHL CraneSystems then manufactures the hoists, components and other equipment in Germany on behalf of the crane construction partner in accordance with its drawings. After testing of the individual components in our factory, the finished CraneKit is packed and shipped in containers.
" STAHL CraneSystems goes one step further with its "crane in a box" principle. "Here we deliver not only the components in the CraneKit, but also the necessary crane bridge, which we design so that it can be shipped in containers in disassembled state for economical transport," says Achim Müller. "We developed this concept together with our partner Fawel Engineering Services Ltd. in Nigeria. We delivered two double girder overhead travelling cranes with spans of 20 metres and 22 metres and lifting capacities of 10 t and 16 t to this partner in 2014."
Generally speaking, the "crane in a box" principle is suitable for all double girder overhead travelling cranes up to about 50 t and is very much in demand in Africa. Once at their destination, the crane building partner can, thanks to the principle of 'unpack, plug 'n play', simply assemble the CraneKit and "crane in a box" on site. Final assembly in Africa saves costs and gives work to local employees.
Development and planning phase
During the development and planning phase, the partners in Africa can also call on the support of the engineering team at STAHL CraneSystems. "Thanks to close cooperation, we can adapt our products perfectly to the special requirements of our crane manufacturing partners and their customers. This is particularly beneficial when it comes to overhauling existing crane systems. It is often possible to maintain the existing crane structure and to modernize it inexpensively with individualised components from STAHL CraneSystems," says Achim Müller.
The specialists from Germany, however, also plan and build complete systems together with their African partners. For example, in the autumn of 2015, the company completed a major project with its South African partners Stahl Cranes and Hoists for Orsam Oil and Gas in Ghana. For this, a double girder overhead travelling crane with a lifting capacity of 75 tonnes, equipped with an AS 7 wire rope hoist and an SH wire rope hoist as auxiliary hoist from STAHL CraneSystems, was built and tested in Johannesburg.
The crane was then disassembled into several parts and transported around 10,000 km to the General Electric plant in Ghana by land and sea. Thanks to the strong cooperation between STAHL CraneSystems, Stahl Cranes & Hoists and local expert personnel from Orsam Oil and Gas, it was possible to commission the crane on schedule in spite of adverse conditions.
Explosion-proof technology
Achim Müller is aware that there is particularly strong demand in the raw material-based economy of Africa for the explosion-proof technology from STAHL CraneSystems, for example in mining or LNG tanks: "Although the technology of our Asian competitors is cheaper to buy, it often does not meet the high international standards in explosion protection."
The higher costs for a premium product from STAHL CraneSystems quickly pay off because our products offer a longer life, less downtime and a safer work environment – a good investment. "I advise each and every one of our customers to see this investment over the long term."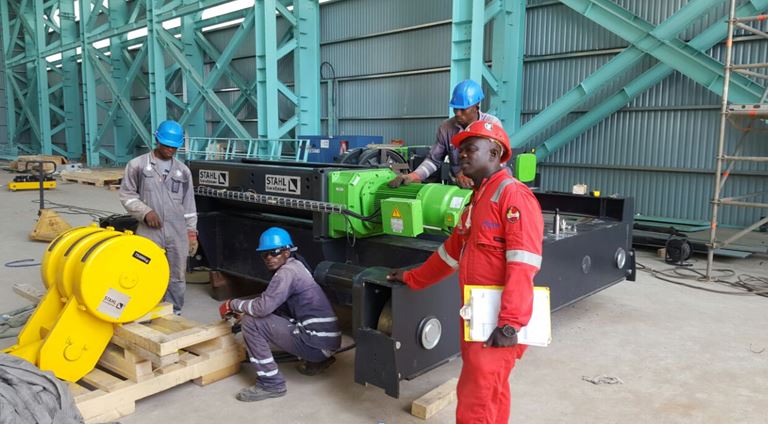 On top of this, the reliable technology is backed by a wealth of knowledge and expertise from almost 100 years of experience in the field of explosion protection. The experienced engineers and specialists from the team for international projects at STAHL CraneSystems advises EPC companies.
They support the partners reliably from project planning and project implementation to project controlling. Documentation, certifications and approvals according to international and country-specific regulations and requirements as well as punctual submission of all relevant project documents are managed reliably by a single organisation. The constant high quality and safety standard is guaranteed by the strict quality assurance management at STAHL CraneSystems.