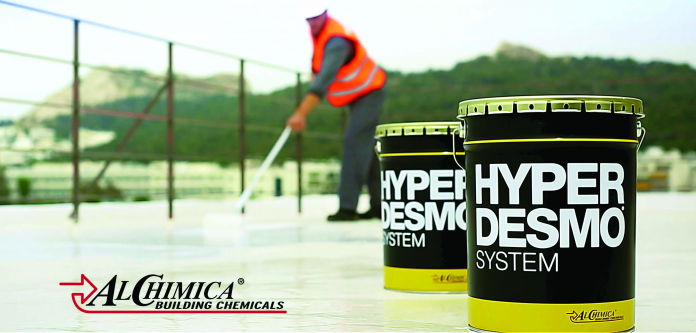 ALCHIMICA Building Chemicals is the leading independent manufacturer in Europe, and among the top 4 global manufacturers of single component polyurethane waterproofing products. The company specializes in the development and production of building chemicals and raw materials for construction and industrial applications. For over 35 years under the certification of EOTA, their mission has been and continues to be, innovation. They create, produce and supply high quality building chemicals that add value to their partners' work and the global building chemicals market.
The innovative heritage of ALCHIMICA Building Chemicals is displayed by products as the revolutionary polyurethane based HYPERDESMO® invented in 1983, and HYPERDESMO®-PB-2K, which in 2004 became the first ever product to incorporate bitumen extended polyurethane technology in such an effective way that could produce a waterproofing membrane with excellent mechanical and chemical properties and at a very competitive cost. HYPERDESMO®-PB-2K has also achieved a CE certification for a 25-year working.
Aligned with its innate drive for innovation, in 2011 ALCHIMICA Building Chemicals introduced the AQUASMART® system, a water-based polyurethane system that became the first of its kind to achieve a CE certification for a 25-year working life (W3). Today, their network of reach extends to more than 100 countries worldwide. It includes dynamic commercial dealers, construction companies, applicators, consultants and producers of building materials. The company firmly believes in the competence and competitiveness of all of our products and systems being the examples of our ceaseless efforts, our technical abilities and our exceptional innovative heritage.

Most popular products in Africa
ALCHIMICA Building Chemicals has been active in Africa for many years with completed projects in South Africa, Nigeria, Kenya, Ethiopia, Cameroon and Mozambique. The HYPERDESMO® System has proven to be the system of choice, offering quality and waterproofing performance while being competitive in terms of pricing. It has been used in a wide range of applications that span from roof and foundations waterproofing to stadiums stands and car parks, offering waterproofing and traffic protection.
Products' uniqueness
The HYPERDESMO® product range consists of single component polyurethane liquid membranes. It is a high quality, refined, yet economic solution for waterproofing and protection. It comprises a range of properties, being, a single component, low viscosity, polyurethane liquid that cures using the atmosphere's humidity to produce a highly elastic membrane with strong adhesion to many types of surfaces. All products are based on pure elastomeric hydrophobic polyurethane resins with added special inorganic fillers that result in excellent mechanical, chemical, thermal, UV and natural element resistance properties. HYPERDESMO® has been certified by the European Organization of Technical Approval (EOTA) for a 25-year working performance (W3). It is the only PU liquid membrane in the world that has achieved this classification at such a low film thickness of 1.2 mm without any reinforcement.
Challenges
The construction and roofing industry has always faced the challenge of finding economic, time saving and durable waterproofing systems. Roofs, whether flat or inclined, are subjects to all kinds of physical phenomena. Water resistance, UV resistance, acid rain resistance and the ability to resist damage on thermal cycling are the main factors that determine the durability of waterproofing systems. That means that there are no "one-fits-all-solutions", different waterproofing applications require the use of different systems.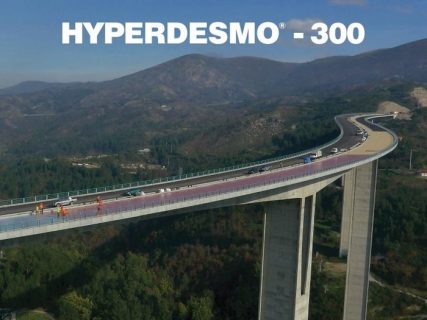 HYPERDESMO®, being a liquid applied waterproofing system, allows the optimization of consumption, film thickness and way of application, to what is best suited for each project. Furthermore and as opposed to prefabricated membranes, the use of liquid applied systems ensures uniform adhesion to the substrate without incorporating seams, a characteristic that minimizes potential risks for cracks and leakages in the future.
The important thing for the consumers to understand is that waterproofing is an integral part of a building's structural performance. We observe that in low income, price-oriented markets, consumers tend to cut costs in waterproofing applications and thus, sacrificing the safety and stability of a structure in the long term. When it comes to waterproofing, cheap solutions usually end up being much more expensive.
Trends in the industry
Apart from new construction projects in which liquid applied waterproofing systems can be used with exceptional performance; the repair and renovation market is a great opportunity for the industry.
The HYPERDESMO® System has been recognized globally for its easy and non-invasive nature of application, a characteristic that is paramount to repairs and renovations. Prime example of this is Bitumen Membrane Refurbishment and Protection system based on HYPERDESMO®. It is applied on top of faulty bitumen membranes offering waterproofing and protection, without the need of invasive procedures such as removing the old membranes, which unavoidably increase costs. Applications such as this are very common in African countries where our HYPERDESMO® System has been applied successfully in repair and renovation projects.
Today, HYPERDESMO®'s superior quality, exceptional performance and ever-growing market presence have led to another milestone in its journey, the BBA Certification. Catering to the needs and standards of the UK market, the HYPERDESMO® System has now obtained the certification of the British Board of Agrément No.18/5567.