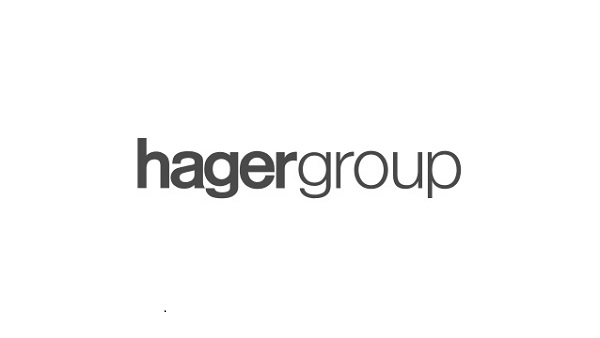 Hager Group is a leading supplier of solutions and services for electrical installations in residential, commercial and industrial buildings.
Hager brand, with products ranging from energy distribution through cable management and wiring accessories to building automation and security systems, represents the core business of the company. Other brands of Hager Group are Berker, Bocchiotti, Daitem and Diagral, as well as Efen and Elcom. This allows the group to combine all the skills necessary for the development of innovative products, systems and services required for building automation.
Together with the customers from industry and the electrical trade, Hager Group is working on future topics such as electro-mobility, Ambient Assisted Living, where building automation facilitates the everyday life of the elderly and individuals who require care, and on the networking of energy-efficient housing, which will provide greater comfort while requiring less energy consumption.
The link between many of these technologies will be the distribution board, the product with which the company has achieved its growth.
The company was founded in 1955 by Hermann Hager and Dr. Oswald Hager together with their father Peter, and today remains an independent business, owned and run by members of the Hager family, with its head office in Blieskastel, Germany.
The organisation of the company as a European Company (Societas Europaea, SE) underlines both its cultural diversity and its European roots. Hager Group is, nevertheless, a worldwide business: 11,400 employees generate a turnover of around 1.9 billion euros (in 2017). Components and solutions are produced in 23 production sites around the globe and customers in more than 120 countries all over the world trust in them.
Innovation Fields
"Smart homes" are a much-discussed topic these days, we actually bring them to life and there are great advantages, provided that they are made 'smart' properly.
With the help of different network components, it is possible to connect and programme household appliances, heating systems and lighting systems, thus allowing home-owners and facility managers to save energy using requirement-based controls. For example, sensors on windows and doors set off alarms if there is a break-in, providing enhanced security. Weather stations calculate in advance how much solar electricity will be produced by roof panels. Intelligent management software knows how much energy the building will need and when, and manages consumption accordingly.
Research and Development teams
Plenty of providers – including some big names – are working on these kinds of 'smart' systems but many of them have little experience in the area of building automation. The added value inherent in their solutions lies in the fact that they communicate smoothly with each other plus they are perfectly compatible with each other and their customers' and partners' needs.
They have 762 experts in their Research and Development teams working on solutions in the area of intelligent building technologies, energy management and energy efficiency. What's more, for several decades they have been present in many buildings, via their fuse and distribution boards. And it is these very distribution boards that will in future be transformed into intelligent technology control centres where all energy and data will converge.
Experience

As a full-range supplier, they produce all the components needed in an intelligent, intuitive building control system, from technology control centres and door communication systems to alarm systems, heating controls and light switches.
The electricians they partner with find their solutions easy to install and users find them easy to operate. This design philosophy will in future be present in all of their products, network components and solutions. It is a key element of their DNA at Hager Group. It's one of the main reasons why many networked buildings rely on Hager Group technology.
Intelligent Building Technology
There are approximately 42 million buildings in Germany. In around two-thirds of these buildings the electrical installation systems are at least 40 years old. That means that while they use the latest technologies in the areas of communication and travel, when it comes to their homes they're still stuck in the 1980s. In other words, there is great potential for renovation here to make their flats and houses more comfortable, intelligent, secure and energy efficient. These are exactly the kind of electrotechnical solutions that Hager Group is constantly working on.
Simpler yet better

Their research doesn't just focus on finding  solutions that are increasingly smarter – they also come up with solutions that are easier for electricians to install and for customers to operate intuitively. Installing intelligent building technologies is still rather complex, yet they are working to reduce the amount of effort required of electricians. And they are developing building automation solutions that can easily be operated and configured by their end users. Their aim is to make configuring an entire single-family house as easy as installing a new smartphone app.
Smarter and more convenient
This is all the more important when they consider that intelligent buildings will take on an increasing number of tasks in the future. They will manage their own energy instead of wasting it, as is often the case at the moment. It will be possible to link a building's photo voltaic system on the roof, the electric car in the garage and the building's projected energy consumption.
Doors, windows and areas where security is an issue will all be monitored automatically. Smart buildings will even help us look after them to a certain extent, that is to say if they end up reliant on nursing care. But all of this will only work if operating their building automation systems is as smart as it is straight forward. And these are exactly the kinds of solutions that you can expect from Hager Group in the future. It's as simple as that.
From transparent consumption to smart homes
If you want to save energy, first of all you need to know where, when and why it is consumed. They develop solutions for measuring the actual energy consumption of buildings and making it transparent and possible to control.
Everything required to do this – intelligent energy meters, open data interfaces and an easy way of seeing what has been consumed – is available from a single source: Hager Group. Thanks to their innovative energy management systems and energy storage systems, consumers can, among other things, continually match their level of energy consumption to whatever electricity tariff is the best value, use  renewable energy sources and intelligently integrate the energy they have generated themselves.
Less consumption, more convenience

They are also developing intelligent solutions to help continuously reduce energy consumption. Movement and presence sensors, constant lighting controls and dimmer switches achieve noticeable reductions in energy consumption for lighting.
Their single-room thermostats and automatic controls for blinds and shutters reduce the level of energy used for heating and cooling considerably. In particular, energy can be saved in the home by using a central control for electronic devices. Their KNX building control systems can reduce a building's energy consumption by up to 50 per cent and maximise convenience and security at the same time. This is just the beginning as far as they're concerned.
In the future they will link intelligent buildings with smart electricity networks and smart cities, so that energy is used in a much more efficient, eco-friendly and sensible way than it is today. They don't just conduct research into these topics; their experts are also involved in the relevant political and scientific bodies. This means that the future of energy use is not only going to be smarter and more intelligent, it will, to some extent, also be shaped by Hager Group.
Technologies
More and more governments, companies and property managers around the world are turning to renewable energy sources, and by providing innovative building technologies Hager Group helps them. As they'll as intelligent metering and control technology, this can also include devices such as controls that switch between conventional energy and renewable source energy, and power cut-off technology that helps to prevent peaks in energy consumption. However, one of the main prerequisites for using renewable energies to a greater extent is the capacity to store and manage it efficiently. These are exactly the kinds of solutions they are working intensively on.
For several years now they have been working together with energy suppliers and partners from industry to investigate the interplay between the generation and storage of renewable energies, as part of the "Lion Grid" project. Since autumn 2014 they have been testing landmark storage and control technologies at Hager Group Research and Application Centre in Blieskastel, Saarland.
This new building, which measures 3,000 square metres, is able to generate a good proportion of its own heat and electricity which is stored in batteries that work bidirectionally thanks to its own photovoltaic facility and thermal power station. The highlight of the building is its innovative energy management system, which continuously provides analyses and forecasts of energy consumption and generation, and produces a local energy strategy, thus ensuring that the energy it generates is used. In other words, they conserve energy thanks to building automation, and in the future more and more customers around the world will benefit from this.
They are already planning to launch their energy storage and management system on the market in 2016. Their field test, carried out as part of the project "Stromsparland Saarland" with several dozen private households shows how renewable energies can be effective in private housing. This is another area where their innovative technologies ensure that renewable energies are used in an extremely efficient way.