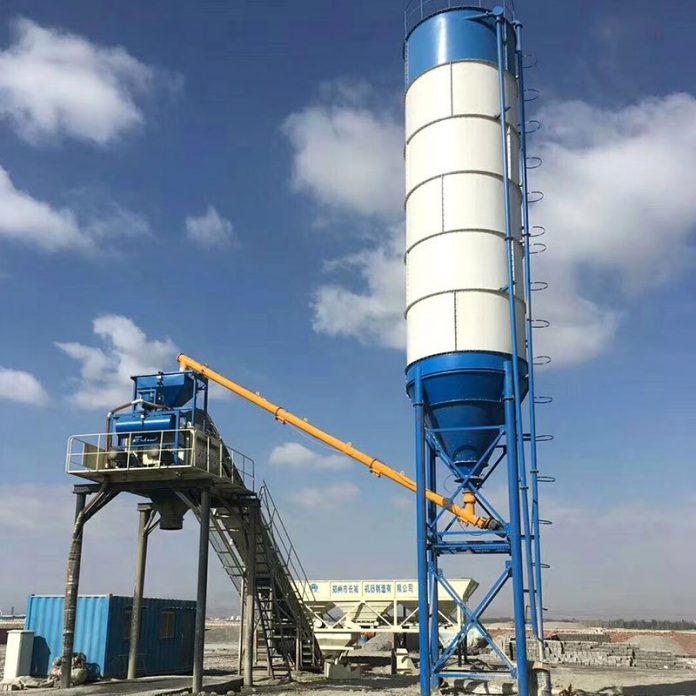 The concrete batching plant is mainly composed of a mixing host, a aggregate bin, cement silo(s), and a screw conveyor. Compared with large concrete plant, small concrete plant usually has a smaller productivity without conveyor belt to transport aggregate material.
It can be equipped with a full automatic weighing system to promise the accuracy weight of aggregate, powder and liquid through electronic scales and microcomputers. Due to its low investment, wide application, flexibility and convenience, we have to say it is the best choice for small and medium-sized projects.

Camelway has been a reputable manufacturer of stationary, mobile and compact concrete plants. There're three models of Camelway low capacity concrete batching plant: hzs25 (25m³/h), hzs35  (35m³/h) and hzs50  (50m³/h). They are all equipped with twin-shaft horizontal compulsory mixers, which are suitable for mixing plastic concrete, dry and hard concrete, fluid aggregates, mortar and so on.
The belt conveyor is mainly equipped with large concrete batching plant such as hzs90, hzs120 and hzs180 for improving production efficiency. Small concrete batching plant is generally not equipped with belt conveyor but lifting hopper as the aggregate lifting device, which can greatly save the land occupation area.
Small concrete batching plant has the features such as low investment and high return due to its relatively small scale. The combined structure and modular design make it convenient to install and relocate. At the same time, it also has the advantage of stable operation, convenient operation and short cycle time.
Small concrete batching plant apply in all kinds of small and medium-sized concrete prefabricated components factories and the investment projects of small commercial concrete plant.
Camelway's concrete batching plants are exported to all over the world. Recently, Ghana customers' hzs50 concrete batching plant has been put into production of high-quality commercial concrete; in Oman, the engineer of the Camelway Machinery is installing the hzs25 concrete batching plant that used to manufacture concrete blocks; the hzs60 concrete batching plant that Uzbekistan customers purchased has just left the port.
Camelway is not only a manufacturer for selling concrete plants, but a provider of concrete production solutions.