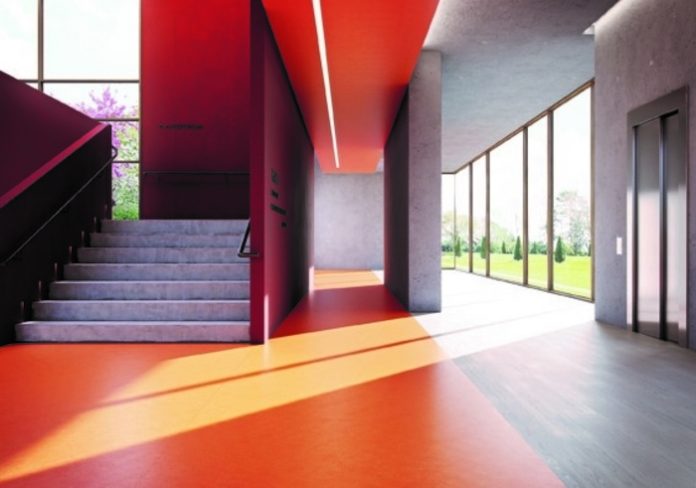 Windmöller is setting new standards for creative flooring solutions with the diverse PURLINE organic flooring wineo 1500 collection – it is unbeatably organic, boundlessly creative and extremely resilient.
wineo organic flooring is probably the most ecological permanently elastic floor covering on the market. It contains no chlorine, plasticisers or solvents, is immensely durable and impresses with its wide range of over 120 designs.
Best ingredients for creative results
In addition to its high variety of designs, wineo 1500 scores with five format variants from XS to XL, individual surface finishes and a distinctive V-joint in the XL plank range, which ensures a fully authentic wood-plank look. This wide range enables architects and planners to pursue individual installation and combination possibilities.
In the plank format, the collection offers 36 attractive wood finishes in the formats XS wood (600 x 100 mm), L wood (1200 x 200 mm) and XL wood (1500 x 250 mm). All XL wood decors have an all-round painted V4 joint. The collection also contains eight stylish stone decors in the XL format (1000 x 500 mm). They combine perfectly with each other to offer the ideal playing field for creative flooring solutions.
The wineo 1500 roll format combines 24 chipped designs in muted beige and grey shades, as well as colourful visual effects and eight warm and natural wood effects.
A highlight of this collection is the fusion range – this takes the super-on-trend "grey" theme as a general design tone. With a range of 16 grey tones and coordinated floral and ornamental design, fusion delivers a unique match guarantee and promises the right grey tone for every furnishing style. Whether warm like summer or pleasantly cool, the grey shades integrate themselves into every possible colour concept and are available both as rolled goods and in the XL tile format.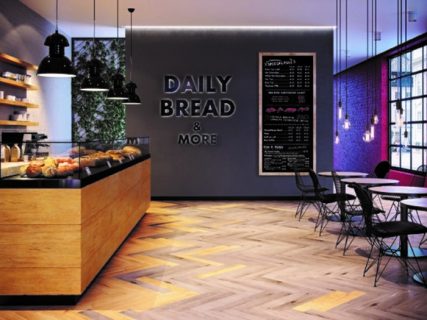 The perfect floor surface is rounded off with the extensive "Perfect Fit" accessory range. Whether you require the matching organic PU underlay, the coordinated range of skirtings, stair nosing profiles or the perfect cleaner, wineo offers the complete solution.
Best ingredients for maximum requirements
PURLINE organic flooring wineo 1500, is high-quality polyurethane flooring made from the best ingredients in 2.5 mm product thickness for gluing. At its base is ecuran, the high-performance composite material from Windmöller that is mainly manufactures of plant-based oils such as canola or castor oil, and naturally occurring mineral components such as chalk.
The organic flooring is manufactured without the use of chlorine, plasticisers or solvents. And that's not all: it is also extremely hard-wearing, outstandingly UV-resistant, particularly temperature stable, absolutely odourless and low maintenance. Thanks to savings in water, care products and cleaning costs of up to 30 per cent, in comparison to conventional elastic floors (carried out by the Pfiff Institute), it is extremely economical throughout its entire service life.
Even in the event of fire, the organic flooring is safe and impresses with its low incidence of smoke – emergency exits remain visible and no toxic gases develop. It also displays unsurpassed recovery behaviour and regenerates itself almost 100 % extremely quickly, leaving no traces of indentation.
So PURLINE organic flooring wineo 1500 rises to every challenge in all areas of activity, whether Health + Care, Hotel + Hospitality, Public + Education or Retail + Fair.
wineo 1500 special and individual solution
For special project requirements, the collection offers a number of special solutions, e.g. the variant "safety" with a range of non-slip levels up to R10, "acoustic" with integrated impact sound reduction to 17 dB or the special configurations "sea" and "rail" for use in maritime and rail-borne means of transport. And, with wineo 1500 "customised", state-of-the-art digital printing technology is available to realise customers' own individual designs.
An "outstanding" flooring -certified many times over
The organic flooring, developed and manufactured in Germany, has already received seven internationally recognized design awards from architects. It has been approved for construction by the DIBT ("Ü" rating) and has many internationally recognised certifications, such as the Blue Angel ecolabel, GREENGUARD Gold Certification and the world-renowned Cradle to Cradle Silver-Certification.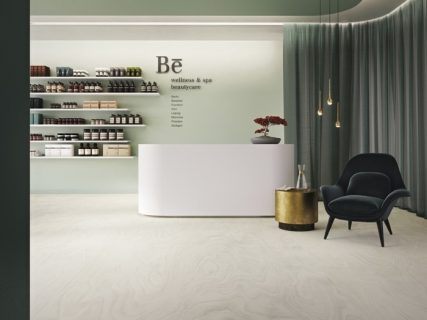 The Cradle to Cradle Certified product standard takes designers and manufacturers through a process of continuous improvement of environmental, economic and social aspects with the aim of developing products that do more good instead of less bad.