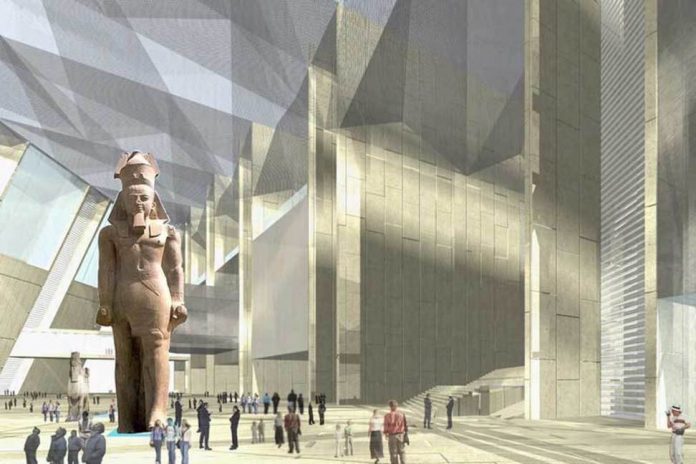 The Grand Egyptian Museum (GEM) also known as the Giza Museum nears completion. This is according to the Minister of Antiquities Khaled al-Anani who said the project is standing at 88% complete.
Khaled al-Anani said that the GEM development is one of the ministry's largest projects in the country. The opening of the museum had been set for two dates last year 2018 but to the disappointment of the public it was never commissioned. Anani however affirmed that with the current progress there is no doubt that the museum shall be ready for exhibitions by the year 2020.
Also Read: Egypt to commence construction of Mohamed Salah Museum
Grand Egyptian Museum
This mega museum is situated near the Giza Pyramids about 2Km away on an approximately 500 000 square meters piece of land. It is one of the largest museum in the entire universe presenting a heritage devoted for a single civilization and it is designed to include the latest technology, including virtual reality at a whopping cost of US $1bn.
The museum will also be an international center of communication between museums, to promote direct contact with other local and international museums. It shall, in addition, include a children's museum, conference center, training center, and workshops similar to the old Pharaonic places.
The GEM is expected to house around 100,000 artifacts from various periods of Egypt's wealthy long history. Anani said that approximately 20,000 artifacts would be exclusively displayed for the first time ever on this structure.
The artifacts according to the GEM's General Manager Tarek Tawfik, is composed of two 7,000 square meter galleries revealing King Tutankhamun lifestyle; how he lived, dressed and ate in addition to the complete collection of his precious belongings. This displays have never been shown before since it's unearthing in 1922.