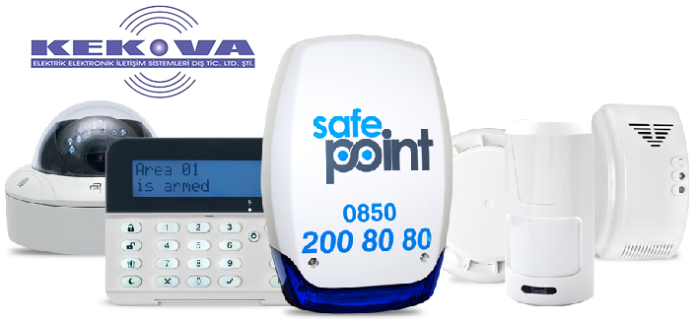 In 2000, in the field of electronic security systems, we started to provide services in this sector by being the distributor of many international companies. Since 2002, our prestigious references have provided us with the power to continue to provide your security and innovations by offering a wide range of suitable solutions ranging from small and large scale companies to residences in the media, healthcare, education and industry sectors, especially the ATMs affiliated to these banks.
Our brand SafePoint Kekova, which was born in 2012, carries the experience of Security Systems and the energy of a new brand. Just like in 1999, today, we provide security at home and workplaces and in doing so we continue to grow without compromising your satisfaction. Our team, which is trained according to their experiences and experiences, is pleased to serve you from technical service to customer service, from sales team to management staff.
How has security in buildings evolved in Africa?
Until today in Africa, I have been working on more than 10 projects. The projects were as follows; Mining, some industrial facilities, hospitals and offices. The African market is open to innovation and a place that closely follows technology. So, In Africa, projects are taking place based on standards preferred by investors. Therefore, the best products produced by many countries from Turkey and France etc, brought to Africa and projects are being done in Africa.  I know that many companies carry production and testing centers to Africa. For this reason, many technological developments are spreading from Africa to the whole world.
How can facilities be adequately monitored in this technological era?
Today, unfortunately, mankind is pushing the limits of the earth. For this reason, we, who are integrator and consultant etc, need to consider many points in our projects. First of all, I suggest that we build on the manufacturers that will use the products with the least carbon emissions in our systems.
How can security matters be adequately documented in this technological era?
Before I give my opinion on this issue, I would like to point out two points. a) A certificated system has passed many tests and has a good design. b) If a system has a certification it may be more expensive than others (According to non-certified products). Commissions that are formed by many countries today, security, electronics and similar sector-oriented standards are being created.
Manufacturers develop products that meet these standards and are actively involved in the market. Consumers are choosing among the products on the market and installing their systems. For example, the European standards committee (CEN), British Standards Institution (Bsi) and Turkish Standards Institution (TSE), National Institute of Standards and Technology (NIST) …etc.
Besides the commissions that make up all these standards, systems may be documented in matters such as information security, durability, energy consumption, carbon emissions, etc. Some of these certifications can be taken during the production phase and during the usage phase. For example, like a LEED certificate. In fact, this question has a broad meaning. Perhaps at another time, this issue may need to be addressed in terms of both the consumer and the manufacturer.
How can the client ensure he is choosing the right security system for his building?
This question is, indeed, a question for consumers all the time and for all systems. In fact, you and I are also consumers, and we ask ourselves, in our own decisions, this question most of the time. I wonder if I chose the right product or system. To put it very briefly; generally, the institutions of the state in your country bring some standards. According to these standards, the product in the market of your country is shaped.
In the meantime, these standards are generally based on regulations or standards of neighboring countries and producing countries. Anywhere now, there are many brands in your country and we have to make a choice from these brands. We can make this choice by talking to a few experts who are experts in their field, or we can take a long journey and manage it personally.
My suggestion is that you meet with a few consulting firms and proceed with your mind, agreeing with the best project. In short, with the security system you choose, you have to move by thinking about tomorrow, not today. This means that products have a low failure rate, a large service network and low operational and maintenance costs.
Are there any government policies in place with regards to building security?
In my previous question, I tried to talk a bit about this topic. Here I will be able to share some more detailed information. As far as I know, yes, I can say yes. But, for example, there is a politics of states about fire detection and alarm systems, and there is no policy for cameras, environmental fence security, burglar alarm etc.
These systems are often used for facility safety due to environmental conditions or, for worker safety. It is mostly meant to be protected from business and external threats. States often produce policies that threaten human rights, that is, their safety. Or we wait for them to produce policies.
How has the implementation been?
This is a very detailed and complex section. But, basically, I will try to touch the nodes, briefly. First, investors in your country need to be supported by the state. Subsequently, the signing of a business agreement with neighbors or compatriots must be signed, and foreign investors should be brought to the country. We, the human being, develop and grow by communicating with another human being. This is the case in the business world as well. Just as each country has different needs, their wisdom is different. Mixed societies, or in other words, they have many different cultures, the development, and growth of these societies become richer and stronger.
Basically, everything starts in person and ends up in people. We need to develop policies that follow technological developments, overlap with life and regional conditions, and have vision. For this, it is necessary to educate the human being first. For this reason, to everyone who reads this interview, I have a suggestion. Share their projects with us, get design support from us. Let us support them, in processes such as product, service, installation, operational management, maintenance, and training together. Let's prepare our facilities for tomorrow.