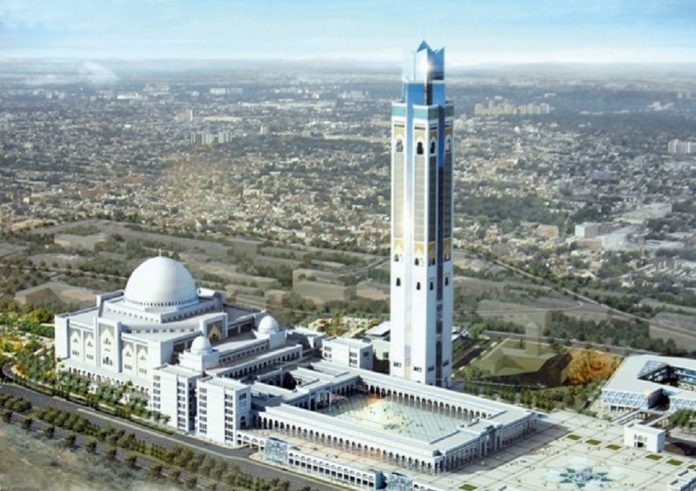 The China State Construction Engineering Corporation (CSCEC) has successfully finished the construction work of US $1bn Great Mosque of Algiers which is set to break new global records.
The Great Mosque of Algiers also represents the new peak of the many accomplishments made by CSCEC's Algerian branch. In 2011, the company won the bid for the project of the Great Mosque, which was the largest among the companies' overseas projects in its history.
Great Mosque of Algiers
According to CSCEC general manager, Zhou Sheng it was a great challenge for the company to manage the cost. "You cannot finish the design and engineering at the beginning; the engineering work will be done along with the execution of the construction," he said.
As a carrier of Islamic culture, the mosque is decorated with complicated stone carvings, wood carvings and plaster carvings of Islamic style. For example, there is a praying wall of 300 square meters with vast details on the east side of the praying hall.
The project will be the world's third-largest mosque by area, after the pilgrimage mosques in Mecca and Medina in Saudi Arabia. Its 265-metre minaret (a slender tower used to call Muslims to prayer) will, however, be the tallest in the world, overlooking the Bay of Algiers. The grand mosque, which will include a one-million book library, a Koranic school and a museum of Islamic art and history, would be a "one-of-a-kind."
Also read:Algeria constructs mosque with world's tallest minaret
Communal impact of the project
The project employed about 2,300 construction workers, engineers and managers. An additional 17,000 people were employed indirectly as subcontractors. The mosque will now be the world's third biggest by area and the largest in Africa. The two largest mosques are The Sacred Mosque of Mecca and the Prophet's Mosque in Medina: both considered the holiest sites in Islam and accustomed by millions of Muslim worshipers and pilgrims every year.