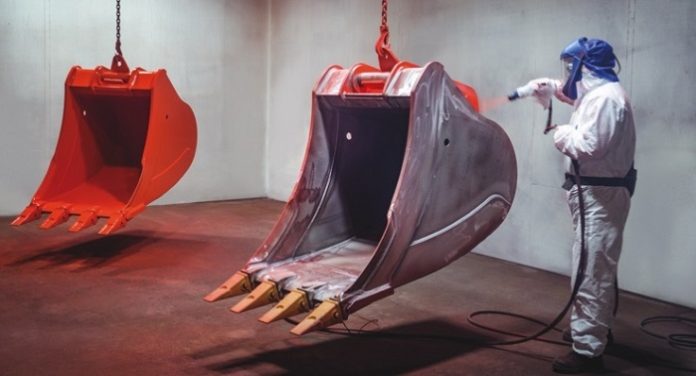 Worldwide coatings manufacturer Hempel has launched a new epoxy primer for heavy duty equipment and trucks – Hempaprime Shield 700 HS. This new coating is specifically designed to improve productivity and quality for original equipment manufacturers (OEMs) by reducing production times and maximising service life.
Hempaprime Shield 700 HS is specifically designed to optimise production. A two-component high solids epoxy primer with exceptional adhesion to ferrous metals and substrates that delivers long term corrosion resistance in the harshest environments. It is fast drying and has short minimum overcoat intervals without compromising the high-volume solids content. This robust coating provides improved crack and wrinkle resistance even at a high dry film thickness (DFT) and dries to a smooth finish without the need for sanding. 
Commenting on the launch, Hempel's Head of Industrial Group Product Management, Product and Portfolio, Michael Bredfeldt, says:
"When designing coatings for customers it is important to understand their drivers and these generally include superior long-lasting protection, optimised production, environmentally friendly, the potential to enhance operational efficiencies, and a finish that looks good. Hempaprime Shield 700 HS delivers all of this and more. It is easy to apply, fast drying, and offers consistent high-quality performance. There is no need for thinning, and the coating has been optimised for airless and air spray.
Hempaprime Shield 700 HS
Importantly, the low VOC content is better for the environment, safer for the applicators and meets all legislative requirements. Hempaprime Shield 700 HS is the ideal primer for OEMs, including heavy duty equipment such as forklifts, excavators, harvesters, earth moving equipment, as well as trucks, trailers and commercial vehicles."
Hempaprime Shield 700 HS is tested and approved according to OEM specifications, has a strong corrosion protection with improved crack and wrinkle resistance even at high DFTs, has low VOCs (Volatile Organic Compounds) and compliant with all legislative requirements, it is easy to apply and dries fast for increased productivity – no thinning required and optimized for airless and air spray, it is versatile with exceptional adhesion – single primer for multiple substrates and has a superior long-lasting corrosion resistance with good aesthetics.