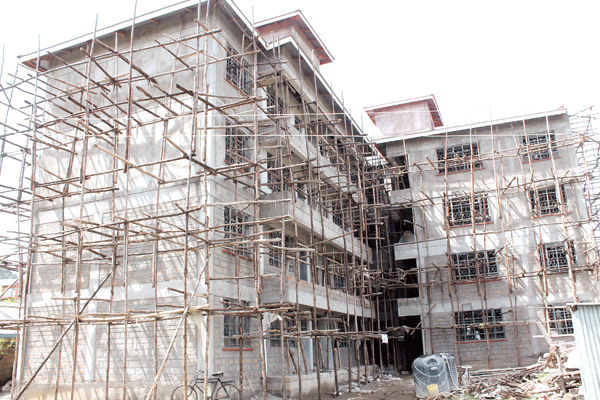 Construction works of the new Kenya Medical Training Center (KMTC) in Taveta nears completion. This was announced during a consultative meeting held between the KMTC Board of Directors led by Chairman Prof. Philip Kaloki, Taveta Sub-County Deputy Commissioner and the Taveta Constituency Development Fund Committee.
"We are fully committed to seeing this Campus start admission of students in September 2019, and that's why we have already posted a Principal here to fast track the process," said Prof Kaloki.
Construction of Taveta Campus began in 2016 as an initiative of area Member of Parliament Hon. Dr. Naomi Shaban, the National Government and the Kenya Medical Training College Board of Directors.
Also Read:Kenya breaks ground for US $10m Kisumu cancer center project
Taveta Medical Campus
The facility construction has so far gobbled US $1.9m allocation from the current member of parliament and a further US $1.3m the national government provided from the Equalization Fund. Furthermore, National Government Constituency Development Fund (NG-CDF) has set aside US $280,000 for the ongoing construction while extra allocation is expected in the next financial year for completion of the ultra-modern KMTC Campus.
The Deputy County Commissioner, Mr. Stanley Kamande, assured the KMTC Board of full cooperation and support. He noted that the community was very excited about opening of a KMTC Campus the region, because it will improve healthcare and boost the local economy.
The KMTC Board Chair was accompanied to the meeting by Vice Chair Eng. David Muthoga and Board Directors Mr. Mithamo Muchiri and Mrs. Ruth Okowa. Principals Justus Muendo from Voi, Dr. Marsellah Ogendo from Taveta and Anderson Yeri of Mombasa were also in attendance.