M&I Materials manufacture seven different hydrocarbon high vacuum greases, each one formulated for use in different temperature ranges.This means, that you can choose a vacuum grease that has been designed specifically for the environment in which you will be using it.
Apiezon is a range of high vacuum greases, vacuum sealants and lubricants that are favored around the world because of their quality, consistency and excellent performance in vacuum applications. Waxes, etch resist and AP201 vapor booster pump fluid have also been developed as part of the Apiezon range.
M&I Materials Limited, has been manufacturing Apiezon products for over 80 years. You can buy Apiezon through their established global network of distributors. They also have an office in Johannesburg, South Africa.
Apiezon High Vacuum Greases
Apiezon is proud to offer the most comprehensive range of high vacuum greases available from a single manufacturer. Although the majority of their greases are hydrocarbon based.
The Apiezon hydrocarbon based high vacuum greases are silicone-free and highly resistant to creep. These vacuum greases are suitable for use in a range of temperatures and applications. They have had proven success around the world including use by NASA, the UK Military and leading vacuum equipment manufacturers.
PFPE Vacuum Grease
Apiezon PFPE 501 is a chemically inert, high temperature and extreme pressure lubricant. With an upper operating temperature of 250°C and vapour pressure of 1.3 x 10-12 at 25°C, it is robust, versatile and can be used for sealing and lubricating under the most extreme operating conditions. It is ideal as a sealant and lubricant in short path distillation, coating and semiconductor industries.
Apiezon Vapour Booster Pump Fluid – AP201
Apiezon AP201 is the leading vapour booster pump fluid and has been proven to be far superior to other competing, lower quality oils. Its superior stability and high degree of oxidation resistance make AP201 the ideal choice for rapidly achieving a higher ultimate vacuum. AP201 is available to buy online from our shop today – buy AP201
Apiezon Waxes and Q Compound
Their 3 waxes and Q Compound are globally renowned for their quality and versatility. They can be used as semi-permanent or permanent mounting media or vacuum sealants. Apiezon W Wax is also chemically resistant and has a successful track record as an etch resist product. The waxes are all easy to use and have powerful guttering qualities.
Apiezon products have an enviable track record in many fields including aerospace, cryogenics, coating and R&D. They are the primary choice for high vacuum applications.
Vacuum Greases – Hydrocarbon
The Apiezon family of hydrocarbon high vacuum greases have been serving the market for many years and are highly regarded for their quality, consistency and excellent performance in vacuum applications.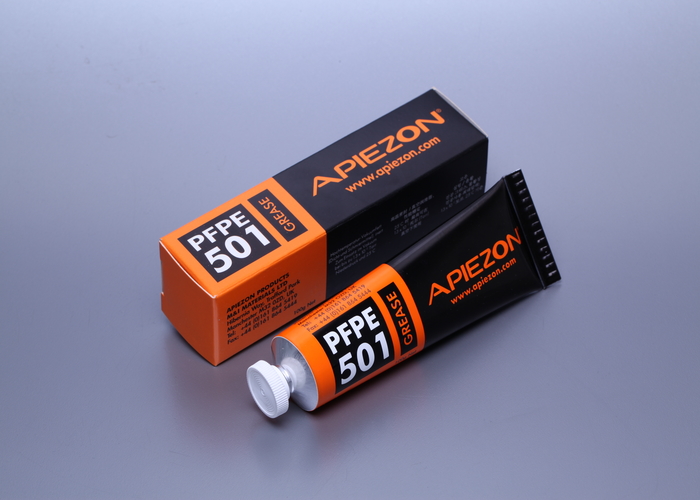 These Apiezon greases are hydrocarbon based, silicone-free and highly resistant to creep, the undesirable phenomenon associated with silicone-based products. Using Apiezon reduces the chance of grease travelling away from the area of application and contaminating adjacent surfaces. In addition the ultra high vacuum grease ensures ultimate cleanliness and low outgassing without contaminating vacuum systems.
Why use Apiezon High Vacuum Greases?
Excellent performance in a wide range of vacuum applications
Silicone-free, highly creep resistant
Solutions for a variety of temperatures
Stable, chemically inert and non toxic
Strong absorption properties ensuring powerful 'gettering' action
 An option specially formulated for cryogenic use
Easy to use and remove
10 year shelf life