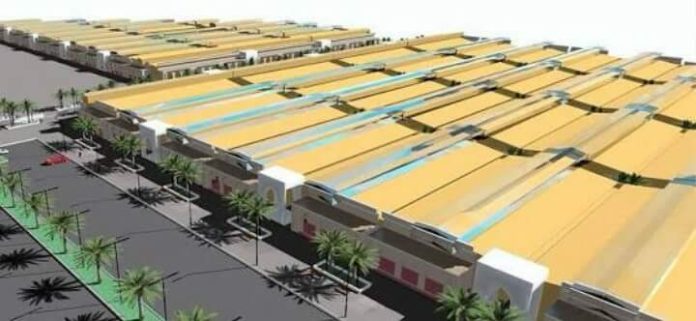 Nigeria is set to commission the new Economic City of Kano located at Dangwauro Town along Kano -Zaria federal highway in December.
The development is a a joint venture between the Kano State government and Brains and Hammers Company, under Public Private Partnership (PPP). It is one of the high flying projects started by the administration of former Governor Ibrahim Shekaru. The project is being constructed at a cost of US $461m.
The current Governor Ganduje said that his resolve to complete the project was borne out of request to re-assert the state as one of the leading economic center in the country.
"My administration is particular determined to make Kano a global city that can can complete with another city in the world and to have full and better economic potentialities for the benefit for all," said the Governor.
Also Read:US $4.4m Mama Ngina waterfront project in Kenya nears completion
Economic City of Kano
The Economic City of Kano has been designed to have 10,000 shops in phase one, 38 world class warehouses, 280 Trailer Parks spaces, Inland Container Land (ICL) with 200 Trucks capacity spaces and 202 Trucks Parking Spaces.
The development will also be housed to 43 Grain Silos in place, 4 filling stations out of which 2 will be mega stations and the remaining will be normal stations. There will be spaces for large scale industries for processing leather, meat, and identified commodities in a modern way.
Pharmaceutical areas also are provided within the marketplace for drug marketers, whereas hospitals also are a part of the structures being erected within the marketplace for quick access to the health care delivery system. Similarly, the economic town boast of police stations.
Governor Ganduje urged the contractors to speed up construction works for quick take off of the market and further commended the plan for providing 24-hour electricity on the development.