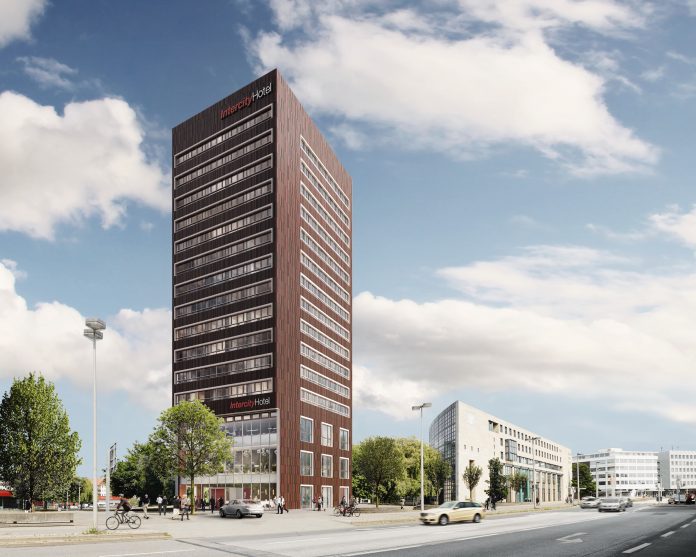 Construction of the new pentagonal InterCity Hotel Hannover Ost building in Andreas-Hermes-Platz which has only one right angle in its layout is set to be complete in early 2020.
The 15-storey high-rise building is 55 m from top to bottom and will have a facade with color-changing clay elements plus a glazed front that extends from the ground floor to the 2nd floor.
Also Read: Construction of world's tallest modular building complete
Distinctiveness of InterCity Hotel 
So as to meet the demands of hotel guests for elegance and comfort, InterCity Hotel Hannover Ost building will be made of flat ceilings with spans of up to 8 m as single-span systems. To make the construction even more economical and effective, the slabs will be constructed using the patented hollow core technology of Heinze Cobiax Deutschland GmbH instead of solid concrete.
This system enables replacement of up to 35% of the solid concrete inside a reinforced concrete ceiling with hollow cores made of recycled plastic, saving 35% of weight at the same time. With this system, it is also possible to reduce the ceiling thickness from 32 to 30 cm with the same span width using modules which consequently results to a further load reduction.
The total reduction for the foundation of the InterCity Hotel Hannover Ost building in that case amounts to 15,000 KN, which not only narrowed down the number of drilled piles required by around 10, but also simplifies the construction of an interceptor system for the upper floors (3-15). A total of 38,176 Cobiax hollow cores will be needed for the completion of the project.
Challenges of the project
Hotel building projects tend to be extremely challenging in terms of planning, dimensioning and construction due to different requirements for use that leads to dissimilarity in floor plans.
InterCity Hotel Hannover Ost building is not exceptional, its floor plan differs as well. The buildings reception area & bar are located on the ground floor, its hotel restaurant on the first floor and conference rooms on the second floor. It is only from the 4th floor on wards that the plan remains the same because there are hotel rooms only.
"This means that in many places on the 13th floor for instance, where supports could be installed, they would affect the lower floors e.g. in the bar and restaurant area, that should remain completely free of supports." says  Kai-Uwe Oberdieck of LSM Design Engineers from Hannover, who is responsible for the project in the capital of Lower Saxony.
"For this reason," he continues, "not even a single inner reinforced concrete columns was used. Instead concrete slabs were stretched from the load-bearing outer wall to the inner core, so that single-span slabs with a span of around 8.0 m were created. However, with the conventional reinforced concrete construction method, a slab thickness of at least 32 cm would have been necessary due to the deformation and this would equal to a heavy weight load for the foundation with 15 upper storeys."
A drilled pile foundation, on which all loads from the storeys above are individually placed on piles, was used for the building. With solid concrete slabs, such a large number of piles would have had to be used and this made the developer to look for lighter and more economical alternatives that led to the patented hollow core technology of Heinze Cobiax Deutschland GmbH."