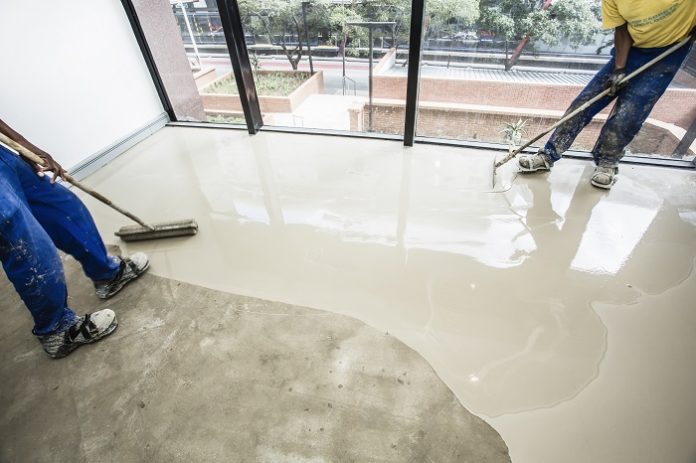 The Head Quarters of First National Bank recently benefited from an extensive refurbishment project which entailed the resurfacing of 28,000m 2 of flooring.
This R236 million project was enhanced by the use of TAL Screedmaster Industrial for the installation of flooring undertaken by Top Carpets and Floors Pretoria.
The FNB Head Office Building is located at 1099 Corner Pritchard and Harrison Streets in Johannesburg's CBD and the entire 22-storey, four-basement office building underwent redevelopment and refurbishment.
Surface preparation necessitated lifting of all old carpeting and removal of the residual carpet glue by means of a concrete floor grinder. Because this process left the existing substrate too uneven to receive new carpet tiles, TAL Screedmaster Industrial, was specified for smoothing and levelling the surfaces. Levelling of uneven substrates prior to the installation of new floor coverings is an integral part of the underlayment process that must be managed professionally using the correct floor-levelling compound, tools and expertise.
Manufactured from shrinkage-compensated cement and selected aggregates, TAL Screedmaster Industrial is a single component, high performance heavy-duty, self- levelling and smoothing underlayment compound. As with all TAL levelling compounds, TAL Screedmaster Industrial is VOC compliant. When added to water, its high flow properties require minimum installation time and produce a smooth, flexible and durable floor surface prior to the fixing of floor coverings. TAL Screedmaster Industrial is trafficable after three hours and sufficiently cured to receive floor coverings after only 24 hours.
Screed buckets, each filled with the specified mixing ratio of 2 x 22 kg bags of Screedmaster Industrial and ten litres of water, proved physically challenging for applicators working throughout the multi-storey building. TAL solved this challenge by providing two-wheel trolleys for easier mixing, transportation and pouring of the product at the points of application. It was estimated that the trolleys reduced the screed application times by approximately 40%.
Further challenges included site accessibility for large deliveries and lack of storage space for the quantity of product required. By using a crane truck to deliver no more than three to four days' worth of TAL Screedmaster Industrial, off-loading was accelerated and lack of storage space was eased.
Thanks to the partnering of TAL and Top Carpets and Floors Pretoria, the results of this extensive project proved highly successful.
View www.tal.co.za to find out more about TAL products, specifications and value- added on-site service offering. Alternatively, contact TAL Technical Advisory Service on 0860 000 TAL (825)
About TAL
TAL, a division of Norcros SA, has been a trusted manufacturer and supplier of the highest quality materials to the construction industry for more than 40 years. Their trusted range of tile adhesives, grout and waterproofing materials, as well as their range of specialized functional and decorative floor coatings and construction chemicals are manufactured and tested in accordance with the most stringent standards of quality and performance.
In combination with a commitment to exceptional customer service, encompassing pre-sales advice and after-sales support, this constant pursuit of excellence means that TAL is there for you at every level, creating beautiful spaces – from conception to completion.
TAL products are manufactured and tested to TAL procedures which are maintained in accordance with Quality System Standard ISO 9001:2015, Environmental Management System ISO 14001:2015 and Occupational Health and Safety Management System OHSAS 18001: 2007. The TAL laboratory is an ISO 17025:2005 accredited testing facility for 1348:2007 (Tensile Adhesive Strength of Cementitious Adhesives). As a member of the Green Building Council of South Africa, TAL is committed to designing and manufacturing their products in an environmentally responsible manner.