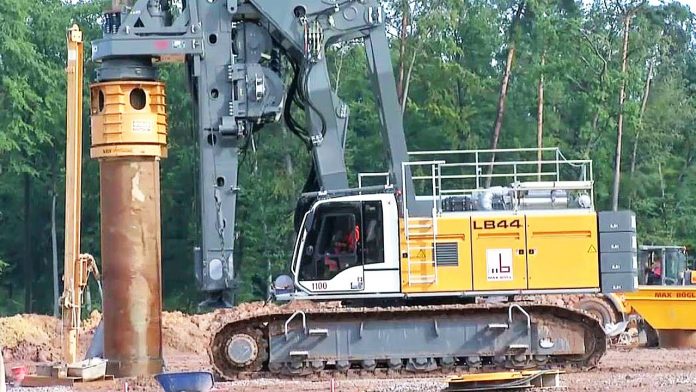 There is frequent use of standard drilling equipment which ensure buildings don't collapse in cases like heavy rains. Big drilling manufacturers are currently working on autonomous drilling machines, that can in theory be operated out of everybody office or home.
The following are top modern drilling equipment manufacturers
The Morath GmbH
Morath drilling technology stands for the highest standards, quality, continuous innovation and also for stability and continuity. They develop adequate solutions for the smallest of tasks right up to your major projects. In addition to their existing customers, more and more companies from around the world choose our products and our customized solutions. 
Morath's machines are not only customized to the customer's specific needs, but also manufactured by Morath company. As market leader, Morath offers consulting, development, manufacturing and service solutions from one source. Customers value Morath company not only for their quality machines but also for their know-how and experience to provide solid solutions for more than 50 years. 

Prime Horizontal 
Since their beginnings in 1998, Prime Horizontal has become a leading HDD (Horizontal Directional Drilling) service company and is actively engaged with innovations within the HDD market. 
Whether this requires guidance services, down hole tooling, rig data recording systems or bespoke developments, Prime's dedicated team is ready to support all client's HDD project needs.
Prime Horizontal offer a complete line of drill bits, hole openers, reamers and mud motors, together with a field mobile break out unit for the in-field repair of motors. From the drawing board, through project design, project implementation and post-project reporting, Prime's field engineers work with their customers to assure operator confidence and to transfer to the operator the detailed knowledge of methods and results.
Prime Horizontal group of companies, has been involved in a complete range of projects from setting world records for the longest HDD projects utilizing the latest intersect technology, to small length highly accurate pilot holes in freeze hole drilling application. And more than 150 CBM successfully performed with use of RMRS (Rotating Magnet Raging System).
Stonepower
In the past fifteen years, Stonepower has focused on the manufacture and product development of rock drilling and excavation equipment. The unique aspects of their products include; remote control, stability, have wide reach and coverage, hose lengths have been minimized by optimizing valve location among others.
Rock drilling is hard and demanding work for the machines and it requires regular maintenance. If you are buying a crawler drill or other drilling equipment, the company suggests that that you make sure that you have professional service and technical support available.
Scandinavian Pile Driving (SPD)
Scandinavian Pile Driving was formed based on the belief that everything can always be done better. For them drilling masts and drilling are more than a job. It is an interest and passion that they are passionate about.
Since they are part of the ABI group, they offer a wide product range from big Delmag to ABIs machines for Kellybar drilling and sheetpiling. The company also build the Interoc machines in Sweden, a traditional Anchoring machine.
One of the unique aspect SPD boasts about their excavator mounted drilling masts is that they are very flexible machine with outstanding reach and the slewing ring on the excavator that let you turn the machine around 360 degress. Another unique aspect is that their machines are fully remote controlled.

Zoomlion Heavy Industry Science & Technology Co., Ltd
Zoomlion is mainly engaged in developing and manufacturing major high-tech equipment in the areas of engineering industry and agricultural industry. With more than 20 years of innovation and development, the company is now a global enterprise possessing 10 major categories and 55 product lines, as well as nearly 460 leading products. Zoomlion is the first Chinese construction machinery company to be listed on both Shenzhen and Hong Kong stock exchanges.
At present, the company is actively promoting strategic transformation, aiming to build a high-end equipment manufacturing enterprise integrating engineering machinery, agricultural machinery and financial services.
In 12 years, Zoomlion has provided strong support to the urban development and economic growth in Africa through participation in major infrastructure projects, such as Algeria's East-West highway and capital airport terminal construction, South Africa's World Cup venues' construction, Kenya's Mombasa-Nairobi Standard Gauge Railway (SGR), and oil projects in Mombasa. It has sold over 4,000 pieces of equipment in Africa and is the largest Chinese construction machinery manufacturer ranking among top three within the continent.
"As Africa's economy develops further, Zoomlion will embrace more opportunities in this market. It's our goal to support Africa's sustainable development with advanced technology, excellent products and localized services," noted Fu Hongsheng, Africa Regional Director of Zoomlion International Trade Company.

Hütte Bohrtechnik GmbH
Hütte Bohrtechnik GmbH supplies drilling rigs as per the client's special needs. Their product range includes drill rigs from a weight of 2 up to 35 tons, excavator attachments and customized machinery.
For more than 40 years, Hütte provides solutions Civil Engineering and Geothermal solutions by carrying out high-tech innovations for the benefit of the client. These do not only ease the work at hand, but will also assist to achieve best quality.
By being part of the world-wide Casagrande Group, Hütte offers very interesting and effective distribution and production structures. Clients profit from the exceptional know-how of their service technicians and experienced drill master. They assists the client from the first commissioning and are available on-site within the shortest time upon demand.
Vermeer
Industrial equipment supplier Vermeer has been providing agricultural and industrial equipment that is built tough, built to perform, built for value and backed by caring customer service for more than 50 years. Its robust dealer network consists of more than 500 dealership locations worldwide.
The company also delivers a positive impact on the more than 3,000 team members of Vermeer and its affiliated companies, who have chosen to build a lasting, successful career at one of its worldwide locations. These are people who are committed to making a difference in the communities in which they live and work.
The company's unique aspect in the machines include; Reliability, Durability and Longevity. This has contributed to the large market share Vermeer holds. Other aspects include ease of operation, ease of maintenance and common controls throughout the entire product range. The operator controls on the majority of Vermeer drills are identical to those of the larger pipeline installation rigs and that enables fleet owners to have all machines sizes being operated by same HDD personnel with ease.

ELB Equipment (ELB)
ELB Equipment (ELB), is one of a few South African companies who can offer a broad range of earthmoving, construction, mining and quarrying equipment from a single supplier. The company has established itself as one of the most respected names in the industry and is a division of ELB Equipment Holdings Group, a JSE-listed company.
All their Ditch Witch machines are designed to have class-leading performance in a package that is easy to use, reliable with lower maintenance requirements.
The Ditchwitch Horizontal Directional Drill is one of the leading proponents in the Ditch Witch range allowing burrowing beneath roads and pavements with minimal disruption to surface traffic, while also being able to avoid other buried utilities.
HDD technology effectively employs a drill rig to steer a drill pipe on a set horizontal path underground from one side of an obstacle to the other. Once on the other end the operator is then able to attach a backreamer which is pulled through the narrow pilot hole to cut and remove the soil to the required diameter.
ELB advises one to consult with the relevant experts to ensure that the right equipment is procured for the job and that the right selection of ground engaging tools are selected for the type of terrain that will be encountered.

Hazeforage
Hazeforage are manufacturer of world standard drilling rigs and oilfield equipment. They specialize in the design, manufacture, repair & maintenance of mobile drilling rigs, rig ancillaries (i.e. complete solid control systems, pressure control equipment, camp components), cementing and acidifying units.
Comacchio Srl
Comacchio Srl produces machines for the small, medium  and large diameter drilling since 1986 for a wide range of applications in the field of ground engineering, geotechnics, mining exploration, water well and geothermal.
One of the strong points of Comacchio Srl is the wide variety of products within the range, extended to over 80 models, from 2 to 68t weight. Multiuse drilling rigs are suitable for several types of  specialized works including modular drilling rigs for scaffolding, hydraulic crawler drilling rigs, drilling rigs installed on trucks and drilling attachments for hydraulic crawler excavators.
Special machines are studied and built on request. Comacchio has implemented its many years of technological knowledge and experience in geotechnical engineering to create new generation of mining exploration rigs. Each set-up incorporates the ability to perform multiple drilling types from the same rig and this results in high efficiency, reduced unproductive time and lower total cost of ownership. 
All Comacchio machines are designed to be uncomplicated and user-friendly in fact the research and development work of its technicians has also focused on the development of rod handling systems that have allowed  mechanizing and automating, partly or completely, rod-handling processes, eliminating the hazards associated with manual handling and increasing productivity levels.
The Comacchio rigs are also equipped with magazines that allows to keep a big number of drill rods on the machine. A fundamental aspect of the design and construction of all the Comacchio models is the robustness and strength of the components, which guarantees reliability, durability and allows for high performance, low maintenance costs, low fuel consumption, and continued operation under the most  punishing and challenging environments.
All Comacchio drill rigs incorporate advanced safety features and comply with the most strict safety regulations adopted in the industry. Comacchio also relies on an outstanding worldwide team of qualified technician for both customer support and on-site service. 
Herrenknecht
Herrenknecht is the only company worldwide to deliver tunnel boring machines for all geologies and in all diameters – ranging from 0.10 to 19 meters. The product range comprises tailor-made machines for traffic, supply and disposal tunnels, technologies for routing of pipe lines, as well as additional equipment and service packages.
Herrenknecht also manufactures drilling equipment for vertical and inclined shafts as well as deep drilling rigs. In order to always be close to clients, projects and jobsites, the company is represented on all continents with around 80 locations.
With horizontal directional drilling technology from Herrenknecht, pipelines can be installed rapidly, economically and with minimized impact on environment and existing infrastructure. Later application of the pipelines include the transportation of oil & gas, sewage water, district heating, high-voltage power lines, cable bundles for telecommunication and more. HDD Rigs are highly adaptable in diameter and lengths of the borehole and used mainly in stable, loose soils and rock.

Premier Drill Products
Premier Drill Products™  an Oil Country Tubular Goods (OCTG) manufacturer builds and distributes the most complete line of horizontal drilling (HDD) tubulars in the world. They also manufacture and distribute virtually all sizes of Vermeer®, Jet Trac® and Case® compatible rods, not to mention rods for most other rigs. They began operations in 1990 and has grown to a position of leadership in the industry through devotion to quality control, product reliability, and a well-founded reputation for customer service.
The unique aspect in the company's product is that they forge 4130 alloy tube bodies and Inertia Weld precision machined 4140 tool joints using a method which is in conformance with the American Petroleum Institute guidelines, even though HDD pipe doesn't qualify for such a standard. Premier boasts to be the only U.S. OCTG manufacturer who owns their own forges and heat treat lines; and produces HDD drill pipe on the same production lines as Oilfield Drill Pipe, which sees extreme duty in some of the deepest laterals in the world.
"A driller can cut corners on rubber tracks, or even the type of diesel they use. They can cut corners on batteries for their radio housings and even their maintenance… but the drill pipe is the key item that ensures the pilot hole is drilled correctly, and the product is pulled back successfully.  Losing tooling underground ONCE, easily offsets the cost of better pipe,"
John Moore, Premier Drill Products Sales Manager advises a potential customer.
Movax
Movax is a world leading developer and supplier of excavator-mounted piling equipment and the inventor of modular, vibratory side grip pile driver-technology. Movax offers an optimized way-of-working for higher productivity and significant savings.
MOVAX has consistently developed its global presence in order to be able to continuously develop better, more intelligent solutions which also meet local, customer expectations and requirements; and furthermore in order to service customers fast, flexibly and efficiently.
Today, Movax supports its customers with one global manufacturing unit utilizing state-of-the-art technology and machinery, and about 45 local representatives around the world. Customers of Movax can be found in more than 60 countries on six continents.
MOVAX piling drills are excavator-mounted, auger drive attachments for cast in-situ piling and other drilling works. The technology behind the efficiency is a hydraulically operated telescopic kelly bar with one or two extendable sections which can reach depths up to 10 meters.

Rham Equipment
Rham Equipment
has over 35 years of experience in producing specialized mining equipment. They happen to manufacture tailor-made equipment that helps improve total cost of ownership and mining efficiencies in key operational areas, in a safe and secure way for employees.
Proudly South African company (OEM), they have achieved a level of business commensurate with its well proven reputation for quality and service and maintains and improves an ISO 9001 quality management programme in order to further endorse this position.
Rham Equipment trackless equipment boasts unique hydrostatic drive system that is, due to the efficiency of hydraulics, safe, powerful, easy to maintain and economical to run.
Earth Core Resources; Rock Drilling & Resources. They are currently venturing into surface rig design.
Junttan
Junttan Oy designs and manufactures hydraulic piling equipment. The Junttan product range is comprised of the world's leading pile driving rigs, multipurpose piling and drilling rigs, deep stabilization rigs, as well as hydraulic impact hammers, rotary heads, and power packs.
The company prides itself on being unique through the durability and quality of products produced together with having a global presence. Combining state-of-the-art piling equipment with uncontested customer service and sheer determination to go great lengths to help customers succeed, Junttan can improve also your operational efficiency.
Drilltech International
Drilltech International is a young and dynamic organization established in 2015 and has made its mark as a reliable Supplier of high quality equipment's for construction, industrial, mining and quarrying industry with support from well-known brands and OEM partners.
The company provides the highest quality of service, as business partners and service providers by using advanced technology with high-grade efficiency at the most competitive price.
Over the years, Drilltech International has been involved in the introduction of new innovative technologies and work practices inorder to gain satisfaction of their clients and to be the preferred partner for their most challenging projects.
The company prides itself in having several factors that make us the precedence choice by our valued clients.This include;
Prompt delivery 

Low Maintenance 

Durability 

High Performance 

Reliable 

Competitive pricing policy
Soilmec
Soilmec has always developed safe, innovative, cutting edge technologies supplying the construction industry with the full spectrum of equipment solutions. Thanks to a constantly upgraded and broadening range of products and a greatly increased production capability, Soilmec is an established landmark in the international ground engineering field. 
An important feature is the multi-functionality: the ability to perform all different pile techniques as well as soil consolidation techniques. Based on the experience and success of the first generation, the new SR rigs have been designed as the best answer to the global piling construction industry demand improving their productivity and operating flexibility to an ever higher degree, in addition to operator comfort and safety. 
The "Blue" rigs are designed in compliance with new European standards with a special care of an easier accessibility, an higher visibility and a safer maneuverability without losing sight the eco-friendly characteristics. The rigs are equipped with removable side platforms with handrails and ladders for easier and safer access to the cab and turret top floor, Video-cameras kit with a dedicated monitor into the operator cab and adjustable mirrors for the maximum control of the working area all around the rig, an automatic acoustic alarm during rig travelling and turret rotation and fiberglass canopies  for noise level reduction.

Jiangsu Dilong Heavy Machinery Co., Ltd.
Jiangsu Dilong Heavy Machinery Co., Ltd. is one of the professional companies engaged in research, development and product manufacturing of trenchless technology. Since 1996, the company has started the application research of trenchless technology and was formally incorporated in 1998.
It is a member of the International Trenchless Technology Association (ISTT) and the China Non-Excavation Technology Association (CSTT). The company now has total assets of more than 40 million yuan, a total of 300 employees, and has more than 10 domestic experts in trenchless equipment research and non-excavation technology.
The non-excavation drilling rig production base is located in Nanjing Lishui Economic Development Zone. The factory covers an area of ​​more than 20,000 square meters. It is equipped with three parts of modern production workshops, including component processing, structural welding and rig assembly. The annual design capacity is 400 sets.
There are more than ten varieties of DFM, DL and two series of products. From the current compact 4 ton micro rigs to 500 ton large rigs, it can meet the construction needs of customers in different working conditions.
The excellent quality and excellent performance of Dilong products, together with the service concept of "Everything from the customer's point of view", which has always adhered to the service concept of Dilong, has been distributed in more than 20 provinces in China and has been exported to Russia, Southeast Asia and other countries.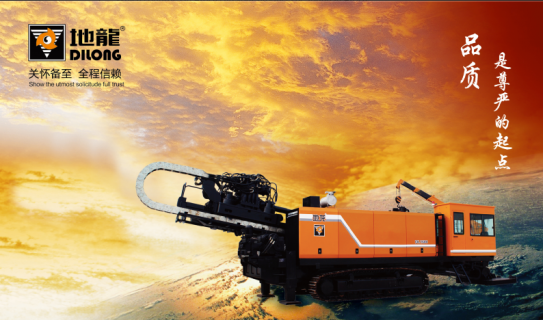 BAUER Maschinen GmbH
Specialist foundation engineering machinery from Bauer has been a byword for top performance and quality and for continuous innovation since the late 1960s. BAUER Maschinen GmbH, which designs and manufactures rotary drilling rigs, diaphragm wall equipment and all related tools, has been operating on the market as an independent entity within the BAUER Group since 2001.
Products of the BAUER Group can be found all over Africa with particular focus to Algeria, Morocco, Egypt, Tunisia, Kenya, Tanzania, Mozambique,  Mauritius, South Africa, Botswana, Namibia, Ivory Coast, Ghana and Senegal.
Specialist foundation engineering equipment from the BAUER Maschinen Group is the global benchmark in the industry. Customers all over the world trust in the unmatched quality and efficiency of Bauer as a global market leader in specialist foundation engineering equipment such as rotary drilling rigs, trench cutters and drilling accessories, as well as deep drilling rigs, foundation cranes, exploration and well-water drilling rigs, pile drivers, anchor drilling rigs, deep vibrators, diesel-powered hammers, hydraulic hammers and desanders.

Dando Drilling International
Dando Drilling International has a rich history of supplying drilling rigs and equipment across Africa from large water well rigs for government drilling schemes to small, compact rigs for major civil engineering projects.
One reason its rigs are so popular in Africa is that they can be specially designed for working in harsh working environments where elements such as extreme temperatures, difficult terrain, dust and sand may be encountered.
While dust is common in most drilling environments, Dando rigs working in parts of Africa often have to contend with extremes in the form of dust and sandstorms. One such area is the desert of Algeria, where Dando Drilling International provided a contractor with one of its large truck mounted water well rigs, the Watertec 40. Here it has been drilling 12in (305mm) diameter boreholes to 250m for irrigation purposes on farmland. Dando designed and built a special canopy to protect the cooling and compressor intakes during sandstorms. The canopy design had a dual purpose: to keep sand out and to allow unimpeded air flow through the radiators.
Dando Drilling also acknowledges the fact that drilling is very situation sensitive, and it addresses this through its modular approach to design. Key components on their many models have been designed with alternative options for rotary heads, engine power units, winches, mast extensions, canopies and track systems.
The modular design of Dando's medium depth drilling rig, the Jackal 4000, allows it to be used for a wide range of drilling applications. One of these machines has been supplied to a large geotechnical drilling contractor in Tanzania for wireline coring and SPT (Standard Penetration Tests)  while another  five units have been sold into Nigeria where they will be conducting mud rotary and DTH (down-the-hole) techniques for water well drilling.
Dando also provides solutions for accessibility problems, with drill sites sometimes located in undeveloped areas, such as deserts, jungles, mountains and even swamps. The Dando Terrier is the smallest of the Dando geotechnical rig range and is capable of a wide range of drilling techniques in areas of confined space and difficult access.One customer in the DRC needed a rig which could easily manoeuvre through thick jungle foliage, trees and muddy ground conditions. The Dando Terrier was the perfect rig for this project due to its compact crawler mounted design and its narrow 800 mm wide footprint.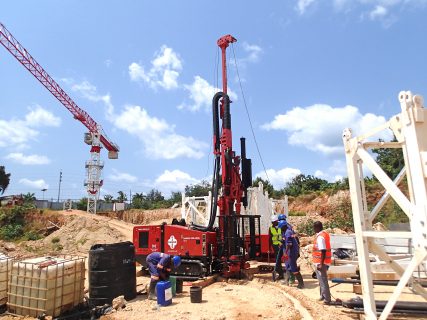 BESSAC
BESSAC, a company specialized in the field of tunnels and microtunnels, has 40 years of experience in underground works, in various applications as contractor (water supply, drainage, sea outfalls, service tunnels, metros…). The company, active worldwilde with references in 30 countries, has mastered the entire tunnel production chain: from TBM concept and manufacture through to completion of tunnel  projects.
BESSAC notes the benefits of Microtunnel to be suitable for working below water level (up to 3 bars), Perfectly suited to the crossing of sensitive structures (river, roads, highway, city center) without  interference with surface, Reduction of the social costs (no traffic impact, visual, noise, dust), and has no impact related to meteorology.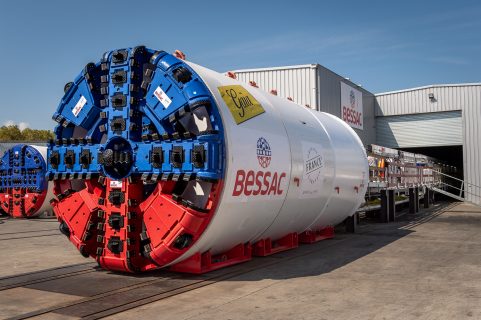 Earth Core Resources are the accredited distributors of the preferred Super Rock Drills range of Drilling Machines and associated components. It is a South African based specialist supply and development group that is owned and managed by senior operational personnel who have extensive bench and plant equipment process engineering and maintenance experience.
The company goes the extra mile to serve their client's costs, delivering the lowest prices possible for top quality services such as: geotechnical surveying and geological exploration mapping, reverse circulation (exploration) drilling, borehole drilling, geotechnical drilling.
They also offer technical Support and Supply on RAB/DTH/R.C./Open Quarry Mining Consumables as well as technical engineering and maintenance on hydraulic, structural, mechanical drive train systems.  ECR specialises in the maintenance of the Super Rock Drill's range of Drill Rigs – Atlas Copco/ Ingersoll Rand Compressors – Caterpillar and other yellow fleet – all diesel engine drive train systems, air driers and generators.
Pride Engineering Company
Pride Engineering Company is a reliable manufacturer of quality drilling rigs for vertical and horizontal drilling, mini loaders, mini excavators, and cleaving complexes and equipment for screwing piles.
The history of their plant began in 2011, when the small-sized drilling rig was first made. They have since then grown to having their own design Bureau, making installations according to a specification of the customer. This approach significantly reduces the cost, making their installation is cheaper.
They follow new-technology of production, using European components and high-quality materials while their main advantage is an individual approach to solving problems of the client and the ability to manufacture equipment of any complexity.
The company advises clients to make choices based on the quality, technical characteristics and the service that you get.
BBURG
BBURG rock drills deliver productivity, operation safety and cost effectiveness to the modern construction and mining environment. They have pride in their technical achievements and they design machines to the latest industrial standards while keeping them simple for customers to run.
With a range of five different top hammer machines we cover the construction industry as well as the quarries and mines from 2,5" to 5,5" hole diameter. Two down the hole machines cover larger quarry and mining applications with 3,5" up to 8,5" hole diameter.
BBURG customer driven engineering and design oriented approach gives us the option to individually tailor our machines to the specific requirements of each application. The BBURG Down the Hole drill rig HD 1600D runs a well proven GHH two stage airend which delivers up to 500 psi and 1100cfm.
The large radiator surface makes it suitable for high temperatures up to 50°C ambient temperature. With 7 + 1 drill pipes the HD 1600D is able to work on 30m benches. An automated drill tube changing system, a digital drill depth and drill speed indicator combined with a spacious silent cab provide an excellent working environment for the operator.
True power equipment can be found in our HD 2500RC grade control drill. The airend delivers a maximum pressure of 500 psi and air delivery of 1250 cfm. This heavy duty machine has a unique tube handler, no person is exposed to tubes. In 2 magazines up to 45 drill tubes can be stored, providing a maximum drill depth of 700m.