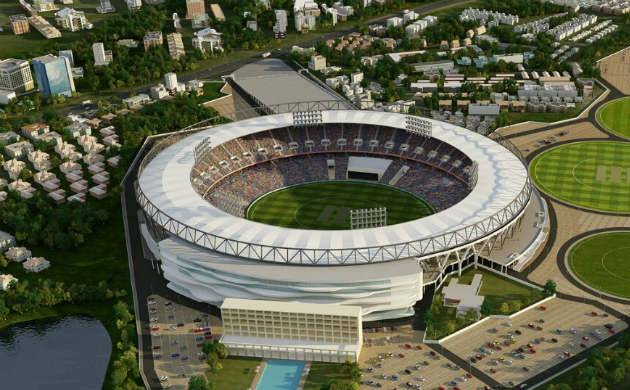 Construction works on Sardar Patel Gujarat Stadium, also known as Motera; world's largest cricket stadium, is in top gear with its completion expected in 2020. The stadium is located in the Motera locality of the largest city and former capital of the Indian state of Gujarat known as Ahmedabad.
Owned by Gujarat Cricket Association, the stadium was fully demolished in October 2015 to allow big scale renovation that would make it resemble the Melbourne Cricket Ground of Australia upon completion but it would be larger in size.
In December 2016 the US $101m project, designed by M/s Populace, was handed over to Larsen & Toubro (L&T) Limited while the foundation stone was laid in January the following year and the construction work begun immediately.
Also Read: Reconstruction of Ogbemudia Stadium in Nigeria at advanced stage
The new Stadium
The new stadium will be spread across 63 acres piece of land, with three entry points as opposed to just one in the old stadium. It will be the largest cricket stadium in the world in that it will have a sitting capacity of 110,000 spectators that exceeds the Melbourne Cricket Ground (MCG)'s 100,024 official capacity. Currently, MCG is the largest cricket arena in the world.
As if not enough, the new Stadium will have a club house that has over 50 rooms, 76 corporate boxes, four dressing rooms, three practice grounds located adjacent to the main site, an indoor cricket training academy, an Olympic size swimming pool, a parking area that can accommodate about 3,000 four wheelers and over 10,000 two-wheelers.
Two companies hired to work on F&B related areas and a solar power plant
Span Asia, a commercial Kitchen Consultants based in Mumbai, has been hired to assist Populous and L&T in all Food & Beverages related areas e.g. the Concession Counters, Main Stadium Kitchens, Player Kitchens, VIP/VVIP Boxes, Corporate Boxes, Press & Media Boxes, Pantries, GCA Club etc.
Never the less, Lube Solar, a division of Lube Electronics has also been incorporated to supply solar panels, install them and commission the rooftop solar power plant in a bid to utilize sustainable power at all levels.
Allegedly the name of the stadium might be changed upon completion.