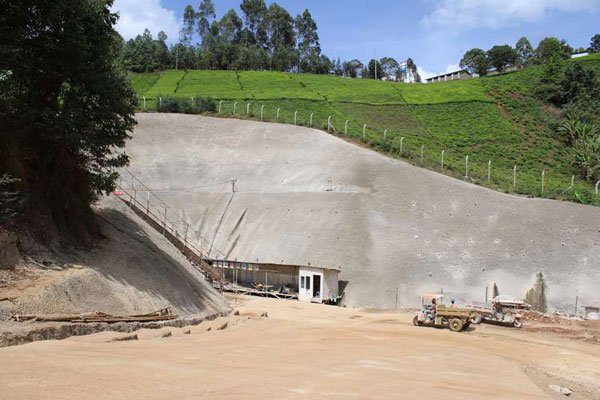 The US $66m World Bank-funded Northern Water Collector Tunnel that is under construction in Murang'a County, is expected to commence its operations by end of the year 2020. The tunnel is touted to solve Nairobi city's water issues by increasing water supply to the city via Ndakaini dam to a capacity of 140 000m3/day, 
Athi Water Services Board Chief Executive Officer, Eng. Mwangi Thuita while giving a group of engineers interested in the tunnel technology a tour on the site said that 89% excavation, which accounts to 11.4km out of the entire 12.7km, has been completed and the remaining 1.3km that shall connect Ichichi intake area of Kangema Sub-County to Ndakaini dam will be complete by the end of this year.
Eng. Thuita added that after the tunneling work is done, they shall begin construction of a water treatment plant that will cost US $63m; and laying of pipelines from Ndakaini to Nairobi at a cost of US $45m. All this work will take at most one year to be complete.
Also Read: Works on Phase 2A Mokolo-Crocodile Water Augmentation Project stalls
The Northern Water Collector Tunnel
The entire Northern Water Collector Tunnel project involves construction of river intake structures at Maragua, Gikie and Irati rivers plus construction of access adits at Gikigie, Irati and Kaanja.
It also embroils construction of a fully concrete lined 11km long, 3.0 diameter main water tunnel from Maragua intake to Githika outfall. The tunneling technology used shall not interfere with aquifers nor have any seepage of water.  
The tunnel is set to collect only flood water from the three rivers and it shall therefore not interfere with normal flow of the rivers.
Nevertheless, the project includes construction of the high level water treatment plant at Kigoro and laying of pipelines from Ndakaini to Nairobi.
Other program components
Other program components include construction of Murang'a and Kiambu County community water supply projects to ensure the host communities also benefit.  A Nairobi city water distribution network will be constructed as well to ensure equitable distribution, and lastly, improvement of water services in Nairobi Satellite towns within Kiambu and Kajiado counties.