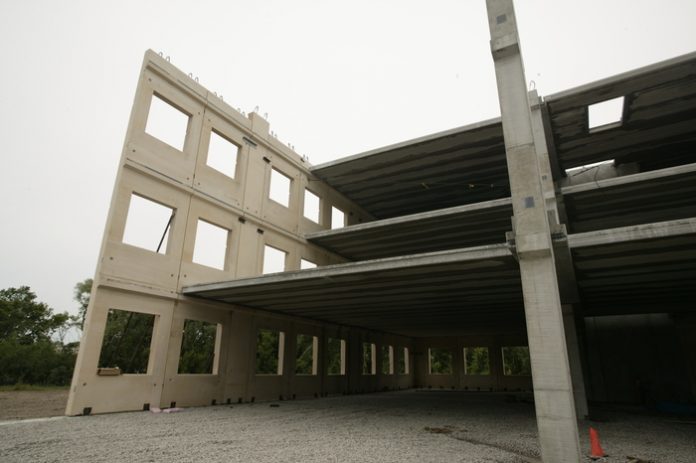 At Spancrete, they understand that using quality precast concrete products is critical to the success of any construction project. For more than 70 years they have been innovators in the industry – from founder Henry Nagy's first hollowcore plank to innovations such as RePlenish pervious concrete and RibSlab flooring systems. All of their products are built to stand the test of time, as well as provide maximum design freedom and flexibility.
Unlike casting concrete on-site, they manufacture their precast concrete products off-site in a factory-controlled environment, ensuring there is minimal expansion and contraction for the highest quality precast concrete products. Their process provides superior results with unwavering consistency.
Every day, more architects, engineers, contractors, developers and owners specify Spancrete precast building components for their construction needs. Spancrete's versatile precast concrete components can be specifically designed to meet most construction requirements, while providing value engineering and cost efficiencies.
Discover the advantages of using these components:
Product Quality: Spancrete precast products are manufactured in PCI Certified plants in quality controlled environments in Wisconsin, Illinois and Florida.
Reduced Life-Cycle Cost: The high-strength, high-performance concrete that is utilized in the production process resists weather, fire, corrosion, pests and blast.
Ease and Speed of Construction: Spancrete precast lends itself to compressed construction schedules. Components are manufactured off-site, allowing for a just-in-time delivery system and zero storage needs. Speedy construction means earlier completion dates which equals earlier occupancy.
Structural Integrity and Reliability: The combination of standard structural shapes and the capability of casting custom shapes gives designers maximum flexibility. Economies of scale can be achieved through repetition while the inherent plasticity of concrete allows for unique shapes.
Aesthetic Appeal: An infinite variety of sands, cements, aggregates and pigments combine to achieve endless colors, textures and finishes.
Energy Efficient: Precast provides high thermal efficiency, and tremendous acoustic insulation to create a quiet interior environment.
Green Products: Precast concrete is a green product and can provide up to 26 LEED points.
From their preconstruction services, through ensuring on-time product deliveries to keep clients' project on schedule, Spancrete is with you every step of the way to turn your vision into reality.
Spancrete's Precast Systems Create Easy Design Decision-Making
Precast systems consist of precast components organized into groups to make design decisions easier. These systems comprise standard and custom shapes, sizes, details and finishes that are adjusted to meet the unique requirements of your project.
Precast concrete products from Spancrete are used in a variety of construction projects.
First-hand experience
As the only equipment manufacturer that also produces precast concrete, Spancrete has unprecedented insight and knowledge into the needs of a modern precast production facility. Their first-hand experience in producing hollowcore products helps identify needs and opportunities to improve equipment and create greater efficiencies in how it is used.
The Spancrete Hollowcore system can execute rapid accessory changeovers, permitting the machine to be converted from one size of slab to another in under an hour, effectively increasing productivity. It is so popular, Spancrete has licensees around the globe that have been producing hollowcore for over 60 years. Their equipment is also known as the most durable on the market – lowering the cost of ownership through maintenance and labor costs.
The company has also introduced remote diagnostic analysis and maintenance capabilities on its equipment. Adding this feature allows technicians to more quickly assess issues and begin working on a resolution without needing to be on-site, effectively letting the machinery take care of itself.  Additionally, Spancrete Machinery is easier to operate than ever; systems can take 3D precast designs and seamlessly feed the production process – creating efficiency and reducing operational expenses.
Available anywhere in the world, Spancrete Machinery is the scalable, proven solution in the precast machinery space. They've come a long way since Henry Nagy cast his first precast concrete plank; they're looking forward to where it will take them over the next 70 years.