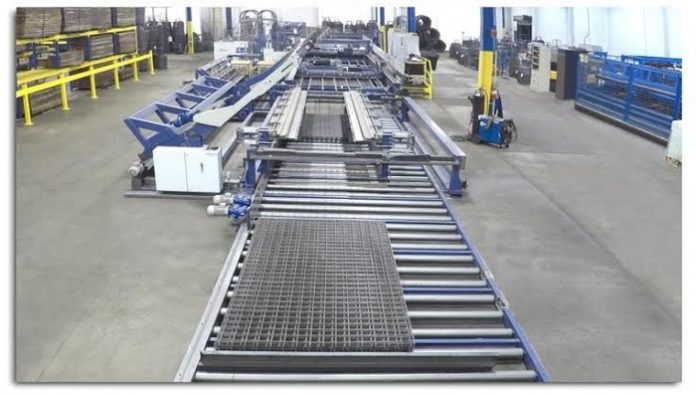 Eurobend GmbH offers a comprehensive line of automatic machines covering every precast application: from the entry level welding lines producing simple reinforcing elements and AAC blocks reinforcements to complete plants producing precast mesh, wall panels, mesh/ rebar spacers, trusses, girders and rebar forms (in 2-D & 3-D shapes).
PL X-Y & PLC AMM Series
The newest mesh welding line for the production of precast mesh and mesh with openings used in precast panels is equipped with Eurobend's unique patented wire feeding system, which ensures elimination of diameter change-over times.
Any type of mesh can be produced instantly without manual adjustments. Different models are available for both the economic and high output production of precast mesh, offering maximum flexibility without changeover adjustments, due to unique design and operation of the wire feeding and welding module.
Designed for the production of standard and customized mesh designs and sizes, allowing the welding of uneven line and cross wire lengths and different line and cross wire diameters within the same mesh, and mesh used in various precast wall panels with openings (for doors & windows) due to the servo-driven moving welding head.
Depending on the machine version, line and cross wires are fed automatically from two flexi-line Rotor straightening and cutting machines with automatic diameter changing system ( AMM Series) (patented) or from precut bars.
Single or double programmable, servo-motor driven welding head configuration with 4 or 8 welding points (PL X-Y Series) or Multi-head configuration with up to 81 fixed welding heads (PLC AMM Series).
Cold or hot rolled wires up to 20mm from precut bars or coils can be processed automatically by the machine. The productivity of the PL X-Y Series is up to 2200 m2/8h with single 4-point moving welding head or up to 3800 m2/8h with double 4-point moving welding heads.
The PLC AMM Series can produce up to 17.000 m2/8h. Additionally, available optional modules include:
Mesh bending modules, which can be installed in-line with the welding line for the automatic production of bent mesh used in various precast applications.
Robotic transportation systems to automatically transfer the produced reinforcement to the precast moulds.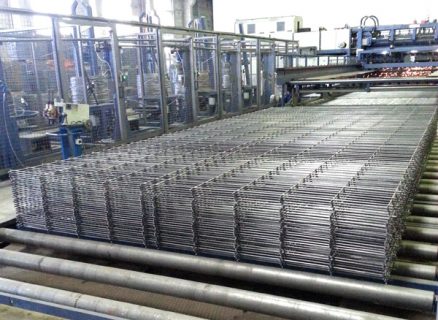 PLR Basic Series
The PLR Basic Series of mesh welding lines are established globally and are well known for their simple machine layout, reliable and cost-effective production of mesh sheets from precut bars. The machine can cover diameter ranges from 3mm up to 32mm (depending on the machine model). All machine versions are equipped with independent and individually adjustable welding heads, covering different product widths and line wire spacing.
Line wires are fed from pre-cut bars, either manually into the welding heads or through a pre-feeding carrier, where cross wires are fed into the welding head or through a rack or disctype feeder.
PL TRIS Lattice Girder Series
The PL-TRIS Series of Lattice Girder welding lines can produce most types and sizes of lattice girders. The straightening section employs roller and rotor straightening technology with leveling anti-twist rollers.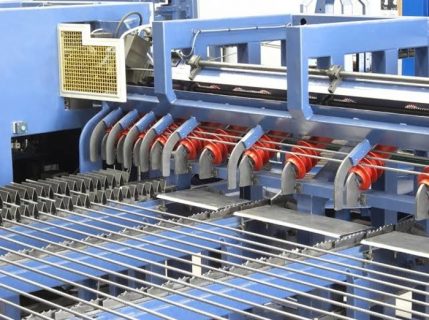 The PL-TRIS Series has a unique continuous bending system, for double and quad step lines, with retractable bending pins for the two diagonal wires, ensures accurate and consistent operation.
Flexible welding heads with electrically driven height adjustment for the production of various lattice girder sizes are further features. Semi and fully automatic, synchronized stacking and batch removal modules are available.
PLT & PLR Truss Single Girder Series
The PLT & PLR Truss Single Girder Series welding lines ensure simple machine layout, reliable and cost-effective production of truss wall ties for sandwich walls and single girder. The machine can be supplied with "T" type or overlap "R" type welding heads.
The fully programmable servo-motor driven diagonal wire bending device ensures very high accuracies, repeat-ability and fast size changeovers. The machines can produce single girders with heights from 50 to 600mm and pitch sizes from 100 up to 1000mm. 

PLT & PLR Ladder Series
All types of ladder type wall reinforcements and distance spacers used in pre-cast elements can be produced accurately and efficiently. The machine can be supplied with "T" type or overlap "R" type
welding heads. Unique convergence guide system for automatic product width changes in less than 2 minutes. Line and cross wires are fed directly from coils through a compact straightening and multi-roller feeding unit. Various machines models can process coiled material from 3 up to 12mm and produce widths from 50 to 500mm.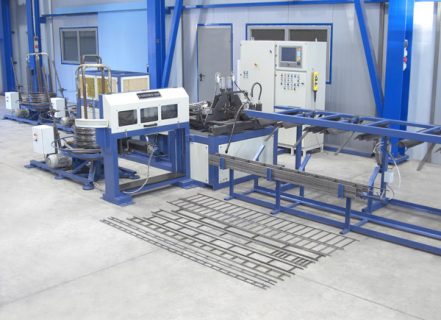 PLT B Spacer Series
PLT B Spacer Series can produce all types of Continuous high chairs, mesh and bar supports. The fully automatic bar support machine of the PLT & PLR B Spacer Series offer high production speed (one full product in less than 4 seconds) featuring also fast and accurate product changeovers. It is available with either "T" type or overlap "R" type welding heads, depending upon the required welding style between the cross and runner/line wires. Easy product height adjustment from 25 to 250 mm.