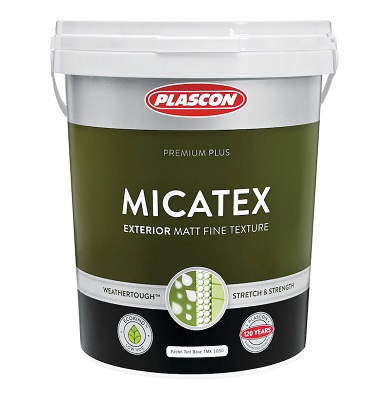 Choosing the right colour for a building's exterior can be a daunting task. Plascon Micatex's newly launched exterior colours will take the guesswork out of exterior painting with seven chic colours to complement any project.
"Elegant and backed by Micatex's unrivalled protection against all weather conditions, our seven new colours are all contemporary neutrals which will suit any building exterior," announces Leslie Frank, Plascon Category Manager for Exterior Brands.
The new colours include neutrals from grey to greige: Island (BBO 611), Moist Sand (BBO 612), Riverbed (BBO 615), Beach Cabin (BBO 613), Spring Tide (BBO 614), Subtle Night (BBO 617) and Dolphin Coast (BBO 616). Leslie explains: "These new colours align with architectural and design trends and suit any type of building. They are also suitable for a commercial space ensuring the building always looks on point."
Plascon Micatex is a premium quality, extremely durable UV-resistant water-based coating. As Plascon Micatex prevents and bridges hairline cracks it is suitable for application on all exterior surfaces from gutters to cement plaster and brickwork, it can be used all round the building to protect against the elements. Research conducted in 2018 amongst urban home owners across all consumer segments concluded that Plascon Micatex was the most preferred exterior paint for its finish and protection qualities. "Now that Micatex is available in the seven new colours and comes with a 12-year guarantee, professionals and homeowners can rest assured that the building is duly protected," offers Leslie.
Using a premium paint product will not only keep the building looking good but also improve its value. "Our new Micatex colours will not only make the painting process easier, it will also protect and preserve the building leaving an exemplary calling card in the form of your expertly completed project," finishes Leslie.
About Kansai Plascon
Africa's Number One Coatings Company, Kansai Plascon, through progressive research and development, scientific expertise and customer focused innovation, provides a beautiful quality range of products that are "Designed for Life" to solve real, everyday customer needs.
Trusted names like Double Velvet, Cashmere, Wall & All, Velvaglo, Micatex, and Plascon Kitchens & Bathrooms continue to bring customers inspiration to life using long-lasting, high-performance paint products, no matter what the application.