Sheffield Africa introduces a steam based cooking system which is targeted at institutions and establishments that use bulk cooking. Such institutions include community centres, academic institutions, healthcare institutions, NGOs and army canteens. The two day event was held on 26th and 27th September, at the training academy of Sheffield Africa.
The event included a practical demonstration of the steam cooking system and its benefits to the users and the environment. In attendance were stakeholders from diverse institutions, such as school principals, defense personnel, chefs, entrepreneurs, engineers, architects, administrative officials and nutrition professionals.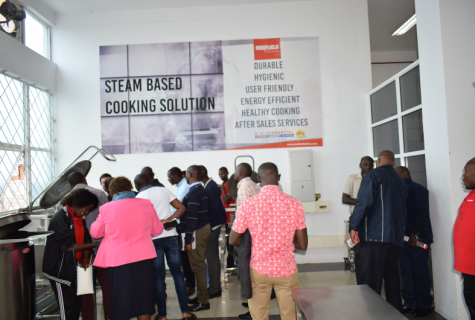 The steam cookers have two main parts, the steam generator and the vessels. The steam generator, also called a boiler, converts water into steam and injects it into the vessels at the desired pressure. The other component of the system comprises of cooking vessels; Direct Injection Vessels and Double Jacketed Vessels. These vessels which are usually connected in a row receive pressurized steam from the boiler which is used for cooking of food.
The cooking process is much quicker than the conventional firewood based cooking system, reducing time considerably by over 50%. Steam cooking systems are more energy efficient, preserve more nutrients in food and eliminate dangers of wood smoke.
In conventional cooking only 30% of the heat makes it to the food as rest of it is lost to the
air. With steam cooking system one can prepare tea, porridge, rice, beans, potatoes, githeri, green grams, vegetables and more.
They are safe because there is no direct fire used for cooking in the kitchen, thus there is less risk of kitchen fires. The installed system is easy to clean and maintain as the entire system is designed with food safe 304 stainless steel grade.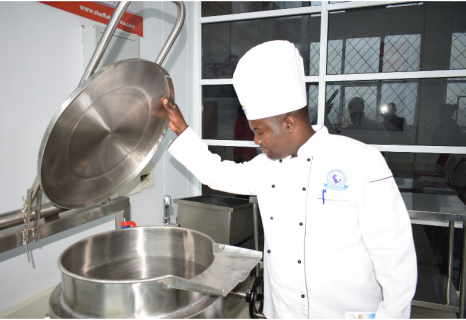 Sheffield has partnered with Rajalakshmi, a company with 50 years of experience in manufacturing of steam boilers and vessels and has installed several of those across India. The Chairman of Rajalakshmi Mr. M.S. Ragavendra was also present during the launch.
"Academic institutions and other commercial establishments, here in Kenya are lagging in implementing environmentally friendly solutions in their kitchens. We have to start this journey from somewhere. The Introduction of the steam-based cooking solution is the first step towards that," said Dr. Suresh Kanotra, managing director of Sheffield Africa. "Sheffield can customize these equipment specific to the client's requirement." He added.
About Sheffield Africa
Sheffield Africa is East Africa's industry leader in Commercial Kitchen, Laundry and Cold
Room solutions. For over 16 years, their work remains traceable across multiple industries
including hotels, health, Education, Banking, Government institutions, Corporate,
Manufacturing and Non-Governmental institutions.
With presence in Kenya, Uganda and Rwanda, they are tested and proven by the leading brands in Africa's Food & Beverage industry. Sheffield is the only company in its industry, in Kenya, to be listed in Superbrands Africa. Their solutions are unique among all the clients due to their professional teams' focus on customized end to end project execution.