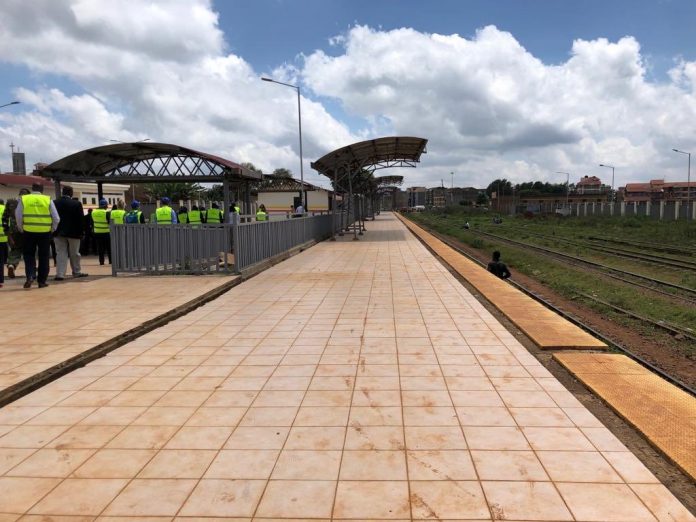 Kenya has finalized the rehabilitation of the railway station in Kikuyu, Kiambu County, located on a Kenya Railway plot where the old railway station lies.
The status of the project was confirmed by Mr. Mabeya Mogaka, from the Directorate of Metropolitan who was charged with supervising the project, when the Kiambu County Development Coordination Committee members (CDICC) toured the facility.
Mr. Wilson Wanyanga, the Chairman of CDICC, commended the contractor for employing the best workmanship in all the areas at the facility.
Also Read: Kenya to refurbish the Nairobi commuter railway network
Contribution to the public transport system
The Kikuyu railway Station has been operational during the course of refurbishment especially during peak hours as commuters in the area found an alternative to road transport.
The Station has ample parking on which commuters park their motor vehicles and board the train in the morning to the city Centre for business and back to the station in the evening. This move has helped reduce the traffic jam in Nairobi.
Security measures at the Kikuyu railway station have been put in place assuring motorists of the safety of their vehicles.
About the project
The project, under the Nairobi Commuter Rail Service Development, is funded by the World Bank together with the national government of Kenya. It is a part of the Nairobi Metropolitan Transport Master Plan, which aims to decongest the city.
By modernizing and expanding the underutilized railway transport infrastructure in Nairobi, Kenya Railways Company hopes to attract passengers who often use road transport, thus reducing congestion on the roads.
Alongside the Kikuyu railway station, there are at least 19 other railway stations earmarked for reconstruction and establishment on the existing Nairobi routes.
New stations are being put up in places where the trains stop but there are no platforms in  Mwiki and Donholm for example. Others, such as Ruiru, are been rehabilitated to modern standards.