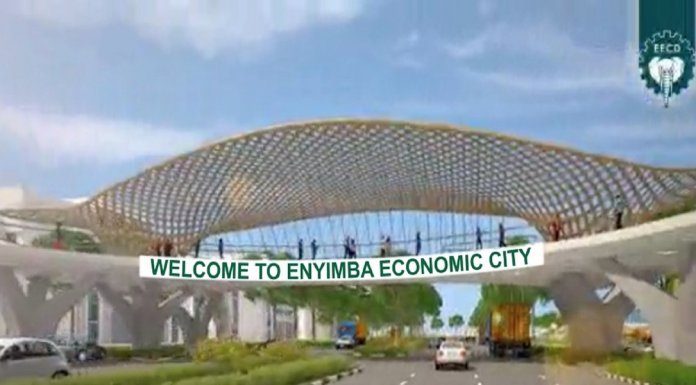 The government of Nigeria has signed US $430m deal with African Development Bank (AfDB) and a consortium of private investors and multilateral financial institutions for the development of Enyimba Economic City project(EEC).
Abia State Governor, Dr. Okezie Ikpeazu made the announcement and said the project has potential to drive massive economic expansion of the Southeast region and by extension Nigeria.
"The target for EEC is for is to attract long term local and foreign investments, thereby integrating Nigerian businesses (manufacturing and services) into regional and global supply / value chains," said Dr. Okezie.
Also Read:Namibia to construct a free economic zone in Walvis Bay
Enyimba Economic City project(EEC).
The city is a proposed free-trade zone with independent business registry, labor law, banking regulations and more, will sit on over 9,500 hectares of land in the oil producing communities of Abia State, between Aba and Port Harcourt.
Located along Aba- Port Harcourt Highway, the city has major arterial, intercity roads connections. It is near existing sea- ports (Onne and PortHacourt) and the proposed Akwa Ibom Deep Sea Port. It has proximity to airports in Owerri, PortHacourt and Uyo, and has functional gas pipelines and boarder. It is also along the national rail line of Port Harcourt-Maiduguri.
The project is privately-led, but stakeholders include the local community, the state government (Abia State), and the federal government. The Abia State Government, a Chinese textile manufacturer, Ruyi Group and Geometric Power Company, Aba, signed agreements for the commencement of the new economic city, as well as roll out of uninterrupted power supply to Aba area of the state
The masterplan design of the EEC was done by Surbana Jurong of Singapore and CBRE of India in collaboration with local firms. The positioning study indicate that EEC will at capacity, provide over 700,000 jobs, urban housing of over 300,000 units and urban population of more than 1.5 Million people. It is projected that the city will provide more than 2,000 industrial business units, with estimated annual value output of more than US $5bn.