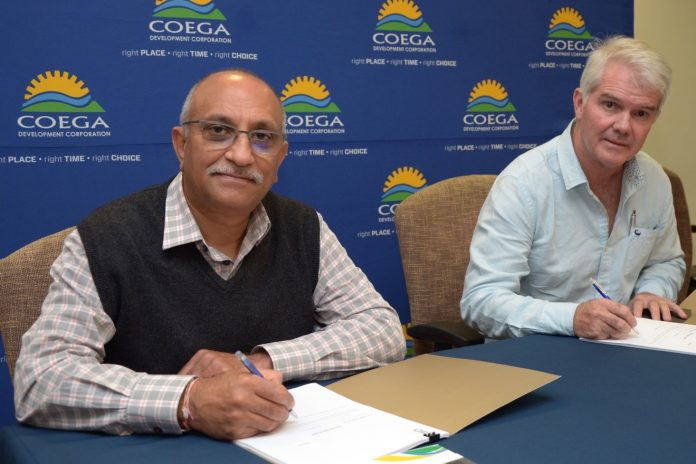 The Coega Development Corporation (CDC) has announced that it has signed a Lease Agreement (LA) with the Eris Property Group for the development of the Vulindlela Retail Centre in Port Elizabeth (PE).
"The LA, marks a significant milestone in the development of the project, the project has been in the works for the past year resulting in the appointment of the Eris Property Group who will be responsible for the development of the centre," says Yasvin Gajjar, CDC Commercial Manager.
"As the CDC, our objective is to be the leading catalyst for championing of socio-economic development and we of the firm view, the jobs to be created will benefit the people of Nelson Mandela Bay (NMB)," adds Gajjar.
The plans for the project were revealed at the Coega Business Centre by the Eris Property Group Development Manager, Bruce Krog who highlighted some of the work the company will be doing.
"The project construction is earmarked to commence in the latter part of this year with a completion date of early to mid 2022. The number of jobs to be created during the construction phase are little over 600. With more direct employment opportunities accumulating from the tenants," says Krog. "Our experience in the property space is unparalleled and having partnered with a progressive organisation like the CDC in such a project makes us feel at home," he added.
Plans of the project
Commenting on the plans, the projects local partner, Mbulelo Notshulwana from Kyralex, highlighted the importance of the project to the local region. "Understanding the local dynamics is paramount to the success of the project. Our involvement will ensure an integrated approach in the projects implementation, and we thank Eris for partnering with us in the delivery and operation of the Retail Centre."
The 20 000m2 Vulindlela Retail Centre will be located next the state-of-the-art Vulindlela Accommodation and Conference Centre –  synonymous with high end events and conferences. "The location is perfect, the access to the National road, both going in and out of PE makes for easy transportation of goods and attraction of customers either to or from work. The project has sold itself to national anchors who have identified the area as a potential hotspot for their businesses," adds Krog.
As a result, the project has already attracted two national well known anchors who have signed Letters of Intent to move into the premises. The project will provide accessible and closer shopping experience to residents in the surrounding areas of Wells Estate, Motherwell & Bluewater Bay affording many companies, located within the Coega precinct alternatives in terms of shopping & experience.