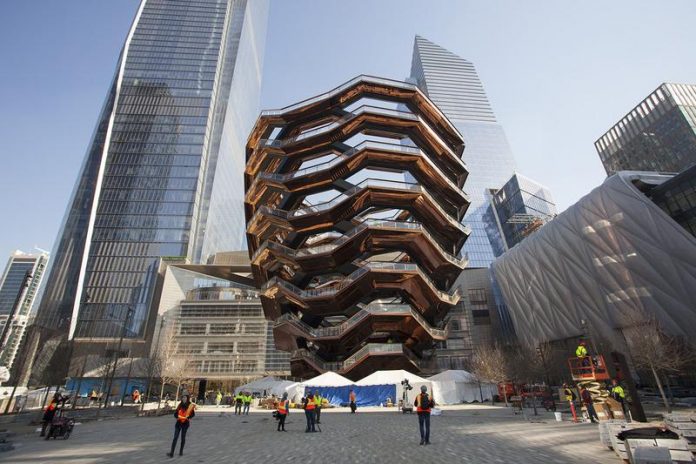 The Hudson Yards is a real estate development in the Chelsea and Hudson Yards neighborhoods of Manhattan, New York City. The project has been described as New York's largest urban development since Rockefeller Center. It sits on a 28-acre site and is expected to create a new neighborhood of residential and office skyscrapers, schools, hospitals, retail spaces, parks, cultural venues, and public art.
Upon completion, 13 of the 16 planned structures on the West Side of Midtown South would sit on a platform built over the West Side Yard, a storage yard for Long Island Rail Road trains. The first of its two phases, opened in 2019, comprises a public green space and eight structures that contain residences, a hotel, office buildings, a mall, and a cultural facility.
The second phase, on which construction has not started yet, will include residential space, an office building, and a school.
The Structures
The eastern portion of the site, developed as Phase 1, contains two office towers on Tenth Avenue, plus a retail podium between them. It is projected that all of the Phase 1 buildings would receive a LEED Gold designation.
10 Hudson Yards
The 52-story, 895-foot (273 m) 10 Hudson Yards is located at Tenth Avenue and 30th Street, along the southeastern corner of Phase 1. It opened in 2016 and is anchored by Coach Inc. Ground was broken for the building on December 4, 2012. It was the first of the Hudson Yards buildings to begin construction, because it was not built over railroad tracks.
However, 10 Hudson Yards does straddle the High Line spur to Tenth Avenue. 10 Hudson Yards opened on May 31, 2016, and was the first structure to be occupied by tenants. Tenants include L'Oreal, Sidewalk Labs, and Coach. Early on during construction, Coach purchased a stake in the building, which was sold back to Related toward the end of construction. Kohn Pederson Fox designed the building.
15 Hudson Yards
15 Hudson Yards, originally proposed as Tower D, is located on Tenth Avenue and 30th Street, near Phase 1's southwestern corner. The building is connected to a semi-permanent structure, a performance and arts space known as the Hudson Yards Cultural Shed. This particular yard started construction in December 2014, was topped out in February 2018, and opened in early 2019. It contains 285 residential units.
Its original design, with a pronounced "corset" at the middle of the tower's height, attracted attention. The Shed The Shed is an arts center housed in the Bloomberg Building, a three-story structure adjacent to 15 Hudson Yards. The space is focused on providing cultural programming, and is maintained by an organization of the same name. Its most prominent feature is a retractable "shell" that wraps around its roof and its northern and southern facades.
Also Read: US $77bn California High Speed Rail (CHSR) project
The shed
The Shed opened on April 5, 2019. 30 Hudson Yards The 73-story, 1,268-foot (386 m) 30 Hudson Yards is located at Tenth Avenue and 33rd Street. It is the city's fourth-tallest building. It is designed by Kohn Pedersen Fox with an observation deck that juts into the air. Construction began after caissons were sunk to support the platform over the tracks, the latter of which was raised 12 to 27 feet (4 to 8 m) above ground level and be level with the High Line.
30 Hudson Yards
30 Hudson Yards opened on March 15, 2019. 35 Hudson Yards 35 Hudson Yards is located at Eleventh Avenue and 33rd Street. Construction on the building's foundation was started in January 2015, and it topped out in June 2018. 35 Hudson Yards opened on March 15, 2019.
The mixed-use building contains 137 condominiums, an Equinox brand hotel, medical offices, and retail space. David Childs, the chairman of Skidmore, Owings & Merrill, contributed the designs.
50 Hudson Yards
Work on the 1,011-foot (308 m)-tall 50 Hudson Yards, located at Tenth Avenue between 33rd and 34th Streets, began in May 2018, with construction expected to be complete in 2022. BlackRock signed on as an anchor tenant, and is to occupy 850,000 square feet in the building, but Facebook will occupy more space with 1,200,000 square feet (110,000 m2).
When completed, it will rank as the fourth largest office tower in New York City in terms of available leaseable area, with 2,900,000 square feet (270,000 m2) available to lease. Foster + Partners designed the building. Along with 55 Hudson Yards, it is one of two structures in the first phase not located above the rail yard. Mitsui Fudosan owns a 90% stake in the building. Bank of China, Deutsche Bank and Wells Fargo contributed financing for the tower.
55 Hudson Yards
The 780-foot-tall (240 m) 55 Hudson Yards, located at Eleventh Avenue between 33rd and 34th Streets, was designed by Kohn Pedersen Fox and Roche-Dinkeloo. 55 Hudson Yards started construction on January 22, 2015, and topped out in August 2017. Mitsui Fudosan owns a 92.09 percent stake in the building. Like 50 Hudson Yards, 55 is not located over the rail yard, and was not included in the original master plan as created by KPF. Cooley, a law firm, signed a lease to occupy 130,000 square feet across five stories. Another law firm, Milbank, Tweed, Hadley & McCloy, would occupy 250,000 square feet.
To lower costs and allow flexibility during the build, construction emphasized the use of concrete over steel. Two architectural firms, Kohn Pederson Fox and Roche Dinkeloo, were involved in the design of the building, which is the first collaborative effort between the two firms.
The Shops & Restaurants at Hudson Yards
Phase 1 also included a seven-story mall with 100 shops and 20 restaurants, called the Shops & Restaurants at Hudson Yards. It has 1,000,000 square feet (93,000 m2) of space, including 750,000 square feet (70,000 m2) in retail, including department stores. In September 2014, Neiman Marcus signed to become the anchor tenant of the Hudson Yards Retail Space.
The retail space, designed by Kohn Pedersen Fox and Elkus Manfredi Architects with a connection to the bases of 10 and 30 Hudson Yards, started construction in June 2015, with a 100,000 short tons (91,000,000 kg) order of steel, one of the largest such orders in the history of the United States. The mall opened on March 15, 2019. The Neiman Marcus store occupies the top 3 levels and 1⁄4 of the mall, or 250,000 square feet (23,000 m2).
Fairway, a locally based grocer, has a store in the lower floors of the building, occupying 45,875 square feet (4,262 m2). Chef and restaurateur Thomas Keller has opened a restaurant in the complex, in addition to selecting 11 other restaurants in the retail space. There is fine dining on the fifth through seventh floors as well as more casual fare on the second through fourth floors.
The mall is anchored by Dior and Chanel on the topmost floors, with "a 'Fifth Avenue' mix of shops", such as H&M, Zara, and Sephora below them.
Public plaza
There is a 6-acre (2 ha) public square, with 28,000 plants and 225 trees, on the platform. The public square is a ventilation area for the West Side Yards, as well as a storm water runoff site. Storm water that runs off into the square is reused.
Because it is located on top of an active rail yard, the public square is located over a 6-foot (1.8 m) deep plenum above a cooling slab with 15 fans blowing 45 miles per hour (72 km/h) air and a 60,000-US-gallon (230,000 l; 50,000 imp gal) rainwater storage tank. The entire platform is supported by 234 caissons. The plantings are rooted within "smart soil".
The plaza opened along with the mall on March 15, 2019. Vessel, a permanent art installation designed by Thomas Heatherwick, is located at the center of the plaza. The installation, a 16-story freestanding structure of connected staircases, cost US $150m. Heatherwick took inspiration from Indian step wells in the design. Stephen M. Ross has compared the structure to the Eiffel Tower, and it has also been informally dubbed "The Shawarma". Vessel opened on March 15, 2019.