Tullow's New Ventures Business Team is responsible for the company's frontier exploration and appraisal activity across Africa. The team is tasked with managing and replenishing Tullow's exploration portfolio and high-potential prospects.
Tullow's business is finding high-value oil at low costs! The company has ambitious plans to continue to drill low-cost frontier wells across multiple campaigns in Africa and South America.
One focus is on the activities in the Kenyan Somalia border area where the company has been at work for some years. Their Plant Managers know that in a country that is devoid of support and is a potentially dangerous environment, they need a product that won't let them down. Many of the Engineers are Australians or from the U.K. and have a very strong appreciation of Australian Pump's range of pressure cleaners and trash pumps.
Australian Pumps, known around the world as "Aussie Pumps" are based on a 2.1/2 acre factory site in Sydney's Norwest business district. The Company's philosophy is to build products that are suitable for mining, hard rock, oil and gas, and to build into that equipment long life, and minimum maintenance factors.
When the Kenyan Somalia border project started for Tullows they specified Aussie heavy-duty 4" trash pumps for a wide range of onsite activities. The big 4" trash pumps can handle solids, silty water, and, of course, freshwater. Powered by Yanmar 10 hp air cooled electric start diesel engines, the pumps will self-prime the first time, every time.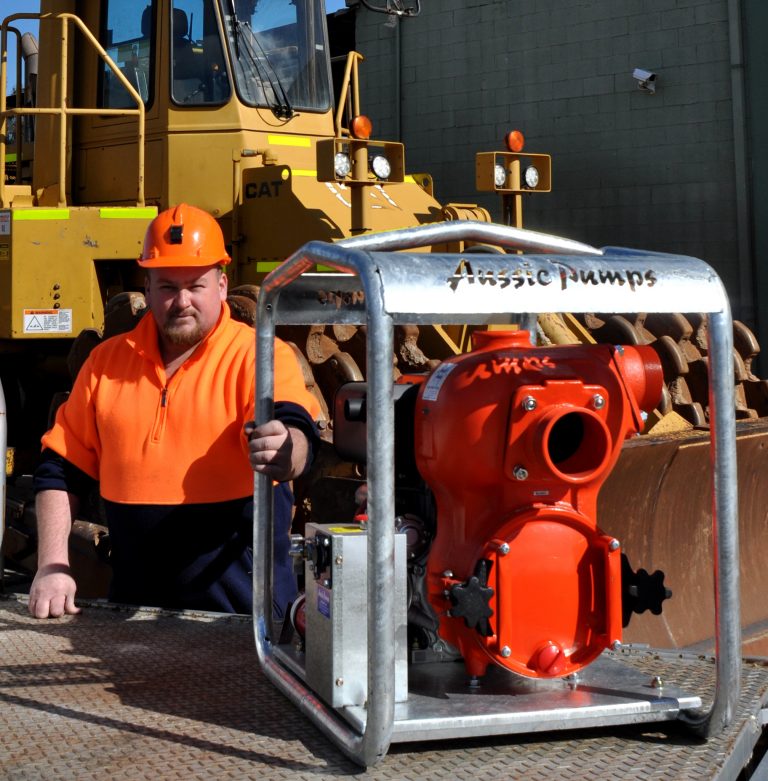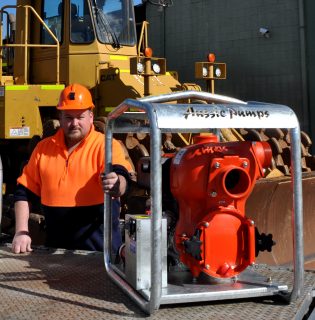 The Plant Manager's on-site like the priming factor because it meant getting the pump started is easy. With a self-priming Aussie pump there is no need to prime the suction line! The 4" Mine-Boss Series of pumps all come in super heavy duty hot dipped galvanised 38 mm roll frame.
The company's Chief Engineer, John Hales, said "It looks like they were designed in Peoria by the Caterpillar team. We used their example to build machines that we knew would not let the customer down even under the worst operation conditions" he said.
Tullow's also needed super heavy -duty pressure cleaners to keep the plant clean to facilitate maintenance. Australian Pump believes that no plant mechanic likes working on filthy equipment and it certainly inhibits essential routine maintenance.
Tullow Engineers received a squadron of diesel drive Aussie 4,000 psi pressure cleaners set up in Mine-Boss configuration as well. Based on Bertolini "Big Berty" triplex pumps as the heart of the system, these machines deliver a whopping 4,000 psi pressure. That combined with an Aussie Turbolance packs a real wallop and cleans even big machines fast.
"We supplied Turbolances to accelerate the pressure to 6,300 psi, allowing them to chop the caked mud off excavator or crawler tractor tracks, clean down drilling rigs efficiently and operate with minimal maintenance," said Hales.
The company's Mine-Boss range continued to expand with high pressure 3" and 4" pumps now part of the product range as well as hydrostatic testers for the oil and gas industry.
The company's motto "Reliable Product…. Reliable People" is the watchword of the industry. "Our trash pumps are unique in that they come with a 5-year guarantee from the date of supply to the end-user," said Hales. "Nobody else does that in the world that we know of," he said.
Diesel engines are supplied in both pressure cleaners and pumps by Yanmar, carrying the engine manufacturer's 2-year guarantee. "We chose Yanmar as the prime engine for this equipment not only because of the engine's torque and lugging ability but also because of the hundreds of Yanmar distributors scattered throughout the world. They provide aftermarket support and in and out of warranty service" said Hales.
Aussie Pumps also offer complete service kits for the engines as well as rejuvenation kits that enable pumps to be serviced in the field without issues. The pump service kits consist of rejuvenation kits with all elastomers, mechanical seal, and gaskets. Impellers do wear, particularly when pumping sandy water over a period of years, so that part is also recommended to be carried on site.
"We understand that the machines at the Tullow site have worked brilliantly. We salute Tullows. They are an inspiration because of their success and forward-thinking" said Hales.
Contributed by Warwick R. Lorenz, General Manager, Australian Pump Industries Pty Ltd.