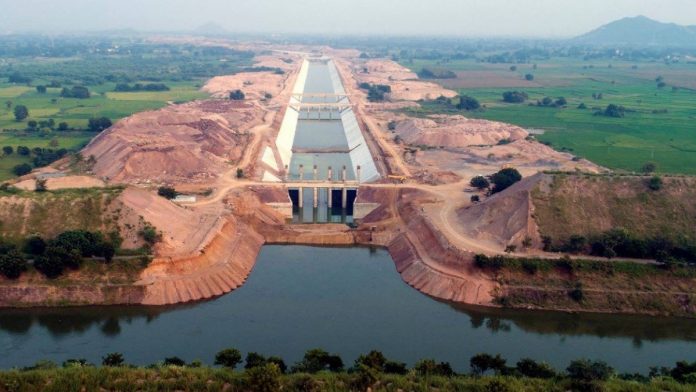 The State government of Telangana has given administrative approval for the revised cost of US $132.1m for Package-9 works in Kaleshwaram Project Link-III; for lifting 11.635 tmc ft water over 120 days a year from Mid Manair Reservoir in Rajanna-Sircilla district to Upper Manair Reservoir also in the same district.
Initial revision
As per the initial revised approval given in May 2017, the estimate of cost of work was US $120.9m crore for the Package-9 work excluding Malkapeta reservoir and including works such as vehicle pocket of size 15m x 10m x 5m and packing of 300m (tunnel work) as part of re-engineering of the original Pranahitha-Chevella project.
Also Read: Geotechnical site investigation for the proposed new Aswan dam bridge in Egypt complete
Kaleshwaram Project
The Kaleshwaram Project is claimed to be the most expensive irrigation project to be taken up by any state in India. With an estimated cost of US $15.9bn, it is said to be a key promise of Telangana's TRS Government. The TRS Government has redesigned the project enabling it to store more water. After conducting highly advanced Light Detection and Ranging (LiDAR) Survey it has also redesigned the head works and storage capacity.
The Kaleshwaram project has provisions for the storage of about 148 tmc ft with plans of utilising 180 tmc ft by lifting at least 2 tmc ft water every day for 90 flood days. The project is aimed to irrigate around 37 lakh acres in the 15 districts of Telangana. It has the longest water in Asia, running up to 81km between Yellampally barrage and the Mallannasagar reservoir. The project will also provide drinking water to several Small and Medium towns in the state, especially to Hyderabad and Secunderabad Cities.
The project had been conceived to convey water to the command area through components such as canals, tunnels, lift systems, reservoirs, and a distributor network. The entire project is divided into seven links and 28 packages. Being a multipurpose project, it is also expected to provide 10 tmc of drinking water for villages and 30 tmc of drinking water for twin cities of Hyderabad and Secunderabad; and 16 tmc of water to industries and agriculture. The project is scheduled for completion by June 2022.